The Bulldog varsity football team this fall will feature a new offense and new defense, as first-year head coach Ted Nett hopes to compensate for the team's lack of size with its speed and quickness.

Nett, who played football for Albany High School and St. John's University, reported a good transition so far, though some confusion at times. Players have to learn a new scheme on both offense and defense, he noted.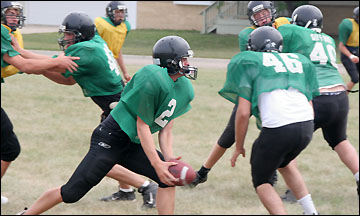 The team - which has nearly 60 players in grades 9-12, but 25 of them are ninth graders - has only four players over 200 pounds. They are small but quick, said Nett.
Senior quarterback Jamie Paul fakes a handoff to senior fullback Aaron Bachman (46) before pitching the ball to a halfback in the Dogs' new one-back offense. The Bulldogs will host Holdingford in their first game on Friday, Sept. 2, at 7 p.m.
"We don't have a lot of size, so I think we're going to have to open it up a bit," said Nett. "We have more quickness than size."
On offense, the Bulldogs will use a new one-back offense, used by Eden Valley-Watkins last year in reaching the Class AA state finals. The new offense features lots of pitches and short passes.
EV-W coach Ray Tri, who lives by Rice Lake, has helped the Bulldog coaching staff in implementing the new offense, even coming to a couple practices. Still, Nett, who has also picked the brains of the Albany coaching staff, expects growing pains with the new offense. Nett plans to mix the wishbone with new one-back set on offense.
On defense, the Bulldogs will play a 4-4 stack to get more guys in the box at the line of scrimmage. While the Dogs will have to go toe-to-toe in playing good defense, Nett hopes to save wear and tear on the team's small size and small numbers by opening up the offense.
Another reason for implementing a new offense, said Nett, is the good skill and experience in backfield this fall. Senior quarterback Jamie Paul, junior halfback Randy Leyendecker, and junior halfback Matt Hansen are all three-year starters for the Dogs. Paul completed 43 of 87 passes last fall for 594 yards and five touchdowns. Leyendecker led the team with 654 rushing yards, averaging 5.1 yards per carry. Hansen led the team with seven touchdowns and with 148 receiving yards and ran for 358 yards last fall. Both Hansen and Leyendecker earned honorable mention in the West Central Conference South.
Nett expected another 15 players to come out for footbal this fall, and the team lost six returning starting positions, reducing the number of returning starters from 15 to nine. Nett said the team is not dwelling on what would have been. "Football is hard work. If it was easy, every boy in school would do it," Nett has told his players.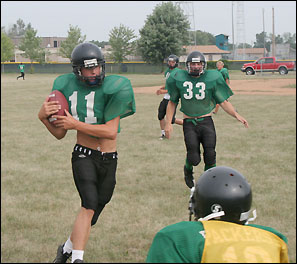 Due to their small numbers, "To start the year, we have a good bunch of guys going both ways," said Nett. Other players have changed positions, as the coaching staff tries to get the best players on the field, said Nett. Senior Keith Klein, junior Isaac Jones, junior Sam Bayer, and sophomore Jordan Spaeth, for instance, have all been moved to the offensive line, where they all expect either to start or to see playing time along with holdovers senior Tom Chevalier and junior Cole Kampsen.
Senior Sean Glenz catches a pass during a preseason football drill.
Other returning starters include senior Aaron Bachman (running back and linebacker) and senior Sean Glenz (tight end and defensive end).
Klein is the leading returning tackler for the Dogs this fall. With 97 total tackles in 2004, he was third on the team in defensive points. Bachman was fourth on the team in total tackles last year and fifth in defensive points. Glenz led the team with 2.5 sacks last fall and with 16 quarterback hurries and was ninth in total tackles.
Nett's main goal for the season is to keep getting better. He would also welcome more players. So far, he said, he's had more fun than he anticipated, though being the head coach is a lot of work.
The Bulldogs will again play in the West Central Conference South this fall, but their conference slate has changed with the addition of ACGC, BOLD, and Yellow Medicine East to the south half of the conference. Nett said ACGC, which lost to EV-W for the section title, and BOLD, which lost to EV-W in the state semifinals, are the preseason favorites in the conference.
The Bulldogs, who open their season with a home nonconference game against Holdingford on Friday, Sept. 2, also play St. Peter on the road before starting their conference slate. "We don't have an easy game on our schedule," said Nett.
The Bulldogs started practice on Monday, Aug. 15, and held an intersquad scrimmage and then played in a scrimmage at Benson on Saturday, Aug. 27.
Nett will be assisted this fall by several new coaches. Chris Theis, a high school teammate of Nett at Albany - both played on the Huskies' 1989 state championship team - is a new assistant coach this fall, along with former head coach Kyle Nehowig. Tom Ludwig moves up to coach the ninth grade along with new coach Josh Kuenzel, a student at St. John's University. Former coaches Ron Fuchs and Jerry Hunt are also helping the team this fall as volunteer coaches.
Varsity Schedule
Monday, Aug. 15 - Practice Begins - 8 a.m.
Friday, Sept. 2 - Holdingford - 7 p.m.
Friday, Sept. 9 - at St. Peter - 7:30 p.m.
Friday, Sept. 16 - at BOLD - 7 p.m.
Friday, Sept. 23 - Morris - 7 p.m.
Friday, Sept. 30 - at Lac Qui Parle Valley - 7 p.m.
Friday, Oct. 7 - Yellow Medicine East - 7 p.m.
Friday, Oct. 14 - at ACGC - 7 p.m.
Wednesday, Oct. 19 - Benson - 7 p.m.
Oct. 25, Oct. 29, & Nov. 5 - Sections at TBA - 7 p.m.
---
Contact the author at editor@paynesvillepress.com • Return to Sports
Home | Marketplace | Community
---