On the heels of a successful 2005 season - where the Dogs went 10-12-1, including 6-8 in conference - the PAHS volleyball team is reloading this fall, having lost eight seniors to graduation again.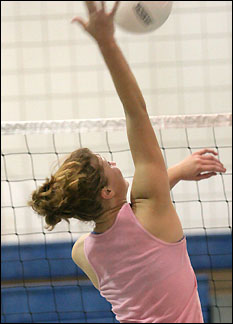 The Dogs will rely on five seniors (Chelsey Kalkbrenner, Kristin Lang, Amanda Lieser, Kate Olson, and Randi Schaefer); five juniors (Chelsey Hansen, Kayla Lieser, Ashley Ogdahl, Laura Schaefer, and Carissa Utsch); and three sophomores (Kelli Flannigan, Jessica Klein, and Anna Kotten).
While a handful of players - Kalkbrenner, Lang, Amanda Lieser, Kayla Lieser, and Laura Schaefer - got varsity experience last year, everyone will need to play like a varsity player this season, said coach Dawn Knoll.
Sophmore Anna Kotten, practicing a kill attempt after practice last week, is one of several sophomores who could see time on the varsity this year.
To be successful, the Dogs will need to play well as a team, said Knoll. "We can't give away any free points," explained Knoll, pointing to 27 unforced errors in last year's subsection loss to Eden Valley-Watkins as an example. "It's got to be: if a team comes out and beats us, they had better have earned it."
The Dogs lost their top three hitters from last year (Mel Mages, 151 kills; Lynn Lieser, 141 kills; and Shonda Martinson, 115 kills) and their setter, Ashley Lieser.
Lang, who was fifth on the team with 65 kills and second with 43 blocks last year, is expected to play at middle hitter. Knoll said if Lang plays aggressively she could dominate this year. Randi Schaefer and Klein are battling for the second middle hitter spot.
Laura Schaefer, who played some varsity at the end of last year, has picked up where she left off, said Knoll, and should be one of the outside hitters on the team. Kalkbrenner (fourth on the team in kills last year with 72), Amanda Lieser, and Olson are vying for the other outide hitter position, with the other two playing the right-side hitting spots.
Hansen is expected to be the primary setter this year.
A rule change this year will allow the libero to serve, increasing the role for this backrow specialist. Kayla Lieser, who was fourth on the team in digs last year, returns to that role this year. Lieser excelled in that role last year, said Knoll, and will be the quarterback of the back row this year. "She did a really good job," said Knoll. "She's got the attitude: let me get to every ball."
Allowing the libero to serve mirrors the collegiate rule, and Minnesota is one of eight states using the rule on a trial basis, said Knoll, who expects the expanded role of the libero to stay.
Another rule change this year in volleyball is a change in interpretation for "lifting" and "illegal contact," said Knoll. On hard-hit balls especially, officials may not call double hits, etc. On more routine passes and sets, double hits may still be called.
In a scrimmage in August, the team got a chance to work with certified officials, said Knoll, who did a good job of explaining the new rule interpretation.
This year, the Dogs are down slightly in numbers with 33 players in grades 9-12. Ideally, they would have 36-40 players, said Knoll. With only 20 players in grades 10-12, Ogdahl and Utsch will play some junior varsity as well as varsity. And Flannigan and Kotten will play junior varsity to start the season but could see varsity time by the season's end.
The West Central Conference North will have Albany and St. Cloud Cathedral as the favorites again. Last year, the Crusaders advanced to state for the fourth time in the past six years.
While Albany and Cathedral battle for the conference title, Knoll expects the rest of the conference slate to be wide open. Any team will be able to beat any other team, depending on how they play in this well-balanced conference, she said.
With seven other teams to play in the WCC North, the Dogs have only two nonconference dates: tourneys at Montevideo in September and at Sartell in October.
In their subsections, Albany and Belgrade (which qualified for state last year) return as favorites, according to Knoll.
Assisting Knoll as coaches this fall are Julie Jimenez, a longtime junior high coach, as the junior varsity coach, and Jennifer Andrist, the new physical education and health teacher, as the ninth grade coach.
The Bulldogs will play their first game on Thursday, Aug. 31, at St. Cloud Cathedral. They will host their first home game on Tuesday, Sept. 5, against Melrose.
---
Contact the author at editor@paynesvillepress.com • Return to Sports
Home | Marketplace | Community
---