The Chain of Lakes Soccer Club will field boys' and girls' soccer teams this fall for the second year with increased participant numbers.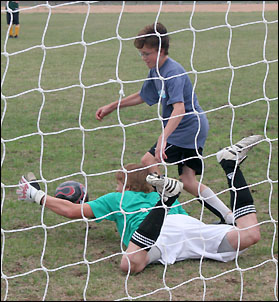 The club teams - comprised by students from Eden Valley-Watkins, Paynesville, and Rocori - began play last year. They began practice, like the other varsity teams, on Monday, Aug. 15, meeting at Centennial Park in Richmond, where they will also host their home games.
The boys' team, coached by Ric Koehn of Paynesville, has 20 boys, including nine from Paynesville: seniors Brad Hemmesch and Ryan Orbeck; juniors Chris Block, Jacob Mackedanz, and Keegan Meagher; sophomore Ralph Daby; and eighth graders Tanner Caldwell, Zach Friederichs, and Luke Puppe.
Junior Keegan Meagher makes a save in goal against eighth grader Luke Puppe during Chain of Lakes soccer practice last week in Richmond.
The girls' team, coached by Sue Knutson, a counselor at EV-W, has 24 players, including eight from Paynesville: juniors Natasha Fangmeier, Kailey Kincade, and Mel Koerner; sophomores Brianna Fischbach, Stacy Orbeck, and Heather Rondeau; and eighth graders Jenna Kincade and Alyssa Schmid.
The boys have 12 scheduled games so far this fall, while the girls have 10 scheduled games.
More games is one of the goals of the program this fall, said Koehn. The boys played eight games last year, and the girls played five. They will play both varsity and junior varsity teams again this year.
"It's a lot easier this year (to schedule games)," said Koehn. "We're finding a lot more teams to play."
Another goal, he said, was to have enough players for a full team for their first game, which both appear to have met. The girls, in fact, have a full roster for games, so anyone else could come and practice with the team but would be on a waiting list to make the game roster.
The registration fee for soccer is $100 this fall. Next year, said Koehn, they would like to have 30 boys and 30 girls on the team, in order to break into two teams of each gender.
Both teams include players in grades 7-12. While practicing two hours per day seems like a lot, most varsity programs practice for four hours per day, noted Koehn. They need to work on fundamentals as well as game situations and strategy, he added.
The boys lost 4-3 to Becker in a scrimmage last week. While all players will get playing time, Koehn said he will shorten his rotation if the team has a chance to win. "If I put my top 11 players on the field, we'd be very competitive," he said.
The girls held their own against varsity teams at a scrimmage at St. John's Prep on Saturday, Aug. 19, said Knutson. They found the Becker girls' varsity team to be quite strong, but Knutson still expects to see improvement on the field this year. "We're looking forward to a good season," she said. "We're going to get some wins this year."
Both teams will open their seasons on Thursday, Aug. 31, with games against Sartell at Centennial Park in Richmond. The boys will play at 3 p.m., and the girls will play at 4:30 p.m.
---
Contact the author at editor@paynesvillepress.com • Return to Sports
Home | Marketplace | Community
---