The Paynesville Bulldog football team, another year older and with greater numbers, will attempt to improve on the gridiron this fall.

The Bulldogs have 44 players in grades 10-12 out on the field this year, up from 26 at the end of last year, when they had to cancel several junior varsity games due to their limited number of players. The Dogs also have 22 ninth graders out for football.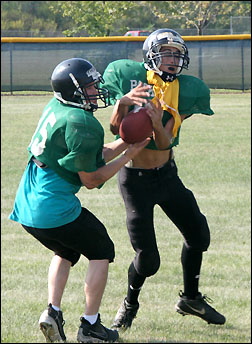 The coaches are hoping these numbers give the team greater depth this year, said coach Ted Nett, in his second year as head coach. They also are open to more players joining the team once school starts.
Sophomore Travis Jimenez (right) breaks up a pass intended for junior Bill Thompson (left) during football practice last week. The football season opens on Friday, Sept. 1, with an away game against Mound Westonka.
The Dogs finished 1-8 last year, including 1-5 in the West Central Conference South. While ACGC, BOLD, and Yellow Medicine East all return as conference favorites, the Dogs hope to play competitively against their other conference foes (Benson, Lac Qui Parle Valley, Montevideo, and Morris) as well as with their nonconference opener against Mound Westonka, a 4A school, this Friday.
Having lost only one senior starter by the end of last season, the Dogs return a host of starters on both offense and defense. (They actually have more starters back but will start the season with a half dozen players ineligible.)
On offense, senior slotback Matt Hansen (who earned All Conference honors last year), senior Sam Bayer (who played center last year and earned honorable mention honors but might see action both on the line and in the backfield this year), and senior wideout Alex Naujokas (who earned honorable mention honors). Other returning starters are: senior fullback Aaron Burris, senior end Isaac Jones, junior guard Jordan Spaeth, junior end Alex Svejkovsky, and junior guard Brad Torborg.
Having graduated three-year starter Jamie Paul at quarterback, who ended his career third all-time in passing yards, junior Ted Hoffman and sophomore Shane Kampsen are battling to start at quarterback this year, with Hoffman appearing likely to be the opening-day starter.
On the line, which will be critical to the team's success, according to the coaches, junior Cory Spanier appears likely to start at center with junior Riley Sampson vying for a tackle spot and senior Joe Fry looking for time at both guard and tackle.
On offense, the Dogs will again use the one-back offense, hoping to feel more comfortable this season with the offense, first installed last year. Assistant coaches Chris Theis and Josh Kuenzel will concentrate on the offense this year, with Nett handling the defense.
(Also, in coaching shifts this year, former junior high coach Tom Ludwig will coach the ninth grade team, along with former varsity head coach and assistant Kyle Nehowig. Brad Nepsund and Brad Skoglund return as junior high coaches this fall.)
On defense, the Dogs plan to play a 5-2 scheme again. Returning starters are Fry and Torborg on line, Bayer and Spaeth at inside linebackers, and Hansen, Naujokas, and junior Brett Savelkoul in the backfield.
As keys to their season, the coaches quickly listed staying healthy and eligible, as injuries depleted last year's squad of its depth. They hope that improved play and greater numbers will help the Dogs be more competitive this fall. If they stay in more games, play mentally tough, and learn to close out games, they hope to record several more wins this fall.
Their first game is Friday at Mound Westonka High School, a 4A school that was a late replacement on their schedule. The game starts at 7 p.m. on Friday night.
To get to Mound Westonka High School, take Highway 12 to Maple Plain and turn south on Co. Rd. 110. Keep heading south after the four-way stop with Co. Rd. 151 and take the next right onto Sunnyfield Road, with Mound Westonka High School a couple blocks down.
---
Contact the author at editor@paynesvillepress.com • Return to Sports
Home | Marketplace | Community
---