The Paynesville girls' cross country team is looking to earn a state team bid after a three-year hiatus from the state tournament.

The team returns four runners who have qualified for state individually, including sophomore Linda Keller, who earned All State honors last year by finishing 17th at state. Junior Kaitlyn Frenchick qualified for state individually last year for the second year in a row.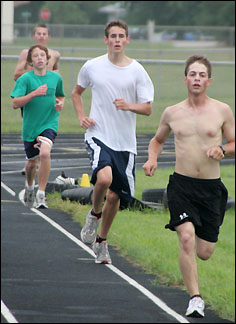 Senior Kacy Nehowig has qualified for state three times as an individual, most recently in 2004, and has earned All State honors twice in cross country.
Junior Tanis Beireis qualified for state individually in 2003. Beireis, Frenchick, and Nehowig all ran for the Dogs at state in 2002, the last time they qualified as a team.
Seniors Dugan Flanders and Elliott Wall lead eighth grader Tanner Wendroth and sophomore Josh Sturtz in a lap at cross country practice.
Beireis, Frenchick, Keller, and Nehowig also qualified for state track last year in the 3,200-meter relay.
Also returning to the girls' team are senior Kirsten Miller, juniors Tarin Beireis and Allie Wendroth, and sophomore Shanna Hoekstra, who all have varsity experience.
The only newcomer to the girls' team this fall is sophomore Bri Jaeger, a track standout with state experience who could be a top-five scorer for the Dogs.
"We've got a good team," said coach Darrel Carstens, who has taken nine cross country teams (boys and girls) to state. "They're going to surprise people. They were fair last year, and they never came together."
A key this year is staying healthy, noted Carstens, who has reduced some of the team's hill work and has altered the team's training regime to focus on three meets: their first meet at Spooner, Wis., on Thursday (which will also serve as a team-bonding trip); the mega meet at Foley in September; and sections at Pierz in October. "Staying healthy is going to be big," explained Carstens. "If we stay healthy, we're going to be good."
This year, the subsection meet has been eliminated for cross country. Instead, the Dogs will run an extra meet at BOLD in October. Their only other schedule change this year is going to Spooner, Wis., for their first meet instead of Morris.
Instead of a subsection meet, where the top four teams and top ten individuals qualifying for sections, the section meet this year will have 19 teams and feature more runners and more traffic.
St. Cloud Cathedral, last year's section champs, lost their two senior leaders (Beth Tacl and Libby Zupanc), said Carstens, who believes the girls' section title can be won by the team that has the best pack of runners. "Our goal is to stay healthy and win it," he said.
With only nine girls and 15 boys on the team so far, Carstens said he is hoping for more runners to join the team when school starts, especially junior high students.
The boys' team returns with another year of experience, having placed seventh at sections last year. Eight runners return with varsity experience for the Dogs: seniors Dugan Flanders, Peder Thompson, and Elliott Wall; sophomores Jon Kerzman, Josh Sturtz, and Ezra Thompson; ninth grader Kohl Nehowig; and eighth grader Tanner Wendroth. "We need to have our three seniors and to have some young guys who run with them," said Carstens. "We've got some young guys who can run."
The Dogs have depth coming in the junior high with ninth graders Mark Anderson, Donald Neu, and David Ruprecht; eighth graders Devon Koerner and Trevor Spanier; and seventh graders Jon Frenchick and Patrick Hoeft.
St. Cloud Cathedral, who dominated the section meet last year with 21 points and won their first state title, will be the team to beat again this year, despite losses to graduation, said Carstens. Any boys' team that wants to make state will have to be able to run with Cathedral this year, he predicted.
The Crusaders are also the favorite in the West Central Conference North, according to Carstens, with Sauk Centre as the girls' favorite.
---
Contact the author at editor@paynesvillepress.com • Return to Sports
Home | Marketplace | Community
---