Veteran team ready to run
This article submitted by Ryan Flanders on 8/30/00.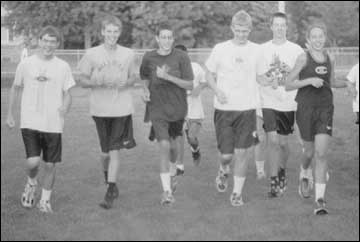 The Paynesville Bulldogs boys' cross country team is expected to have another strong season, with ten varsity-level runners returning, in addition to the arrival of a couple new runners. In all, 15 boys are out for cross country so far this fall.

Members of the cross country teams warm up before a preseason practice. Pictured, from left, are Scott Thompson, Dan Pearson, Jessie Rien, Chris Utsch (hidden), Andy Jones, Freddie Stock, and Brooke Schmitz.

This year's seniors have been running together since seventh grade, and have formed a powerful competitive as well as social bond over the years. "The Paynesville Five," as originally dubbed by the late Coach Ochs, consists of Clayton Lang, Adam Utsch, Eric Korman, Travis Flanders, and Ryan Flanders. All five have varsity experience, and they are gnashing their teeth in anticipation of their final season.

"I'm ready to run," said Lang.

This year's returning juniors include varsity runner Dan Pearson and top junior varsity runner Andrew Jones. New runners Jesse Rien and Scott Thompson are both encouraging prospects for the varsity and junior varsity squads.

Riley Flanders, Freddie Stock, and Tommy Flannigan make up the team's sophomores. The three have been in the sport together for three years and are coming back with dogged determination.

This year's deep team has a dozen prospective varsity runners to fill seven spots, which will most certainly make for a season of variety and success.

Paynesville's junior high runners will be hard to beat this year. Jason Wendroth, Matt Mehr, and Chris Utsch are back for their second season. They are just two runners short of a full squad, and would be happy to see a couple more people join the team. New runners are welcomed by everyone!

The largest part of the success of Paynesville cross country comes from the fun, healthy environment that is created by the coaches. This year's staff is led by Darrel Carstens, a Coach of The Year in the section last year, along with Rick Houske and Todd Spanier.

"We have a very good group of returning athletes and we've added some new runners. We're geared for a great season and have high expectations," said Carstens.

The Bulldogs' varsity squad, ranked as high as fifth in the state last year, will compete again for the conference championship and a state berth this fall.

The Bulldogs, who last won the conference title in 1996, should challenge St. Cloud Cathedral for the title this year. The Bulldogs came close to beating the Crusaders last year. The Crusaders, who finished third in state, lost one varsity runner, as did the Bulldogs.

The Bulldogs placed fourth in the toughest section of the state last fall. Four-time defending state champion Staples-Motley lost several All State runners to graduation, but is still the section favorite. They return two-time Class A individual champion Jeff Brever and some strong runners from their junior varsity lineup last fall.

Paynesville hopes to compete with Montevideo and Crosby-Ironton for the second state berth from the Section 5A this fall.

This year's cross country season began yesterday on the massive green rolling hills of the golf course at Morris. The Bulldogs' next meet is at the golf course in Brooten on Thursday, Sept. 7.

Come and bark with the dogs!
---