Paynesville graduate helps prepare Vikings for season
This article submitted by Michael Jacobson on 8/30/00.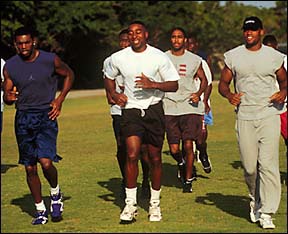 Much of the preseason football talk in the state has centered on second-year quarterback Daunte Culpepper, who has been thrust into a starting, perhaps starring, role with the Minnesota Vikings.

The Vikings are relying on Culpepper to replace Jeff George and spearhead their offensive arsenal, which includes All-Pro wide receivers Cris Carter and Randy Moss.

Bill Welle helps train at least 10 members of the Minnesota Vikings. Here, Randy Moss, Cris Carter, and Matthew Hatchette lead a running group during speed training.

Bill Welle, a 1987 graduate of Paynesville High School, will have more than an average fan's casual interest in the performance of the men in purple when the Vikings step onto the field at the Metrodome against the Chicago Bears on Sunday.

Welle has worked at Carter's training facility in Boca Raton, Fla., for four years. This year, he helped Carter, Culpepper, Moss, linebacker Dwayne Rudd, wide receiver Matthew Hatchette, and six other Vikings get in shape for the season.

In all, over 40 professional football players use the Gold's Gym where Welle works in south Florida to get in peak condition for the season. Almost 30 collegiate football players also trained there. Other clients include professional baseball players, professional basketball players like Vince Carter and Tracy McGrady of the Toronto Raptors, professional beach volleyball players, and professional tennis players like Jennifer Capriatti.

Welle, the program general manager, is a minority owner of the facility, putting what he called 'sweat equity' into the enterprise. His partner, Ron D'Angelo, is also the strength coach for the Toronto Raptors of the NBA. Carter is the majority owner.

From Qadry to Cris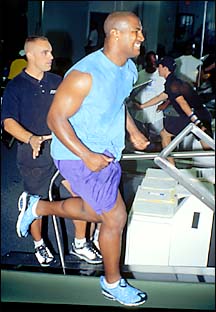 Welle earned his undergraduate degree from St. Scholastica in Duluth and then earned a master's degree in exercise science from St. Cloud State University. While working in Bloomington, he started working with Qadry Ismail, a former Vikings wide receiver who now plays for the Baltimore Ravens.
Bill supervises Daunte Culpepper, Vikings quarterback.
Ismail introduced Welle to Carter, who was interested in starting a facility in south Florida, where he lives during the off-season. Welle first met Carter at training camp five years ago, and started working for Carter in Boca Raton four years ago.
FAST
FAST stands for Functional, Agility, Speed, and Technique. It's the training program used by Welle and D'Angelo at Carter's facility in Florida.
Welle said they can focus on speed, agility, balance, strength, technique, or flexibility-whatever the individual athlete needs.
A typical week starts with speed training and upper body lifting on Monday. Then, on Tuesday, they do functional training related to the sport. The idea is not to work on technique, but to do conditioning and agility training needed for the specific sport.
On Wednesday, they do more with agility, including plyometric training, and do lower body lifting.
Another session of functional training takes place on Thursday, and another round of speed training and upper body lifting completes the week on Friday.
"It's a lot of fun," said Welle of his job. "I like to tell everyone that I get to play every day."
"My dream was to throw a football to Cris Carter," he added. "I've done that. Now I'm throwing balls to Randy Moss."
The players, according to Welle, are great to work with. No one brings egos to their workouts; instead they bring a desire to improve, which is needed more than ever in professional sports.
Guys earn their paychecks by earning a roster spot. In the off-season, players need to prepare themselves to separate themselves from their competitors come training camp, which is no longer a time to get in shape for the season. With the science of NFL offenses and defenses getting more and more complex, players need to get ready physically on their own time.
That's why Hatchette and Rudd started working out in February at the south Florida facility that has been referred to as "Cris's personal camp." Carter and Moss, who both live in south Florida, started preparing for the season in March.
Working with Daunte
When Welle got his first look at Culpepper last spring, he thought he might have to tone down the workouts for possibly the largest man to ever play quarterback in the NFL. "He walked through the door, and I thought he was a linebacker," Welle recalled during a phone interview last week.
Culpepper, though, showed that he could keep up. "We don't usually have our quarterbacks doing skill workouts," Welle explained. "He was able to keep up with everyone. And he doesn't back down."
With the focus on Culpepper this preseason, the facility in south Florida has been getting a lot of publicity this summer. Welle said the facility has been shown on ESPN, CBS Sports, and in a special on HBO on speed. It also has been mentioned in ESPN (the magazine) and Sports Illustrated.
Welle was quoted and shown in a picture with Culpepper in the training camp special section put out in July by the St. Paul Pioneer Press.
From what Welle has seen of Culpepper, he's predicting a very successful season for the Vikings. "(Daunte's) an unbelievable athlete," Welle said. "He can throw. He can run. He's agile and quick," Welle added.
Fueled by a high-powered offense, Welle thinks the Vikings might have only two losses and will be a Super Bowl contender. "Wouldn't that be great?" he asks. Welle, though, does admit to always having high hopes before the season starts for the Vikes.
One prediction he will stand by is that if the Vikings reach the Super Bowl, he'll be in the stands watching his players fight to become world champions. A more reachable goal may be to have one of the players he trains take him to Hawaii, where the NFL Pro Bowl is held after the season each year.
The Freak and the Minister
While Culpepper is a great athlete and Welle calls Dwayne Rudd a physical specimen, Moss, nicknamed 'The Freak', still amazes Welle. "That little body can move so fast," he explained.
Welle said that Moss calls himself a warrior, and, on the field, he is. During his training sessions, Moss is all business, wanting to do his work and get home, Welle reported.
When Moss first trained with Welle in south Florida before his rookie season, he threw up four times. Welle said that Moss had never done any serious training before reaching the NFL. "It's scary where he could be with a couple more years of training," Welle said.
Welle used the same word to describe what Moss will be able to do when he has Carter's knowledge of the game. "He's phenomenal now," Welle said of Moss. "He's going to be scary."
Being in business together, Carter is the Viking that Welle knows best. Welle said that Carter has the most mental strenght of any athlete he has met.
Welle noted that Carter does not catch footballs in the off-season, figuring he should work to improve his weaknesses, not his strengths.
Also a minister, Carter performed the wedding ceremony for Welle and his wife, Cheri. The couple just had their first child in the end of July, daughter Sydney Marie.
Working with professional athletes might be the most glamorous part of Welle's job, but the biggest part of the business is helping high school students get ready for a varsity season or to make a local traveling team.
---