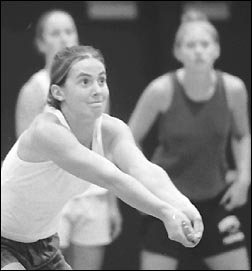 Bumping, setting, passing, digging, and playing as a team were the focus of the volleyball teams, which started practice on Aug. 14. Thirty-four girls in grades 9-12 came out for volleyball in the high school this fall.

Sara Lieser is one of five returning seniors to the varsity volleyball team this fall.

Returning to the varsity are seniors Sara Lieser, Jenny Habben, Lisa Hemingson, Heidi Jansen, Ashley Wall, and junior Mindy Meagher. Newcomers to the team are: senior Missy Bachman, and juniors Morgan Martinson and Hannah Braun.

Sheila Mayer will return as the varsity coach for her seventh year. Dawn Knoll will also return to be the junior varsity coach.

New this year is Krista Gunderson, who will be the new C-squad coach. Gunderson previously coached volleyball at ACGC.

"We will be trying a lot of new things this year due to the experience on varsity and the talent on the team," said Mayer. "I'm really looking forward to this season."

The girls had a scrimmage last Wednesday against Eden Valley-Watkins. The varsity worked together as a team for the first time and discovered some things that they were doing well and some things they need to work on.

Coach Mayer pointed out that the girls were watching hits instead of covering the hitter in case of a block. The team also needs to work more on their communication.

"I have very high hopes for this season," said senior Sara Lieser. "Practices have been going very well and our scrimmage went well, too. I think we will have a lot of fun this year."

The varsity volleyball team was winless in the conference last year (0-12) and 1-17 overall last season. The girls hope to have a winning record this year, serve 90 percent or better as a team, and reach their other goals.

"I think that this year's team will be more successful because we have a variety of hitters that can hit from any position," said Ashley Wall, another senior. "I also think we have more positive attitudes and good communication among the team."

Playing on the junior varsity this fall are: Valerie Callenius, Amanda Glenz, Kendra Johnson, Brittany Lieser, Ashley Mackedanz, Jessica Paul, Amy Roberg, Nicole Schlangen, Laura Stoneburner, Peggy Thompson, and Jessica Virant.

The 14 members of the C-squad are: Laura Buermann, Christine Gerding, Ashley Karger, Joan Keller, Stephanie Louis, Kayla Mackedanz, Michelle Mackedanz, Alisha McCorquodale, Sam Moser, Katie Nelson, Ashley Spanier, Jenn Terres, and Rachael Wendlandt.

The Bulldogs open their season tomorrow, Aug. 30, at Sauk Centre.
---
Contact the author at paypress@lkdllink.net • Return to Sports
Home | Marketplace | Community
---