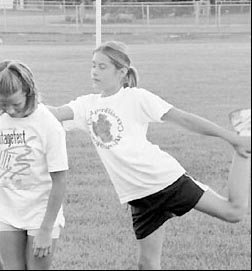 The girls' cross country team returns the Class A state champion and two All State runners this fall.

Senior Jen Hess has earned All State honors in cross country three times and won the state title last November at St. Olaf College in Northfield. She will be looking to repeat as the state champion and become only the second Bulldog athlete to earn back-to-back state championships.

Tarin Beireis gets a hand, or shoulder, from Kacey Nehowig to help stretch before cross country practice.

Eighth grader Brooke Schmitz was 25th last year at state and earned All State honors as well.

These two, along with ninth grader Kim Hess (who earned All Conference honors a year ago - along with Hess and Schmitz - and finished in the top 10 individually at sections), should lead the charge for the cross country team this fall.

"I'm really excited for this season. The girls have been working hard and this should be a good year," said coach Darrel Carstens of the cross country team, whose practice began Monday, Aug. 13.

"We have some great runners returning and have added some excellent new prospects," added Carstens.

After having fewer than 10 runners a year ago, the team starts with 13 girls this fall. Other returning runners are Mesa Frenchick, Danielle Lieser, Bridget Johnson, and Trisha Wendlandt.

New runners this fall include Nicole Flint, Mandy Mayer, Ranea Eastling, Kacy Nehowig, Sheena Hoekstra, and Tanis Beireis.

The only runner lost to graduation was Mellody Veldkamp. The team manager for the season is Maureen Flanders.

With added depth, Carstens thinks this team can earn a state berth. The girls' cross country team has been to state only once in the past, in 1991. "The goals are high, and I'm confident about the season," stated Carstens.

To qualify for state, the Bulldogs will have to place first or second in a new section. This fall, the girls will run in Section 5A after a decade of competing in Section 6A. Section 6A produced last year's team champion (New London-Spicer) as well as the individual champion (Hess).

Hess is ranked first in the state in Class A, and Carstens has been impressed with her form so far this season, citing her focus, her great leadership, her outstanding work ethic, and saying she was in the best shape of her career.

The powerhouse in Section 5A is St. Cloud Cathedral, whose girls took sixth in the state last year. The Bulldogs have battled the Crusaders for a decade in the West Central Conference North.

Last year Sauk Centre won the conference title and took seventh at state. The Crusaders were second in the conference, and the Bulldogs were third.

The other state qualifier from Section 5A last year (Big Lake) has moved out of the section, possibly creating an opening for the Bulldogs. Other top teams in Section 5A are expected to be Albany, Eden Valley-Watkins/ Kimball, and Rockford.

The Bulldogs opened their season yesterday at a meet in Morris.

Their next meet is at the golf course in Brooten on Thursday, Sept. 6, at 5 p.m.
---
Contact the author at paypress@lkdllink.net • Return to Sports
Home | Marketplace | Community
---