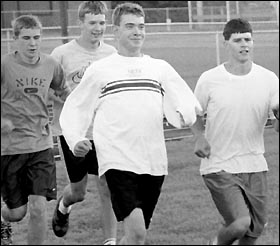 The tank tops of the boys' cross country team read Paynesville on the front, but this year - a season after the team won the Class A title - the Bulldogs' runners will have targets on their backs: defending state champions.

Senior Scott Thompson (center) is one of four returning runners from last year. Behind him are team members Eric Korman and Chad Wyffels; beside him is Adam Utsch, running to get in shape for college.

For more than a decade, the green and white pinstripes of the Bulldogs' wrestling singlelets have carried the mystique of state champions, and now the boys' cross country team - which became the second school sport to win a state title - will attempt to make their white tank tops and black running shorts similarly feared by their opponents.

One of the benefits of having won a state title, according to Paynesville head coach Darrel Carstens, is the confidence and morale boost it gives the team. "We know we can do it," he said.

What the team can't do is dwell on the past, he added. "We need to focus on what we're doing," stressed Carstens, who has been pleased with the work ethic and effort of the team so far in preseason workouts.

The team, after all, is not the same as the one who won last November at St. Olaf College. Gone from last year's team are five senior leaders, including two All State runners.

"I'm very positive about this year," said Carstens. "We've got good returning runners, good new runners, and up-and-coming runners."

"We've got a chance to have an outstanding season," he added.

The Bulldogs started their 2001 campaign on Tuesday, Aug. 28, at Morris. They return four members of the varsity squad from last year: seniors Dan Pearson, Jesse Rien, and Scott Thompson and junior Riley Flanders. "The people who are still here have seen what it takes," said Carstens. "They've seen what leadership means."

Pearson earned All State honors by finishing 22nd overall at state. He is ranked #11 in Class A individually to start the year, and Carstens believes he will live up and could even exceed those expectations.

Rien finished 44th at state last year, and, like Pearson, earned All Conference honors a year ago.

Thompson and Flanders were alternates on the state squad, but had comparable times to the Bulldogs' sixth and seventh runners last fall. Carstens said these two were good enough to run varsity a year ago but fell victim to the depth of the squad.

Flanders has varsity experience from 1999 as a ninth grader.

The team also returns juniors Tom Flannigan and Freddie Stock, top junior varsity runners last year; a trio of talented ninth graders in Jason Wendroth, Matt Mehr, and Chris Utsch; and new runners in senior Jamie Wendlandt (who ran in junior high), sophomore Chad Wyffels, and seventh graders Dugan Flanders and Peder Thompson.

So far, 13 runners are out for the team, and Carstens hopes to attract a couple more and get at least 15.

For the Bulldogs to earn a return trip to state and a chance to defend their state title in Northfield this November, they will have to qualify in a different section. After a decade in Section 6A, the Bulldogs have returned to Section 5A.

Section 6 has been the most powerful in the state for Class A cross country, so the move should benefit the Bulldogs. Last year, Section 6A produced both Class A team champions (Paynesville boys and New London-Spicer girls) and both Class A individual champions (Greg Liebl of Montevideo and Jen Hess of Paynesville).

Section 6A has produced the boys' team champion for the past five years (Staples-Motley four times and Paynesville last year).

For the boys, four of the top six runners at the state meet last year came from Section 6A, including the Bulldogs' Clayton Lang who was fifth in sections and sixth in state.

Indeed, two years ago, the strength of Section 6A cost the Bulldogs a state berth, as Paynesville finished fourth in the section, even though Carstens judges they were among the top six teams in the state.

Another key from a year ago was the goal and belief that the team could beat Staples-Motley, who at the time was the four-time defending state champion.

This year, the focus will switch to St. Cloud Cathedral, a familiar conference foe. Last year, the Bulldogs edged the Crusaders for the conference championship. The Crusaders finished 10th at state.

Paynesville is ranked fifth in the state to start the year; Cathedral is seventh.

The Crusaders have made yearly trips to state from Section 5A. Since only two teams from each section qualify for state, Carstens is emphasizing beating Cathedral rather than taking chances by finishing second.

"My philosophy is if you can beat Cathedral you'll go to state," explained Carstens, who earned the Coach of the Year for Class A boys last season. "I'm sure they're saying the same thing about us."

Other top teams in Section 5A figure to be Crosby-Ironton, Albany, and Rockford.

The Bulldogs opened their season last night at Morris. Their next meet is at Brooten on Thursday, Sept. 6, at 5 p.m.
---
Contact the author at paypress@lkdllink.net • Return to Sports
Home | Marketplace | Community
---