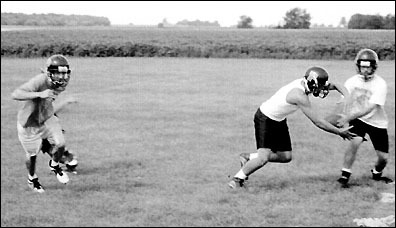 Last season, the Bulldog football team had 16 returning starters and compiled a record of 6-4, including upsetting state-ranked LPGE and beating Staples-Motley in the first round of the playoffs.

This year only five starters remain from that team; however, the expectations for this year are no different. The team goal for the year is to win the conference.

"Last year we lost two conference games that we should have won, but we didn't get the job done," said senior captain Ryan Glenz

This year's team is very inexperienced, but the Dogs are tired of hearing about it. "Everyone keeps talking about all of the seniors that we lost and we're tired of hearing that. I am confident that the underclassmen will step up and fill their roles," said senior quarterback Chris Fuchs, who will begin his third and final year at the helm of the Bulldogs' offense.

The Bulldogs have 14 seniors and eight juniors on the team this year. The captains are Fuchs, Glenz, Kevin Mehr, and Milan Virant, who all return as starters.

So far, the offensive line positions are still up for grabs. Seniors Ryan Wendlandt and Eric Frank should see time as the tight ends. At wideout, the Dogs have a host of players that they can go to, all with great speed and athleticism. The candidates are senior Pat Noonan, junior Jordan Haag, senior Josh Krupke, senior Josh Teicher, and junior Matt Kerzman.

The backfield is far and away the most experienced area of the team. All starters remain in a group that helped the school record for most yards in a season a year ago. In addition to Fuchs at quarterback, Glenz and sophomore Michael Mueller will share time at fullback. The halfbacks are Mehr and Virant.

Virant needs only 900 yards to become the all-time leading rusher in school history. However, he will have to do so behind a very inexperienced offensive line, where no one returns with any experience at the varsity level.

"Our line is very young, but I think that they will do a good job. With the lack of experience, Kevin and I are going to have to do a very good job blocking for each other if we hope to be successful," said Virant.

On the defensive side of the ball, the lack of experience is much the same. Only four starters return on defense: Wendlandt at defensive end, Virant at cornerback, Glenz at middle linebacker, and Mehr at strong safety. The other linebackers should be sophomores Justin Butkofski and Mueller. Noonan could start at free safety.

On special teams, Virant and Mehr will return punts and kickoffs while Butkofski assumes the kicking duties.

The Bulldogs will need to remain focused and on task as they begin one of their toughest schedules in years, including games at perennial powerhouse Albany, and at Lac qui Parle Valley, both places where Paynesville has never won.

"We're going to be underdogs most of the year, but that's why football is so great. Because anybody can beat anybody on any given night," said Haag.

Head coach Kyle Nehowig remains optimistic about the upcoming season. "We did lose a lot of senior leadership, but the captains this year were a huge part of last year's team. The captains learned a lot about leadership last season, and they know what is expected of them," he said.

"We're not a good enough team to have letdowns if we expect to win," he added. "It's all about leadership, and the more we have, the better we'll be."

Nehowig is assisted again this year by coaches Ron Fuchs, Tim Woehler, and Jerry Hunt.

The Bulldogs got their first taste of live action on Saturday at Benson, where they scrimmaged YME, KMS, and Redwood Falls. The Dogs played well once they got their rhythm.

However, the season could not have started any worse for the Dogs, as four plays into the scrimmage Fuchs suffered a sprained ankle. Whether he will be ready in time for the season opener against Hawley on Friday, Aug. 30, will be a game-time decision.

If Fuchs can't go, Mehr will have to make the switch from halfback to quarterback with sophomore Brandon Berg filling in at halfback.

The Bulldogs open their season at home on Friday night against Hawley. Game time is 7 p.m.

Football Schedule 2002
Aug. 30, Hawley, 7 p.m.
Sept. 6, NL-S, 7:30 p.m.
Sept.13, at Albany, 7:30 p.m.
Sept. 20, Montevideo, 7:30 p.m.
Sept. 27, Benson, 7:30 p.m. (Homecoming)
Oct. 4, at LPGE, 7:30 p.m.
Oct. 11, at LQPV, 7:30 p.m.
Oct. 16, at Morris Area, 7:30 p.m.
Oct. 22, Section Playoffs, 7:30 p.m.
Oct. 26, Section Playoffs, 7:30 p.m.
Nov. 1, Section Playoffs, 7:30 p.m.
---
Contact the author at editor@paynesvillepress.com • Return to Sports
Home | Marketplace | Community
---