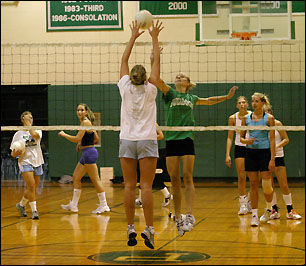 Two-thirds of the players on the PAHS volleyball roster this year have varsity experience. Under a new coach, the team hopes to continue their improvement, which ended last season with a hard-fought five-set loss in the subsection semifinals.

"The kids are excited and are working extremely hard," said coach Dawn Knoll, who after four years as the junior varsity volleyball coach has taken over as head coach this year. Knoll has nine years of previous head coaching experience in volleyball at Warroad.

Keri Hatlevig, the new physical education teacher in the high school, is the new junior varsity volleyball coach. Liz (Hubert) Brennan, a former PAHS player, is the new ninth grade coach.

Of this year's 12-person varsity team, eight had varsity experience last year, when the team had only three seniors and finished 8-13.

Returning starters this year are senior captains Amanda Glenz and Amy Roberg and junior Brittany Lieser. Other players with varsity experience are seniors Jessica Paul and Jessica Virant and juniors Val Callenius, Kendra Johnson, and Rachael Wendlandt.

Newcomers to the varsity team this year are juniors Ashley Karger, Kayla Mackedanz, Sam Moser, and Katie Nelson. The volleyball program has 44 players in grades 9-12 this year.

While Glenz, Lieser, and Wendlandt have been the biggest hitters in preseason practice and while the team has its top two setters back from last year in Roberg and Johnson, what really pleases Knoll is that the team has lots of quality players. "The biggest thing is we've got depth," she said. "If someone's having an off-night, we've got someone else."

That depth could be critical this year because high school volleyball is switching to rally-point scoring. Instead of games to 15, with teams only scoring points when they serve, games will now be to 25 with every point (whether serving or not) being worth a point. (The third game for ninth grade and junior varsity will be only to 15, as will the fifth game for varsity.)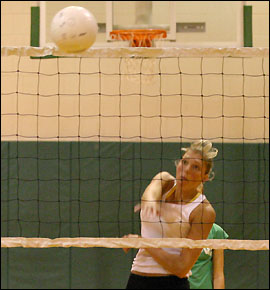 College and Olympic volleyball have used rally-point scoring for several years, and the Minnesota State High School League made the switch this fall.
Amanda Glenz is one of the senior captains, alodn with Amy Roberg and junior Brittany Lieser.
Knoll said the new scoring system- with a point scored for every rally - should make volleyball more exciting and easier to follow for fans. It also should be more consistent in duration, with sets lasting around a half hour maximum and varsity matches lasting less than two hours. (Paynesville played three three-hour matches last fall.)
Faster games and more points, though, mean fewer chances to rally. Teams that fall behind will no longer be able to trade serve until they can stage a comeback; the leading team will continue to collect points for every sideout this year.
And teams will be able to lose the set despite having the serve, if the other team needs only one point.
Rally-point scoring, said Knoll, "makes every play critical." Serves into the net now will not only give away the serve but give the other team a point.
With the faster pace, Knoll said the team will have to develop on-the-court leadership to take charge during matches. Knoll is pleased that two dozen girls from Paynesville participated in Junior Olympic volleyball this summer for the first time, gaining valuable match experience.
Paynesville will need that experience during its fall schedule. Their conference features powerful teams from Albany, St. Cloud Cathedral, and Sauk Centre. Albany, which qualified for state in Class AAA last year, drops to Class AA this year and joins Paynesville's subsection, which also includes BBE and Sauk Centre. Knoll said the team has no goals on wins and losses but wants to continue to improve and gel as a team. "It's going to be a challenging season, but it's going to be a good measuring stick for us," she said.
Varsity Volleyball Schedule
Monday, Aug. 25 at BBE 6 p.m.
Tuesday, Sept. 2 ACGC 6 p.m.
Thursday, Sept. 4 at LPGE 6 p.m.
Monday, Sept. 8 at NL-S 6 p.m.
Thursday, Sept. 11 at Albany 6 p.m.
Saturday, Sept. 13 at Minnewaska* 9 a.m.
Tuesday, Sept. 16 Cathedral 6 p.m.
Thursday, Sept. 18 Melrose 6 p.m.
Monday, Sept. 22 at EV-W 6 p.m.
Tuesday, Sept. 23 at Sauk Centre 6 p.m.
Thursday, Sept. 25 LPGE 6 p.m.
Tuesday, Sept. 30 Albany 6 p.m.
Thursday, Oct. 2 at Cathedral 6 p.m.
Monday, Oct. 6 Kimball 6 p.m.
Tuesday, Oct. 7 at Melrose 6:30 p.m.
Tuesday, Oct. 14 Sauk Centre 6 p.m.
(B- and C-squad volleyball matches start at the given times, with the varsity starting about 90 minutes later, around 7:30 p.m.)
*Varsity only
---
Contact the author at editor@paynesvillepress.com • Return to Sports
Home | Marketplace | Community
---