Successful cross country teams mix lots of miles with plenty of smiles.

According to coach Darrel Carstens, in his 32nd year as cross country coach in Paynesville, good teams combine hard work with fun. "If you don't have fun, you're not going to have kids (out for the sport). But if you don't work hard, you don't go anywhere," he said.

This fall, the goals for the boys' and girls' cross country teams is to improve from last year, said Carstens. The girls, in 2003, finished second in the subsection and third in the section, just missing a third straight state berth. The boys, in 2003, also finished second in the subsection and placed seventh in the section.

The girls' team will be led by sophomore Kacy Nehowig, sophomore Tanis Beireis, and ninth grader Kaitlyn Frenchick. All three finished in the top five individually at subsections last year and finished in the top ten at sections. Nehowig and Beireis qualified individually for state, where Nehowig earned All State honors for the second straight year, while Frenchick narrowly missed an individual state berth.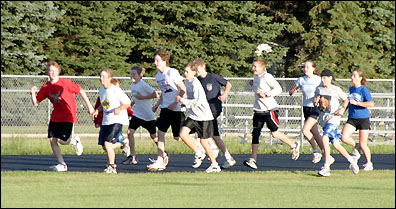 Carstens said the trio is one of the best in the area and they all are potentially All State runners.
The boys' cross country team has added ten members this fall, giving the team 22 runners.
For the girls' team to qualify for state again, they will need to develop depth, said Carstens.
Thirteen girls are out for cross country this fall. Other returning runners with varsity experience are sophomore Sheena Hoekstra (who will serve as captain along with Beireis and Nehowig), sophomore Krista Wendroth, sophomore Melanie Koerner, and eighth grader Shanna Hoekstra.
Other female runners this fall are juniors Morgan Kern and Lindsey Wyffels; ninth graders Tarin Beireis, Kelsey Miller, and Allie Wendroth; and eighth grader Kally Felling.
St. Cloud Cathedral remains the favorite among girls' teams in the Bulldogs' conference and section. The Crusaders were second in the state last year, with juniors Beth Tacl and Libby Zupanc both finishing in the top ten at state. Carstens expects the Paynesville girls to compete with Becker and Rockford for the second state berth from Section 5A.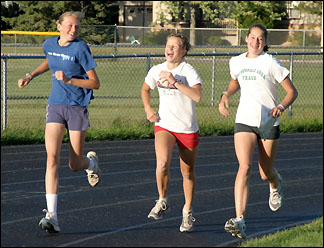 The boys' team has added ten new runners, boasting 22 members on the squad this fall. The squad should be deeper this year, having lost only Chad Wyffels to graduation.
But, with many of those new runners still in junior high, any hope of increased success this fall for the boys' team relies either on older runners improving or on younger runners proving ready for varsity quickly.
The girls' cross country team this fall will be led by ninth grader Kaitlyn Frenchick and sophomores Kacy Nehowig and Tanis Beireis, who all finished in the top ten at sections last year.
"It will depend on how they develop," said Carstens. "If we can find a group that wants to work hard, they definitely can do it."
St. Cloud Cathedral, fourth in Class A last fall, is the conference and section favorite again this year.
Senior co-captains for Paynesville this fall are Matt Mehr, Chris Utsch, and Jason Wendroth. Mehr earned All Conference honors last year and alternated with Wyffels as the team's top runner. Other runners returning with varsity experience are senior Todd Thielen and sophomore Dugan Flanders and Peder Thompson.
Other runners are junior A.J. Christian; sophomores Bryce Fischbach, Michael Houske, and Elliott Wall; ninth graders Chris Block, Keegan Meagher, Brandon Soine, and Colin Spooner; and eighth graders Nathan Friederichs, Josh Sturtz, Ezra Thompson, and Jamison Wall. Plus, sixth graders Zach Friederichs, Devin Koerner, and Tanner Wendroth and fifth grader Mason Marshall are practicing with the team.
This group of young runners have a bright future if they stay together and work hard, according to Carstens, who will be assisted in coaching again this year by Rick Houske and Todd Spanier.
The cross country teams - who have been practicing twice a day since mid-August - will start their seasons on Monday, Aug. 30, with a meet at Morris.
2004 Schedule

| | | |
| --- | --- | --- |
| Monday, Aug. 30 | at Morris | 5:30 p.m. |
---
Contact the author at editor@paynesvillepress.com • Return to Sports
Home | Marketplace | Community
---