St. Martin's return to the State Class C Baseball Tournament was short, as Granite Falls eliminated the Martins with a 4-1 victory on Sunday in Belle Plaine.

Granite Falls pitcher Curt Kvam shut down the Martins' offense, allowing only five hits and one run in a complete-game victory. He struck out 12 and walked none and came within one out of a shutout.

Only three Martins had success in the batter's box against Kvam: centerfielder Sam Rothstein and the Thelen brothers, Jake and Jesse. This trio accounted for all five of the Martins' hits.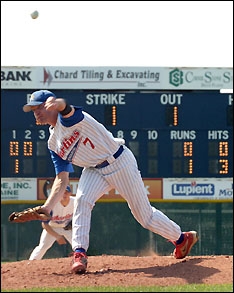 Kvam retired the first ten batters he faced, pitching 1-2-3 innings until the fourth when Jake Thelen singled up the middle for St. Martin's first hit and first baserunner. Rothstein followed with a single to left to put runners on first and second, but they got no further, as Kvam induced a fielder's choice and got a strikeout to end the inning.
Ken Arceneau delivers a pitch for St. Martin in the second inning against Granite Falls in the Class C State Tournament at Belle Plaine on Sunday.
At that point, Granite Falls led only 2-0, having scored a run in both the first and fourth innings.
Mike Beier, a 1989 PHS grad and former Regal standout, led off with a single for Granite Falls in the first inning, stole second, and scored on another single to give the Kilowatts a 1-0 lead before making an out.
Granite Falls threatened to score more in the first inning and threatened to score in both the second and third innings, but Martins starter Ken Arceneau was able to pitch out of jams each time.
Granite Falls got their second run in the fourth inning thanks to Beier again. With a runner on third and two out, he hit an infield single to give Granite Falls a 2-0 lead.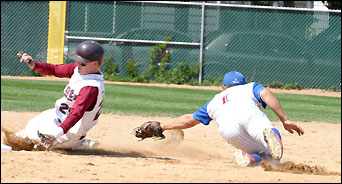 Another infield single, another stolen base, and another two-out single led to a third run for Granite Falls in the bottom of the fifth.
Second basemen Nathan Schlangen attempts to tag a Granite Falls runner stealing second at state at Belle Plaine on Sunday.
St. Martin's next baserunner was Jesse Thelen, who doubled with one out in the seventh inning, but was stranded at second. Again, Granite Falls responded by scoring a run in the bottom of the seventh, using a hit, a walk, a sacrifice bunt, and a sacrifice fly to score a run off reliever Ryan Nett, a draftee from Farming.
St. Martin scored their only run with two outs in the top of the ninth. Rothstein doubled off the rightfield wall, and Jesse Thelen followed with a bloop single to account for the Martins' only run.
Granite Falls played small ball in their win. They had 10 hits, but none for extra bases. Three of their hits off Arceneau were infield singles. Plus, they stole three bases and had two sacrifice bunts and a sacrifice fly. Twice they stole second and came around to score, and twice they used sacrifice bunts to advance runners, who eventually scored, into scoring position.
Beier led Granite Falls, who won the state championship in 2002 and finished in the top eight in 2003, with three hits. The Kilowatts advance to play Maple Plain in the round of 16 in the Class C tourney next weekend at Jordan.
St. Martin - who appeared at state for the fourth time, having made previous state trips in 1966, 1985, and 1998 - finished their season with a record of 23-7.
| | | | | | | |
| --- | --- | --- | --- | --- | --- | --- |
| St. Martin-- | 000 | 000 | 001 | - 1 | 5 | 0 |
| Granite Falls-- | 100 | 110 | 10x | - 4 | 10 | 0 |
St. Martin - Batting: Sam Rothstein 2-4 2B R; Jesse Thelen 2-4 2B RBI; Jake Thelen 1-4; Pitching: (ip-h-r-er-bb-k) Ken Arceneau (L) (5.1-8-3-3-3-5); Ryan Nett (2.2-2-1-1-1-0).
Granite Falls - Batting: Mike Beier 3-5 R RBI SB; Nate Dammann 2-5 RBI R; Jason Fischer 1-2 BB-2; Justin Schlemer 1-2 R SB; Chad Listul 1-3 SB; Mike Richter 1-4 RBI; Jay Magnuson 1-4 R; Pitching: (ip-h-r-er-bb-k) Curt Kvam (W) (9-5-1-1-0-12).
State Tourney Notes
*New Munich, champions of the Stearns County North and of Region 15C, won their first state game, beating Essig 5-1 on Sunday in Belle Plaine. Essig had made the final eight at state last year, going 3-2 and being eliminated by Green Isle, the eventual Class C champion. New Munich (17-10) will play Blue Earth, a 1-0 winner over Clear Lake in the opening round, on Saturday, Aug. 28, at 1:30 p.m. at Belle Plaine.
*Two other area teams won their opening games at state. Melrose beat Hamburg 2-1 in 17 innings on Saturday, and Raymond, the champions of the Cornbelt South, who play against Paynesville and Regal, won 5-4 over Avon on Sunday.
*St. Martin's Nathan Beier played against another relative at state. Granite Falls second baseman Mike Beier is his uncle. Nathan Beier also played against an uncle and cousin in regions, as St. Martin beat Regal, for whom his uncle Tim manages and for whom his cousin Chris plays.
---
Contact the author at editor@paynesvillepress.com • Return to Sports
Home | Marketplace | Community
---