Dave Heitke and John Liestman won the Kenora Bass Invitational from Thursday, Aug. 4, to Saturday, Aug. 6, on the Lake of the Woods, defeating over 160 teams. The duo from Paynesville won the tourney with a three-day catch of 50.65 pounds, winning by nearly a pound and a half.

It was the second title for Heitke and Liestman, who also won the Kenora Bass Invitational in 1999. They also placed second in 1994 and 1995, took third in 2003, and have several more top ten finishes.

The tournament had 167 entries this year, including professional fishermen like Jim and Al Lindner of Brainerd.

Heitke and Liestman had the second biggest catch on the first day (Thursday, Aug. 4) at 17.61 pounds; had the biggest single-day catch of the tournament the second day (Friday, Aug. 5) with 19.25 pounds, including the big fish of the day; and caught just enough on the third day (Saturday, Aug. 6), again having the biggest fish, to win the title again before having motor trouble for the second year in a row.

In 2004, Heitke and Liestman led the Kenora Bass Invitational after the first day but did not catch any fish on the second day due to motor trouble and finished 65th.

Day 1 - Thursday, Aug. 4
Due to that finish, they were sent out in the third flight - the third group of 20 boats - on Day 1 in 2005. It was a windy day, with 35-40 mph side winds, they reported, and a bad day to have a late start. Since they were out late, anglers had already taken some of their spots (competitors must stay 50 yards away from other boats).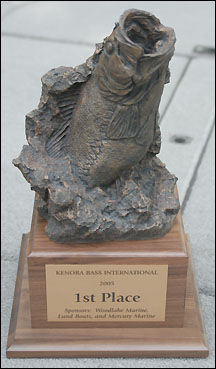 So they had to go 60 miles in the waves to another spot. They took "a severe pounding on the high seas," said John. They exercised "every joint pounding over those waves," he added.
Dave and John received this trophy for winning the Kenora Bass Invitational.
Their trolling motor was loose when they got to their fishing spot, and they had to exchange boats - monitored by a tournament official - after an hour of fishing with only one fish caught.
But, their prospects improved after switching boats. "Then we ran into a couple spots where we caught a couple fish," said John.
Their catch of 17.61 pounds - a four-pound, six-ounce fish, another four-pounder, and three three-pounders, all large mouth bass - trailed Mike and Steve Salvador of Sioux Narrows by 0.32 pounds after the first day.
"All in all," said Dave, "we did extremely well that day."
Day 2 - Friday, Aug. 5
Heitke and Liestman won the tournament with a great day on the second day of the tournament, Friday, Aug. 5, when they caught 19.25 pounds, the largest single-day catch of the tourney.
Day 2 is when their prefishing really paid off, and when they made the right choice.
Heitke and Liestman spent nine days prefishing: first determining on which side of the lake were the big large mouth bass located and then what they were biting on. They caught and released a few fish the first day to find their location, but then bent their hooks and used feel to determine what the large mouth were feeding on without catching any fish. "The big ones, they're smart," said Liestman. "That's why they're big. They're selective about what they eat."
On Day 2, they got to go out second, after placing second the first day. They went to a couple spots and caught five fish - 15 pounds - by 8 a.m. That gave them the luxury of time to go after some big fish.
Someone else had fished one of their big fish spots the first day, but John overheard that they had not caught anything. Sometimes, Dave and John can be indecisive - they said they constantly say "It's up to you" when fishing - but they made the right decision on Friday.
"Then we went to one of our big fish spots, which sometimes produces and sometimes not," said John. They culled four fish, catching four four-pounders and releasing four three-pounders. This increased their catch for Day 2 from 15 pounds to 19 pounds. They only had one three-pounder left in their live well from the morning at the end of the day.
"We had time to gamble, and we made the right choice," said Heitke. Their catch of 19.25 pounds - including the big fish for the day, 4.26 pounds - moved Dave and John into first place for the tournament.
Their Day 2 decision to go to a couple big fish spots, and to choose the right ones, won the tournament, they said. "In a tournament like that, you have to make the right decisions or you won't win," said Dave.
"Fishing is decisions," said John, "because there are 300 other guys with ideas, too."
"We fish big fish only," said Dave, of their tournament strategy. "We might not always get 'em, but if you do, you're in like Flynn."
"Either the large mouth treat you well or they don't," added John. "You either win big or you lose big."
Day 3 - Saturday, Aug. 6
The third day started spectacularly for Dave and John. On their first spot, third cast, they caught a 6.3-pound large mouth, the largest single fish of the tournament.
That was a large comfort, but they did not catch anymore fish for several hours, they said. They kept a 12-inch small mouth that day, as well as a two-and-a-half pound small mouth. They even tried to fish for small mouth, which they generally regard as easier to catch - since they estimate the ratio of small mouth to large mouth in the Lake of the Woods at 100 to 1 - but could not.
They did catch a four-pound large mouth in the morning, though, to bump their total to 13.79 pounds for four fish for the third day.
Then, they went to fill their boat with gas, and their motor died entering the marina. That happened around 12:30 p.m., ended their fishing for the day, and Dave had to hitch a ride back with some friends to the weigh-in.
When the boat quit running, "two old guys almost had heart attacks," said Dave. It just goes to prove that "anything can happen when you fish," he added.
Dave had the embarrassment of lifting that 12-inch small mouth at weigh-in on Saturday and the thrill of holding the 6.3-pounder. That was "the minute of my life," he said.
They won $30,000 Canadian, plus prizes for the big fish on Day 2 and Day 3. Dave, however, prizes his trophy with a bronze bass on a walnut stand. He has wanted one of them since they changed the trophy (sometime after their 1999 win). Dave plans to have the bronze bass affixed to his tombstone.
Heitke and Liestman also participated in the U.S.-Canada challenge this year, which pits five Canadian boats against five American boats (the top five finishers of each nationality from the year before). Team Canada edged Team U.S. this year: 201 pounds to 185, though the Americans would have won with their five top teams this year, said John.
Heitke and Liestman plan to continue fishing in the Kenora Bass Invitational, but it gets harder every year, they said. In addition to nine days of prefishing, they have to get up at 4 a.m. on tournament days, eat breakfast, and bring their boat to the check-in before the contest starts at 6:30 a.m. Then they fish until 4 p.m., skip lunch, and go back to the weight-in. After that, they restock the boat and their fishing tackle, restringing their rods each night, refuel the boat, find a place to park, eat supper, and get to bed by 10 p.m. for another long day.
This year, they lost another two or three fishing spots, they added. One, for instance, was spotted by someone from a resort, who followed them to a bay. By next year, that spot will be fished out, they said.
They will try to win by catching the big fish again. "We figure why go for third or fourth place if you're going to do it," said John.
"Win or nothing," agreed Dave.
---
Contact the author at editor@paynesvillepress.com • Return to Sports
Home | Marketplace | Community
---