If the runners improve and develop enough this fall, both the boys' and girls' cross country teams could finish in the top five at sections, feels coach Darrel Carstens.

The girls ran sixth last year in the Section 5A meet, while the boys ran seventh. "We need to develop throughout the season to challenge top teams," said Carstens. "We're fired up for a good run, and we will be a threat."

The girls' team returns to state entrants from last year: junior Kacy Nehowig and sophomore Kaitlyn Frenchick. Nehowig, a four-time All Conference runner, earned All State honors in 2002 and 2003. Frenchick also earned All Conference honors last year, as did Melanie Koerner, now a sophomore.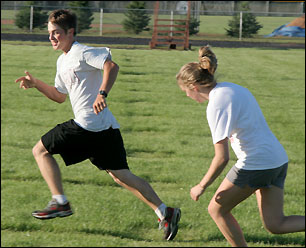 Koerner, senior Sheena Hoekstra, sophomore Tarin Beireis, sophomore Allie Wendroth, and ninth grader Kally Felling all had varsity experience last year for the girls' team, which has ten team members so far this year with the addition of juniors Kirsten Miller and Cary Schlick and ninth grader Linda Keller.
Junion captain Dugan Flanders avoids a tag attempt by junior Kirsten Miller, a newcomer to the girls' team, at a voluntary morning practice. The cross country teams have their first meet on Monday, Aug. 29, at Morris.
Carstens said he would like to add a few more runners to the team. Right now, 33 runners are out for the two teams (ten girls and 23 boys). Carstens would like to have 35 to 40 total runners.
The girls' team, said Carstens, did not have a senior last year and could challenge for the section title. Last year, Nehowig and Frenchick both finished in the top ten at sections, but better balance will be needed to improve at sections. "We're in the hunt," said Carstens. "I've got a hunch we're in the top four. And then anything can happen."
Section 5A lost Becker, last year's team champion for girls, and added Litchfield. With the loss of Becker, which hosted the section meet for the past several years, the section meet this year has been moved to Pierz. The Dogs have also changed their schedule to run in a regular season meet at Pierz (on Monday, Sept. 19) and dropped their regular season meet at Becker.
Carstens lists St. Cloud Cathedral as both the section and conference favorite for both boys and girls.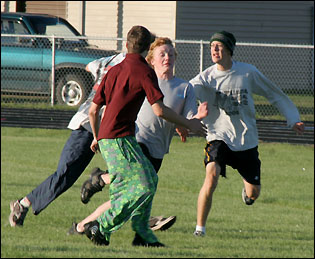 The West Central Conference North will add both New London-Spicer and Minnewaska this fall.
Junior Bryce Fischbach is tagged by senior Andrew Christian (left) and junior captain Peder Thompson (right) during a game of tag this week.
The Bulldogs boys' team lost two seniors to graduation - Matt Mehr and Chris Utsch - but returns seven runners with varsity experience, led by junior captains Dugan Flanders and Peder Thompson. Others returning with varsity experience are senior Andrew Christian, sophomore Chris Block, and ninth graders Nathan Friederichs, Josh Sturtz, and Jamison Wall.
The team added three upperclassmen this fall: senior Mark Andrie, junior Bryce Fischbach, and junior Elliott Wall. Ninth graders Jonathan Kerzman and Ezra Thompson should also vie for varsity spots, said Carstens, who said that both lineups are far from set this year.
For the boys, said Carstens, he is stressing running as a pack, with the goal of using their depth to offset other team's star runners.
The boys' team also has 11 runners in seventh and eighth grade, giving the team strong hopes for the future.
The team, which started practice on Monday, Aug. 15, has been having evening practices and voluntary morning workouts.
They will travel to Morris for their first meet on Monday, Aug. 29, at 5:30 p.m.
---
Contact the author at editor@paynesvillepress.com • Return to Sports
Home | Marketplace | Community
---