The St. Martin Martins won their first-ever game at the state amateur tournament, defeating Lonsdale 6-5 on Thursday in Red Wing, before losing to Howard Lake 5-4 on Sunday, ending the Martins' season.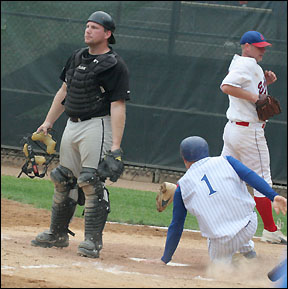 The Martins (25-11) threw out the tying run at the plate as they defeated Lonsdale (27-4) in the first round of state on Thursday night at the Red Wing Athletic Field (where Regal won a state title in 1991). The Martins led 6-3 entering the final inning, but Lonsdale started the inning with back-to-back hits, prompting Farming draftee Aaron Nett to relieve his brother Ryan on the mound for the Martins.
Nathan Schlangen touches home plate afer hitting a two-run double in the third inning and proceeding to score to tie the game 3-3. He threw out a runner at the plate in the top of the ninth for St. Martin.
Another base hit brought scored one run, making the score 6-4, but then Aaron Nett struck out an Ace batter and induced a pop out for the second out. With the bases loaded, putting the tying run at second and the go-ahead run at first, a Lonsdale batter hit a slow grounder past Jesse Thelen at first base, scoring one run.
Martins' second baseman Nathan Schlangen, though, made a diving slide in shallow rightfield to catch the grounder. His two-hop throw to the plate, handled by draftee catcher Adam Kampsen of Lake Henry, beat the runner from second for the final out of the game.
In their fifth state appearance (1966, 1985, 1998, 2004, and 2006), the Martins won their first state game.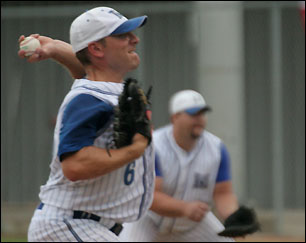 The Martins had broken a 3-3 tie in the sixth inning when Kampsen singled, advanced to second on a sacrifice and to third on a single by Thelen, and scored on a single by Ken Arceneau.
In the bottom of the eight, the Martins added two insurance runs, which proved critical. Kampsen walked and was forced out on fielder's choice by Sam Rothstein, who stole second, advanced to third on Thelen's single, and scored on a throwing error during a pickoff attempt. The Martins plated another run in the inning on Jake Thelen's RBI double to left.
Starting pitcher Ryan Nett prepares to throw a pitch in Red Wing on Thursday night as first baseman Jesse Thelen prepares to play defense. Nett earned the pitching victory by lasting eight innings for St. Martin.
Lonsdale took a 3-0 lead with three runs in the top of the third. Two walks and a single loaded the bases with two outs, when two Martin errors (as well as two dropped pop fouls) allowed three runs to score.
The Martins, though, answered with three runs in the bottom of the third, tying the game 3-3. Ryan Nett started the inning with a single, and Jake Thelen walked, both scoring on Schlangen's two-run double to right. Kampsen followed with an RBI single to left.
After muffing four plays in the third inning, the Martins played stellar defense during the rest of the game. Key plays included Schlangen diving to catch a liner in the sixth inning and doubling a runner off first; a 5-4-3 double play in the seventh inning; a backhanded stop by third baseman Josh Harrison in the eighth inning; and Schlangen throwing out a runner at the plate in the ninth inning.
Nett pitched eight innings for the win, with his brother Aaron earning a save for pitching the ninth inning.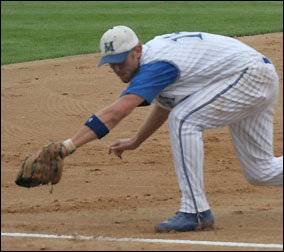 The Martins qualified for state after nearly missing the league playoffs this year. Despite winning the Stearns County League South (going 9-4), the Martins were ruled ineligible for the league playoffs for using an opposing player during an exhibition game this year.
St. Martin was reinstated for the playoffs by the state board, which ruled that the exhibition game was forfeited and played as a scrimmage.
Third baseman Josh Harrison made a backhanded stab during the eighth inning of St. Martin's 6-5 victory over Lonsdale last week.
Elrosa (15-7), the champions of the Stearns County League North and the Region 15C runners-up, also played in Red Wing on Thursday night, losing to Hampton 2-0.
| | | | | | | |
| --- | --- | --- | --- | --- | --- | --- |
| Lonsdale-- | 003 | 000 | 002 | - 5 | 7 | 1 |
| St. Martin-- | 003 | 001 | 02x | - 6 | 8 | 4 |
Lonsdale - Batting: Chad Vosejpka 1-3 RBI R; Brian Vosejpika 1-3 R; Toby Aitarilla 1-4 R; Mike Kalina 1-4 R; Mike Jirik 1-4 RBI; Pitching: (ip-h-r-er-bb-k) Brian Meull (L) (8-8-6-6-2-8).
St. Martin - Batting: Adam Kampsen 2-3 R RBI; Jesse Thelen 2-4 R; Nathan Schlangen 1-4 2B R RBI-2; Jake Thelen 1-4 2B RBI; Ken Arceneau 1-4 RBI; Ryan Nett 1-4 R; Pitching: (ip-h-r-er-bb-k) Ryan Nett (W) (8-5-5-2-4-0); Aaron Nett (S) (1-2-0-0-1-1).
Howard Lake 5, St. Martin 4
The Howard Lake Orphans scored three runs in the eighth inning to defeat St. Martin 5-4 on Sunday in Red Wing, eliminating the Martins from the Class C amateur state tournament.
The Martins lost two batted balls in the sun in the inning, a leadoff double and a two-out pop fly that scored the winning run.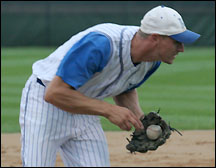 St. Martin had built a 4-2 lead, scoring three runs in the top of the first inning when Nathan Schlangen doubled, Adam Kampsen walked, and Sam Rothstein was hit by a pitch to load the bases. One run scored on a fielder's choice, and two more scored on a two-out error. The inning ended with Aaron Nett being thrown out at home while trying to score on a passed ball.
Shortstop Luke Rothstein prepares to throw after fielding a ground ball against Lonsdale in the Class C state amateur tournament last week.
Howard Lake scored one run in the bottom of the first and another in the third to cut the Martins' lead to 3-2. St. Martin then scored a run in the top of the seventh when Kampsen singled, stole second, and scored on Jesse Thelen's single.
The hosts in Red Wing were rooting for St. Martin, said manager Carl Lieser, thanks to the large crowd cheering for the Martins. "That was pretty nice," he said.
After getting the first state victory in team history, the Martins could have advanced to the final eight at state with a win on Sunday. "We didn't play our best," said Lieser, "and it cost us."
The final eight teams in Class C at state are: Blue Earth, Carlos, Howard Lake, Maple Plain, Rochester Blues, St. Patrick, Sobieski, and Union Hill.
| | | | | | | |
| --- | --- | --- | --- | --- | --- | --- |
| St. Martin-- | 300 | 000 | 100 | - 4 | 7 | 3 |
| Howard Lake-- | 101 | 000 | 03x | - 5 | 9 | 3 |
St. Martin - Batting: Adam Kampsen 1-2 R-2 BB-3; Sam Rothstein 1-3 2B R; Ken Arceneau 1-3 BB-2; Aaron Nett 1-4 RBI; Jesse Thelen 1-4 RBI; Nathan Schlangen 1-5 2B R; Pitching: (ip-h-r-er-bb-k) Nett (6.1-6-2-0-3-5); Kampsen (1-2-2-2-0-0); Arceneau (L) (0.2-1-1-0-2-0).
Howard Lake - Batting: Luke Gagnon 2-4 R-2 RBI; James Brubaker 2-4 RBI-2; Adam Koch 1-3 2B R; Tim Sannek 1-3 R; John Sturven 1-3 RBI; Pitching: (ip-h-r-er-bb-k) Koch (6-4-3-1-4-4); Jake Streich (W) (3-3-1-1-3-4).
---
Contact the author at editor@paynesvillepress.com • Return to Sports
Home | Marketplace | Community
---