Lake Henry 6
Nimrod 2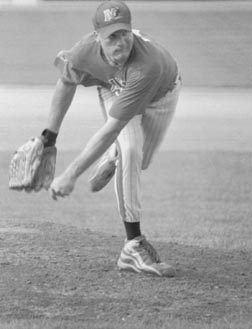 The Lake Henry Lakers got back-to-back homers in the top of the first and 17 strikeouts from their two draftee pitchers to beat Nimrod 6-2 in a first round game at state in Miesville on Friday afternoon.

Ken Arceneau, a draftee from St. Martin, helped Lake Henry win their first game at state 6-2 over Nimrod on Friday afternoon. Arceneau pitched seven innings, gave up one run, struck out 12, and hit a solo homer.

The Lakers, making their second straight state appearance in Class C and seventh state trip overall, jumped to an early lead courtesy of two solo homers on consecutive pitches in the top of the first. Ryan Wuertz blasted a 3-1 delivery over the wall in left, and Jeff Schmitz followed by hitting the first pitch he saw over the fence in right-centerfield. "Scoring early was key," said Lakers' manager Tom Ludwig. "It kept everybody loose."

"Having our big guns come through right away was nice," he added.

The Lakers scored all six of their runs in the first five innings, staking the team to leads of 3-0, 4-1, and 6-1. Draftee pitchers Ken Arceneau (from St. Martin) and Ryan Nett (from Farming) easily made that lead stand, combining to strike out 17 opposing batters.

Arceneau started, pitched seven innings, threw 132 pitches, and helped his cause by hitting a solo homer. "Kenny threw awesome," said Ludwig. "We couldn't have asked any more of him."

Nett pitched two innings in relief and finished the game by striking out the side in the bottom of the ninth. (Arceneau struck out the side in the sixth.)

The Lakers chased Nimrod's starting pitcher - Joe Cuchna, a draftee from Clarissa - by the fifth inning. Lake Henry tagged Cuchna for 12 hits, including three homers.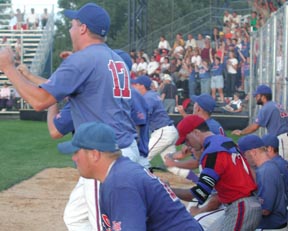 In the second, the Lakers scored one run on Chad Spanier's infield single with the bases loaded. The Lakers came within ten feet of a grand slam when Wuertz's drive to left was held up by the wind and was caught on the warning track to end the inning with the bases still loaded.
Arceneau homered in the third and started the fifth inning with a single. After a sacrifice bunt, Mike Stalboerger hit a single to score Arceneau, and Doug Fuchs greeted the new pitcher - Greg Crabb - with an RBI double to right-centerfield. (After allowing the first man he faced to double, Crabb settled down, stranded Fuchs, and pitched nearly five innings of scoreless relief.)
Stalboerger and Fuchs led the Lakers with three hits apiece.
The Lakers improved to 15-5 with the victory. Nimrod ended the year 14-5.
The Lakers' victory comes after the team struggled in their first state trip in 25 years a year ago. Luverne eliminated the Lakers in the first round last year 12-1, scoring nine runs in the sixth inning and imposing the ten-run rule after seven innings.
"As poor as we played last year, it was nice to come back and win," said Ludwig.
Two fan buses accompanied the Lake Henry team to Miesville, which is cohosting this year's Class B and Class C with Red Wing. At least 150 fans were on hand to cheer for the Lakers. "The state board knows the Stearns County League brings fans. It's nice to let them know we've got baseball teams, too," Ludwig said.
The Lakers play Blue Earth (15-10), a 6-5 winner over Fergus Falls (20-3), on Saturday at 11 a.m. in Miesville.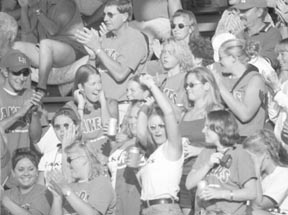 | | | | | | | |
| --- | --- | --- | --- | --- | --- | --- |
| Lake Henry-- | 211 | 020 | 000 | - 6 | 13 | 3 |
| Nimrod-- | 010 | 000 | 010 | -2 | 8 | 1 |
Two buses of fans and more made the trip to Miesville to watch the Lakers win on Friday. "The state board knows the Stearns County League brings fans," said Lakers' manager Tom Ludwig. "It's nice to let them know we bring baseball teams, too."
Lake Henry - Batting: Mike Stalboerger 3-5 R RBI; Doug Fuchs 3-5 2B RBI; Ken Arceneau 2-5 HR R-2; Ryan Wuertz 2-5 HR; Jeff Schmitz 1-3 HR BB; Chad Spanier 1-3 RBI BB-2; Pitching: (ip-h-r-er-bb-k) Arceneau (W) (7-6-1-1-3-12); Ryan Nett (2-2-1-1-1-5).
Nimrod - Batting: Aaron Funk 2-5; Ryan Tuorica 1-4 2B R; Josh Stromlund 1-4 R; Nate Erickson 1-4 RBI; Joe Cuchna 1-1 RBI; Pitching: (ip-h-r-er-bb-k) Kuchna (L) (4.1-11-6-6-2-2); Greg Crabb (4.2-2-0-0-3-0).
Fan bus on Saturday
A fan bus, costing $12 per person, will be available again on Saturday.
Passengers are asked to meet in Lake Henry at 7:30 a.m. on Saturday morning. The bus will return after the Lakers' game against Blue Earth, which starts at 11 a.m.
To reserve a seat on the fan bus, call either Kristi Wessel at 320-243-7846, the LH Bullpen at 320-243-8906, or the Sportsman's Den at 320-243-4546.
State tournament notes
• Tables were turned at state for Regions 14C and 15C. Lake Henry, the runner-up in 15C, beat Nimrod, the Region 14C champions, while New Munich, the 15C champion, lost 4-3 to Upsala/Parkers Prairie, the 14C runner-up.
• Sauk Centre, from the County Line League, needed 14 innings to beat Belle Plaine 4-1. Tim Haines, drafted from Regal, earned the victory for Sauk Centre with two innings of work. Sauk Centre plays St. Francis on Saturday at 5 p.m. in Red Wing.
• Watkins, who beat Sauk Centre for the Region 10C title, beat Gaylord 6-4 and will play Princeton on Saturday at 7:30 p.m. in Red Wing.
• Litchfield beat the New Ulm Brewers 9-4 and will play Sobieski in Miesville on Saturday at 7:30 p.m.
• Former Regal star Mike Beier and his Granite Falls teammates lost 4-2 to Buckman in the first round at state and were eliminated.
---
Contact the author at paypress@lkdllink.net • Return to Sports
Home | Marketplace | Community
---