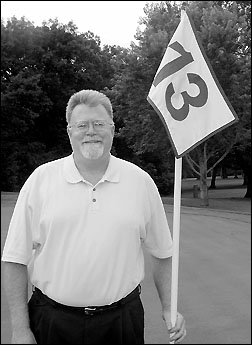 Bill Spooner became the third golfer to ace #13 last week, when he hit a hole-in-one on the 133-yard par-hole at Koronis Hills Golf Club.

Spooner, a member at KHGC since the mid-1980s, used a nine iron to record his ace during an evening round on Tuesday, Aug. 13.

"I hit it good," said Spooner, who was playing with Dan Fridell, in a round where they mixed holes on the front and the back. "It landed in front of the pin about five feet."

Because the sun was going down and in their eyes, they didn't actually see the ball go in the cup. Fridell did tell Spooner right away that he thought it might have gone in.

"I saw it hit, I saw it bounce, but I didn't see it after that,"Ęsaid Spooner, who thought driving up in a golf cart to the empty green that either his ball went in the hole or it went long. "I figured, with my usual luck, it rolled over," he added.

It hadn't, and finding the ball in the cup was very satisfying, said Spooner. His only regret was not wearing sunglasses so he could have seen his ball go in the cup, he added, joking that his inability to see the final few feet of his ball's flight into the cup would be a good premise for an advertisement for sunglasses.

Spooner also birdied #18 on Tuesday, which he said was almost as rare for him as a hole-in-one.

Hole #13 was added to Koronis Hills during its expansion to 18 holes and opened in 1997. Since then, it has been aced three times: by Randy Norris in 1998, by Mike Nehring in 2000, and now by Spooner in 2002.

Spooner is also believed to be the second lefthanded golfer to record a hole-in-one at Koronis Hills, joining Jim Gulbranson.
---
Contact the author at editor@paynesvillepress.com • Return to News Menu
Home | Marketplace | Community
---