Paynesville Press - August 21, 2001

Minute with Mike

Hearing Tiger's roar at the PGA Championship
By Michael Jacobson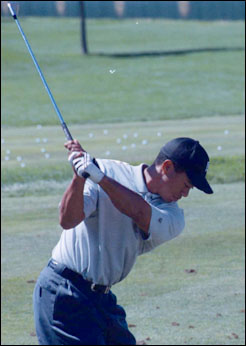 My brush with fame at the PGA Championship - held over the weekend at Hazeltine National Golf Club in Chaska - would have grown to legend proportions had Tiger Woods proved victorious again in another of golf's major championships.
Actually, my brush with fame - like any good fishing story - continues to grow anyway.
On Thursday morning, after braving rush hour traffic for two hours and waiting on a bus for another two hours for a weather delay to end, I got to the course around 11 a.m., as the players finished their warm-ups before resuming the first round of the tournament.
Walking around the practice green, I found a precious patch of open ground, in high demand amidst the 40,000 daily spectators, just as Tiger was leaving the practice area to head back to hole #10, where he had hit his first drive before the weather delay.
Tiger Woods attracted massive crowds at Hazeltine National Golf Club last week, even on the driving range. Woods took second by a stroke.
"Good luck, Tiger," I told him as he neared me.
He heard my words of encouragement, fixed his steely, game-day stare on me, and acknowledged my well-wishing with a curt nod.
Then, just before breezing off to continue his round, Tiger responded, saying to me: "I'll win this tournament for you, Jake."
That would have been a story for the ages, but alas Tiger didn't win, and indeed I fudged a bit to make the story better. I did wish Tiger well, he did look at me and nod, but he didn't promise to win the tournament for me. I added that part after telling the real story at morning coffee, too enthusiastically, and getting ribbed for falling victim to Tiger-mania.
The improved, elaborated version of my brush with Tiger gets more laughs. My high school buddy Bird suggested that I improvise further by adding that Tiger asked me to keep his Swedish bikini-model girlfriend company during his round on Thursday, but that goes from being unbelievable to outright ridiculous.
On the serious side, witnessing Tiger-mania up close was one the great joys of attending the PGA Championship last week. Many golf commentators have noted that the best way to watch Tiger at a major championship is on TV. You have to fight thousands of people - lined up at least five rows deep - to see Tiger on the course, whereas television always offers close-up views of him.
I caught my first glimpse of him at Hazeltine by chance at the practice range and stood about six deep in line to see him hit wedge after wedge directly at a tree on the range.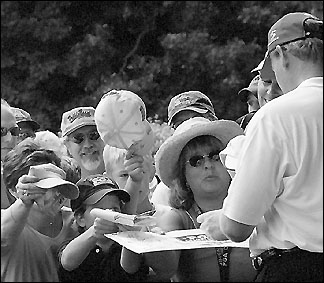 On Sunday, Bird and I only saw Tiger on the #14 green and the #15 tee. We waited at the green on #14 for two hours for the leaders to pass. Tiger, regrettably, bogeyed the short (357 yards) par-4, which proved to be a costly stroke. Then, funnelling his anger, he hit a hard drive on #15 right into the trees on the left.
Golf fans clamor for autographs from Ernie Els, the South African who won the British Open in July, on Wednesday afternoon. Els' group was the most popular of the afternoon, since Tiger Woods played his practice rounds in the morning.
As we waited for hours for Tiger and the other leaders on Sunday, Bird noted that being on the course during a final round helped make sense of the Tiger mystique, his ability to get in the heads of the other players.
You can hear where Tiger is and what Tiger does on the course, just from the sound of his legion of fans. There are par claps, birdie cheers, and Tiger roars.
You can see where Tiger is on the course, either from watching the blimp overhead or by looking for the swarm of the thousand-strong gallery following the world's greatest golfer.
His is an ominous presence, lurking, then swelling, finally exploding. Everybody wanted to know what Tiger was doing, how close he was to the lead, and when he was going to make his winning charge.
Tiger recovered to make birdie on #15, beginning a final charge of birdies on each of the last four holes, losing by one stroke to little-known Rich Beem, one guy who didn't seem to mind if the crowd didn't know his name while screaming for Tiger.
I, by chance, followed Beem's threesome on Thursday for four holes. Not to see Beem, of course. With just a few dozen followers, I did talk with his wife and some friends of his from South Dakota, where he worked as a club pro for a time. When I asked who they were following, they answered Rich Beem, almost apologizing as they said it, as if they expected me to be disappointed in him.
On Sunday, though, Beem delivered the key shot, getting a Tiger-like roar for his efforts and going on to win the tournament. Beem reached the green on the par-5 #11 in two, to the roaring approval of the gallery. Another Tiger-like roar greeted his eagle putt, giving him a three-stroke lead, which he built to a six-stroke lead.
He held on to beat Tiger by one, proving that David (Beem) can still topple Goliath (Woods).
---
Contact the author at paypress@lkdllink.net | Return to Viewpoint
---