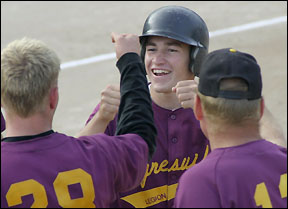 Paynesville scored seven runs in the sixth and seventh innings and rallied to beat Westby (Wis.) 8-2 in the first round of the Central Plains Region on Thursday afternoon.

Trailing 2-1 most of the game, Paynesville took a 3-2 lead in the sixth inning. Jordan Haag and Chad Stang walked and advanced on a wild pitch, and John Hemingson scored them both with a single up the middle.

Mike Mueller receives congratulations from teammate Adam Kampsen (left) and coach Dan Stanger (right) after hitting a three-run homer in the seventh inning against Westby.

Westby - which is located just six miles from Viroqua, where the tournament was held - threatened in the bottom of the sixth, loading the bases with one out. While the home state advantage had Paynesville players and coaches mumbling throughout the game (seeming to make pitcher Adam Kampsen throw an extra strike to every batter while giving Paynesville hitters one fewer), Paynesville got a couple huge strike calls in the sixth inning, one a called third strike with a full count and another that led to another strikeout with the bases full.

Paynesville got the final out in the inning when Kampsen made a diving stop on the mound and threw to first for the final out.

In the top of the seventh, Paynesville put the game out of reach, as Mike Mueller hit a three-run homer and Cody Flanders hit a two-run double.

With one out, Kampsen hit a double off the top of the fence in leftcenter. Justin Butkofski was hit by a pitch, and Mueller pulled a three-run homer to left. Paynesville had previously hit three long foul balls, but Mueller finally hit his fair.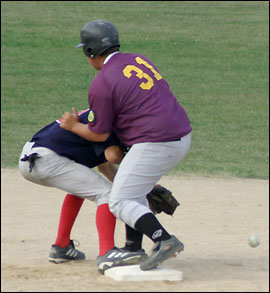 Also in the seventh, Haag singled and Stang walked, and they both scored again on Flanders' double to rightcenter.
Cody Flanders barrells into second after hitting a two-run double for Paynesville in the seventh inning, scoring Paynesville's last two runs.
Coach Brad Skoglund said Hemingson, Mueller, and Flanders really helped Paynesville with clutch, run-scoring hits.
Haag and Stang also hooked up to score Paynesville's first run in the second inning. Haag walked, stole second, and advanced to third on a throwing error before scoring on Stang's single to left.
Westby scored their only runs in the first inning, aided by some shaky defense by Paynesville. The Paynesville players had to adjust to the all-dirt infield at the Viroqua Park Bowl in Viroqua (Wis.). Skoglund said Paynesville's infielders had to get used to the depth perception, being accustomed to playing on grass infields.
Paynesville made another error to start the second inning but erased that baserunner with a 6-4-3 doubleplay. After that, Paynesville played error-free defense, including picking a runner off second base in the third inning.
Paynesville 8, Westby 2

| | | | | | | |
| --- | --- | --- | --- | --- | --- | --- |
| Paynesville-- | 010 | 002 | 5 | - 8 | 9 | 2 |
| Westby-- | 200 | 000 | 0 | - 2 | 5 | 2 |
Paynesville - Batting: Jordan Haag 2-2 R-3 SB-2; Adam Kampsen 2-3 2B R; Mike Mueller 1-4 HR RBI-3; Cody Flanders 1-1 2B RBI-2; John Hemingson 1-4 RBI-2; Chad Stang 1-2 RBI R-2 SB; Chris Beier 1-3; Pitching: (ip-h-r-er-bb-k) Kampsen (W) (7-5-2-1-7-7).
Westby - Batting: Travis Mikshosky 1-1 R BB-3; Andy Hoff 1-2 RBI BB-2 Brad Sebion 1-4 2B R; Pitching: (ip-h-r-er-bb-k) Jarrett Hanson (L) (6.1-8-7-7-4-3); Brian Remus (0.2-1-1-1-0-0).
---
Contact the author at paypress@lkdllink.net • Return to Sports
Home | Marketplace | Community
---