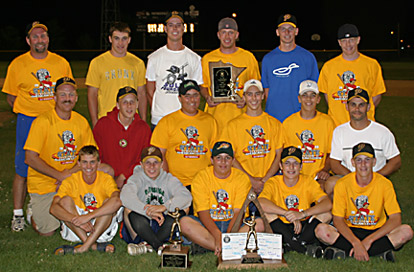 Paynesville's American Legion baseball team made its first appearance in a national tournament last week, winning one game and losing two close games at the Central Plains Regional in Viroqua, Wis.

"Great time. Great experience," said coach Brad Skoglund. "It was so much fun. The atmosphere was great."

Paynesville, while competing well in three games against elite competition, learned that they are right with the top teams in the country, said Skoglund. Paynesville faced the #1 team from Wisconsin (Manawa), the #2 team (Viroqua), and the #3 team (Westby). All three finished in the top four at the regional, which was won by Baxter Springs, Kan.

Paynesville tied for fifth with Lansing-Harpers Ferry, Iowa.

Paynesville had to adjust to playing on an all-dirt infield at the Viroqua Park Bowl and made some key defensive errors. "It goes to show: Don't beat yourselves," said Skoglund, who has taken four Legion teams to the state tournament and has won one state title. "I feel we could have beaten every team we played."

Despite yielding first-inning leads in every game, Paynesville rallied to win their first game, rallied to take a lead in their second game, and rallied to get the tying run on deck in their final game. "We battled back on the road against good Wisconsin teams," said Skoglund. "That showed a lot of heart."
Skoglund has taken four American Legion baseball teams to state in the past four years: in 1997 they were third at Virginia; in 1999 they were second at Ely; in 2000 they were third at Truman; and in 2003 they were first in Ely and advanced to nationals for the first time.
Coach Brad Skoglund talks to his team during the national tournament at Viroquoa, Wis.
Paynesville also competed in state in Legion baseball in 1953, losing their only game to the Grain Exchange 3-2 behind pitcher Jack Hoppe, who went on to pitch for the University of Minnesota.
Harold Stang, who played on that 1953 team and whose grandson, Chad, played for the 2003 team, remembered that no one could catch Hoppe's curveball because the lefthander could throw it with so much movement. He said the Grain Exchange scored the winning run despite Hoppe's four strikeouts in the final inning!
Paynesville won the Sportsman-ship Award at that tournament. In all, Paynesville players have been honored for being good people as well as good fans three times in five state tournaments, including this year, when they won the Sportsmanship Award at state.
"Paynesville can be proud we've got good kids," said Skoglund.
The team might not have played their "A" game at nationals like they did at regions and state this year, when Paynesville won seven straight games and never trailed in 45 innings. But they proved with their resilience at regions that they could play with the best in the country, said Skoglund.
The team is also very young: with four seniors-to-be; four juniors-to-be; and six sophomores-to-be, who also helped Paynesville's 15-year-old team take second in the state this summer in a Minnesota Sports Federation tournament.
Two Paynesville players were named to the all-tournament team: pitcher Adam Kampsen and catcher John Hemingson. Kampsen was honored for throwing a complete game against Westby in the opening round, as Paynesville won 8-2. Hemingson was honored for his stellar defense. He threw out three runners trying to steal in the tournament, including two against Viroqua.
Skoglund thought Paynesville could have won the tournament if they had played a little better defense and things had gone their way a little more. "We're right there with the best teams in the nation," he said.
Central Plains Region
at Viroqua, Wis.
Thursday, Aug. 14
Baxter Springs (Kan.) 4, Manawa (Wis.) 0
Lansing-Harpers Ferry (Iowa) 9,
Hope-Finley (N.D.) 7
Paynesville 8, Westby (Wis.) 2
Viroqua (Wis.) 4, Parkston (S.D.) 0
Friday, Aug. 15
Manawa 4, Hope-Finley 1
Hope-Finley eliminated
Westby 6, Parkston 5
Parkston eliminated
Baxter Springs 6 Lansing-Harpers Ferry 5 (8)
Viroqua 10, Paynesville 8
Westby 9, Lansing-Harpers Ferry 6
Lansing-Harpers Ferry eliminated
Manawa 9, Paynesville 6
Paynesville eliminated
Saturday, Aug. 16
Baxter Springs 5, Viroqua 2
Manawa 5, Viroqua 4
Viroqua eliminated
Baxter Springs 8, Westby 1
Westby eliminated
Sunday, Aug. 17
Baxter Springs 4, Manawa 3
Manawa eliminated
Paynesville's State Legion History
1953
at St. Paul
Grain Exchange 3, Paynesville 3
1997
at Virginia
Paynesville 4, Madison 1
La Crescent 4, Paynesville 2
Paynesville 5, Milroy 4
THIRD PLACE
1999
at Ely
Paynesville 5, LeSueur-Henderson 3
Paynesville 7, Eyota 4
Nashwauk-Keewatin 4, Paynesville 3
SECOND PLACE
2000
at Truman
Paynesville 6, Fertile 5
Montgomery 16, Paynesville 6
Paynesville 3, Nashwauk-Keewatin 1
THIRD PLACE
2003
at Virginia
Paynesville 10, Jackson 7
Paynesville 3, New York Mills 1
Paynesville 15, Nashwauk-Keewatin 5
FIRST PLACE
NATIONALS
at Viroqua, Wis.
Paynesville 8, Westby (Wis.) 2
Viroqua (Wis.) 10, Paynesville 8
Manawa (Wis.) 9, Paynesville 6
TIE FOR FIFTH PLACE

---
Contact the author at paypress@lkdllink.net • Return to Sports
Home | Marketplace | Community
---