Orbeck strikes out Andre Dawson at St. Paul Saints' promotion
This article submitted on 8/18/99.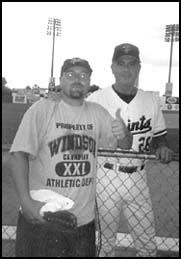 Tony Orbeck, a Paynesville native who plays amateur baseball for the Roscoe Rangers, earned himself $1,000 by striking out Andre Dawson, an eight time Major League All Star and former National League Most Valuable Player.

Tony Orbeck had a chance to work with and talk to Ray Korn, the Saints' pitching coach.

The Windsor Relief Pitcher Competition was held prior to the St. Paul Saints' Aug. 4 game at Midway Stadium in St. Paul. Four contestants had the opportunity to face Dawson in a simulated save situation.

Dawson grounded out and drew a walk against the first two contestants, and then struck out against the third.

Orbeck was the last to pitch and started with a fastball right over the plate. "He (Dawson) said he was going to take the first pitch," said Orbeck.

Dawson hammered another fastball down the line, but foul, for strike two. That ball hit near Orbeck's cheering section.

Dawson fouled off several more fastballs and took two in the dirt to run the count to 2-2. Orbeck tried a curve ball but it was also in the dirt for ball three. "Full count," Orbeck explained, "and I threw him a high and tight fastball. He took a monster cut and missed it."

The strikeout was worth $1,000 to Orbeck, who said he wasn't nervous because even if Dawson had homered Orbeck was guaranteed $250. "Hawk (Dawson) was a nice guy," said Orbeck. "No ego."

After that, Orbeck was randomly chosen from the four contestants for a chance to win $250,000 if he could throw a pitch through a softball-sized target at home plate. As he took the mound, he could see the large check written for $250,000 with his name on it. "Once I saw the check," Orbeck said, "I got a little nervous."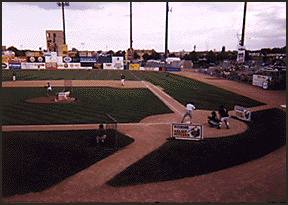 With just one chance, he threw a hard pitch that hit about a half foot below and to the right of the small hole.
Orbeck, who now resides in Waite Park, won a drawing to enter the competition. He found out about a week before the event. Before the contest, he and the other contestants had the opportunity to work out with the Saints' pitching coach, Ray Korn.
In addition to his prize money, Orbeck received a Windsor jersey, T-shirt, leather bag, hat, and 12 free tickets to the game. Attending the game were Dawn, Ralph, Melissa and Katrina Orbeck; Andre Seigstad; Mary, Brent, Greg, and Jen Heinen; Carrie Hemmesch; Randy and Mary Rothstein; and Orbeck's Grandma Sharstrom of Willmar.
---