Lake Henry and Regal eliminated from playoffs
This article submitted by Aaron Ziemer on 8/18/99.
Region 7B

Brainerd 9
Regal 0
Regal was stunned, in a loss to Brainerd 9-0, on Saturday in Cold Spring.

The loss ended the Eagles season one win short of the state tournament.

Brainerd who committed 11 errors in their first round game with Ultimate Sports came back to defeat Regal 9-0.

Mike Beier started for Regal and went the distance allowing 11 hits and eight earned runs in the game.

Dave Oehrlein led Regal at the plate as he was 2-3 with two doubles. Oehrlein could not do it alone though as Regal was held to just six hits in the game.

Brainerd set the tone for the game when they jumped out to a 3-0 lead in the bottom of the first inning. They never slowed down or looked back, as they added one more run in each of the next two innings to make the score 5-0, by the end of the third.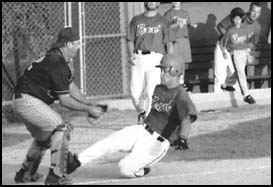 The loss ended Regal's state tournament hopes by eliminating them from the playoffs.
Cold Spring Springers 11
Regal 9
Regal scored nine runs but it wasn't enough in the offensive slugfest loss to Cold Spring 11-9, on Thursday night in Cold Spring.
Jeff Deming from Regal slides into home. Dave Oehrlein started for Regal and got the loss.
Both teams battled back and forth, but Regal just could not seem to get enough runs as they fell short.

Region 15C
Sauk Centre 3
Lake Henry 0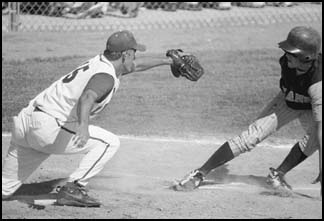 Lake Henry was eliminated from the regional tournament with a 3-0 loss to Sauk Centre.
Tim Lieser started for Lake Henry and pitched three and one-third innings. Russ Schaefer and Roger Wuertz threw relief for the Lakers.
Lieser tried to tag out a Sauk Centre player.
Rob Mittenberg started and went the distance for Sauk Centre. He earned the victory for Sauk Centre.
Mike Stalboerger provided the only real spark for Lake Henry as he was 2-3 with a walk in the game.
Lake Henry finished their season 11-9 overall.
---