Trent Blonigen longs for tractor pulls where he can "beat the other kids." This summer, he did just that, taking first place at the International Pedal Tractor Pull.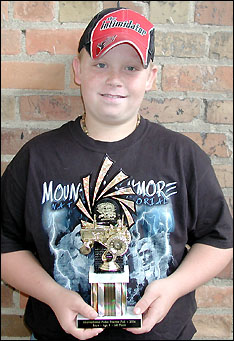 Trent, a fourth grader this fall at Paynesville Area Elementary School, took first place at the International Pedal Tractor Pull in July with a 28.4-foot pull. He beat the second place person by less than a foot. Trent competed in the nine-year-old division along with five other boys.
Trent Blonigen holding his first place from the International Pedal Tractor Pull in Yankton, S.D.
Last year, Trent took third place at the National Pedal Tractor Pull, which qualified him for the international meet, which was held in July.
The International Pedal Tractor Pull took place on Saturday, July 31, in Yankton, SD. The international competition included kids from the United States and Canada.
To qualify for internationals, Trent first had to be in the top two at the local and state competitions. He was first at both last year. Then, he advanced to the national pedal tractor pull in Omaha, Neb., last summer, where he took third. Kids placing first through fifth advanced to internationals.
While in South Dakota for the competition, Trent's family also enjoyed visiting the Black Hills and Mount Rushmore.
Trent, the son of Joan and Kevin Blonigen, participates in many pedal tractor pulls during the year. This summer, he participated in pulls in Paynesville, Richmond, Manannah, and Melrose.
Aside from doing tractor pulls, Trent likes to play and watch baseball and ride his four-wheeler and dirtbike.
Next year, Trent hopes to make another appearance at the international competition and do as well as he did this year.
Trent's secret to success involves "pedaling fast and hard." He loves to compete because he thinks it's really fun to win.
---
Contact the author at editor@paynesvillepress.com • Return to News Menu
Home | Marketplace | Community
---