Lakers earn state tournament berth
This article submitted by Michael Jacobson on 8/16/00.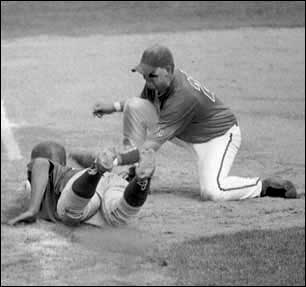 The Lake Henry Lakers entered the weekend two victories away from their first state tournament berth in a quarter of a century.

They faced an elimination game against league rival Richmond on Saturday and won 12-6.

Then they avenged their only regional loss against Becker on Sunday, winning 10-3 and clinching their first state tournament berth since 1975.

Mike Stalboerger tags out Farming's Aaron Nett, a draftee playing for Richmond, to complete a fly ball double play that ended the fourth inning Saturday.

And, finally, they turned around and faced another league foe, New Munich, for the Region 15C title on Sunday afternoon and won again, 8-3, to become the regional champions.

The Lakers will play their first state tournament contest against the Region 13C runner-up at 7:30 p.m. on Sunday, Aug. 20, in Fairfax, which is hosting the tournament this year with Sleepy Eye.

A fan bus will be leaving from downtown Lake Henry at 3 p.m. on Sunday, in time to watch New Munich play the game before the Lakers. The bus will be returning after the Lakers play. The cost will be divided among the riders and will depend on the number of people. To sign up, call Kristi Weidner at 320-243-7846.

The Lakers, who hosted the regional tournament for the first time in 50 years, drew 2,410 fans over the two weekends. After having over 1,300 fans the first weekend, they had 541 fans on Saturday and 524 on Sunday. The record for a six-game regional tournament was set last year in Elrosa at 2,479, but that featured extra sessions as games were played at night as well. The previous record for a regional tournament with games on Saturday and Sunday afternoons only was 2,350, set in Richmond two years ago.

Lake Henry 8
New Munich 3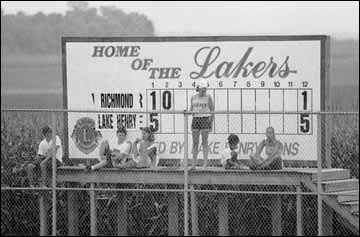 After clinching a state tournament berth in the early afternoon, the Lakers continued their winning ways by beating the New Munich Silverstreaks 8-3 later Sunday afternoon.
New Munich had already clinched a state berth by beating Becker 12-4 on Saturday, so this contest was merely for seeding in the state tournament. New Munich has not been to state since 1965.
The Lakers hit the ball well all weekend, and had 16 hits against the Silverstreaks. Doug Fuchs and Tyler Wuertz led the way with four hits apiece.
Like they did in all three games, the Lakers took an early lead, scoring one run in the first and two in the second. Fuchs hit a solo homer for one of the runs in the second.
He broke the game open in the sixth, when he came up with the bases loaded and cleared them with a grand slam home run.
Chad Spanier added a solo homer for the Lakers in the seventh inning.
On the mound, Roger Wuertz pitched five innings for the victory, allowing only two hits and one run. Mike Stalboerger pitched four innings in relief to earn a save. Combined Wuertz and Stalboerger held New Munich to five hits.
The Lakers played great defense all weekend, making their only error in three contests against New Munich.
After going 4-1 in the region tournament, the Lakers' season record is 15-10.
| | | | | | | |
| --- | --- | --- | --- | --- | --- | --- |
| Lake Henry-- | 120 | 004 | 100 | - 8 | 16 | 1 |
| New Munich-- | 001 | 002 | 000 | - 3 | 5 | 2 |
Lake Henry - Hitting: Doug Fuchs 4-5 HR-2 RBI-5; Tyler Wuertz 4-5; Ryan Wuertz 2-2; Chad Spanier 1-2 HR; Pitching: (ip-h-r-er-bb-k) Roger Wuertz (W) (5-2-1-1-3-4); Mike Stalboerger (S) (4-3-2-2-2-2).
New Munich - Hitting: Karl Funk 2-4; Chris Worms 2-5; Pitching: (ip-h-r-er-bb-k) Mike Zaragoza (L) (5.2-12-7-6-3-6); Jim Thull (3.1-4-1-1-0-3).
Lake Henry 10
Becker 3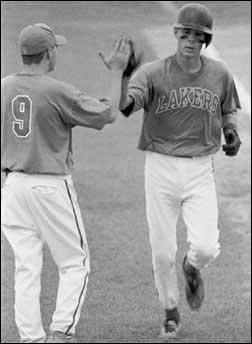 In a must-win game, with a state tournament berth at stake, the Lakers jumped ahead of Becker with a five-run first inning and clinched a trip to the state tournament with a 10-3 victory.
Third base boach Keith Lieser congratulates Jon Lieser as he rounds third after his second solo home run against Richmond on Saturday.
Steve Lieser led off the bottom of the first for Lake Henry with a solo homer. Roger Wuertz added a two-run shot in the first as the Lakers scored five runs in the first inning for the second day in a row.
Ryan Wuertz threw a complete game to earn the pitching victory for the Lakers. He allowed only eight hits and three runs. He did walk nine men, but offset that by striking out 12.
When Becker finally got on the scoreboard with single runs in the fourth and fifth, the Lakers were quick to respond. They scored once in the bottom of the fourth on Jon Lieser's third homer of the weekend, and three times in the fifth, including a solo homer by Mike Stalboerger.
Ryan Wuertz added a solo shot in the sixth.
The Lakers avenged their only loss of the regional tournament by beating Becker. On the previous Sunday, Becker had won a second round game with the Lakers 9-7 and relegated the Lakers to the losers' bracket. But the Lakers emerged as champions by winning three straight games this weekend.
| | | | | | | |
| --- | --- | --- | --- | --- | --- | --- |
| Becker-- | 000 | 110 | 010 | - 3 | 8 | 0 |
| Lake Henry-- | 500 | 131 | 00x | - 10 | 14 | 0 |
Becker - Hitting: Jason Pflingsten 2-5; Randy Baumgartner 2-4; Corey Stanger 1-2; Pitching: (ip-h-r-er-bb-k) Pfling-sten, Steve Hollatz, and Tony Steffles (statistics not available).
Lake Henry - Hitting: Jeff Olmscheid 3-4; Mike Stalboerger 3-5 HR; Roger Wuertz 2-3 HR 2B RBI-2; Ryan Wuertz 2-5 HR; Jon Lieser 1-3 HR; Pitching: (ip-h-r-er-bb-k) Ryan Wuertz (W) (9-8-3-3-9-12).
Lake Henry 12
Richmond 6
On Saturday, the Lakers continued their postseason success against the Richmond Royals, the regular season champions of the Stearns County League South Division.
Almost three weeks ago, the Lakers beat Richmond 10-9 to claim the league playoff title from the Royals, and the league rivals met in an elimination game on Saturday.
After allowing a run in the top of the first, the Lakers electrified their hometown fans by scoring five runs in the first and three more in the second. Ryan Wuertz hit a three-run homer to give the Lakers the lead, and Sam Rothstein, a draftee from St. Martin, followed with a solo shot. When Mike Stalboerger singled after that, Richmond starter Steve Schreifels was removed without retiring a man.
In the second, Jon Lieser hit his first of two solo homers in the game for a run, and the Royals hurt themselves by committing an error with the bases loaded that allowed two Laker runs to score.
The Lakers, meanwhile, played errorless defense, and turned three double plays, two that ended innings. Leading 9-2, the Lakers made a great defensive play to end the fourth inning. With one run in already and a runner at third, a Royals batter lofted a fly ball to shallow center, where Herbie Weidner caught it and launched a perfect strike to home. The runner broke for home, but stopped and tried to get back to third. The relay from Jake Thielen, another draftee from St. Martin, to Mike Stalboerger at third nailed the runner to end the rally.
After Jon Lieser hit another solo homer in the third, the Lakers manufactured the rest of their runs. Rothstein scored on Doug Fuchs' sacrifice fly in the fourth, and Stalboerger had a two-out RBI single in the fifth. In the seventh, the Lakers used a double steal by Steve Lieser and Chad Spanier to score their last run.
Rothstein, whose Martins were eliminated by the Royals despite his two strong starts, earned the victory in six innings of work. He struggled with his control early, but allowed only seven hits to Richmond's powerful lineup. The Royals did hit four homers, but all of them were solo shots.
Stalboerger pitched two and two-thirds innings of scoreless relief for the Lakers to close out Richmond.
| | | | | | | |
| --- | --- | --- | --- | --- | --- | --- |
| Richmond-- | 100 | 111 | 200 | - 6 | 9 | 3 |
| Lake Henry-- | 531 | 110 | 10x | - 12 | 14 | 0 |
Richmond - Hitting: Jon Dold 3-5 HR-2 2B; Roger Schmitz 2-3 HR; Ken Arceneau 1-1 HR; Pitching: (ip-h-r-er-bb-k) Steve Schreifels (L) (0-5-5-5-0-0); Aaron Nett (4-4-5-2-3-2); Ken Arceneau (4-4-2-1-1-2).
Lake Henry - Hitting: Steve Lieser 3-4 R-4 HBP; Chad Spanier 3-4 R; Sam Rothstein 2-3 HR R-2; Jon Lieser 2-3 HR-2; Mike Stalboerger 2-5 RBI; Pitching: (ip-h-r-er-bb-k) Rothstein (W) (6.1-8-6-6-6-7); Mike Stalboerger (2.2-1-0-0-3-2).
---