Notch, Iverson claim club championships at Koronis Hills
This article submitted by Michael Jacobson on 8/16/00.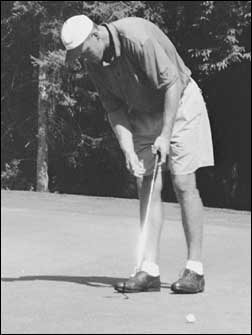 Tom Notch (ar right) proved he still knows his way around his home golf course Sunday, as he won the club championship at Koronis Hills Golf Club by five strokes.

Notch, a 1990 graduate of Paynesville Area High School who now is the head grounds supervisor at a golf course in the Twin Cities, shot a seven-over-par, 27-hole total of 113. A state golf entrant while in high school, Notch also won the club championship in 1992.

The championship flight started on the hilly, woodsy back nine (par 35), then played a round on the front nine (par 36), followed by a final round on the back.

Notch led throughout, taking the lead with a round of 37 on the back that featured seven pars and two bogeys. That put him two in front of a group of four at 39: Mike Atkinson, Dave Dilley, Mark Malingen, and Bob Pederson.

On the front, Notch made seven pars and two bogeys again for a round of 38, that gave him a four-stroke lead after 18 holes. Nearest to him then were Mike Baas, Dave Johnson, and Randy Norris at 79.

On the final nine, though, Notch once again had the low round. This time it was three-over-par 38 that featured a birdie, two bogeys, and a double bogey on #18, when the tournament was locked up. Notch's only birdie of the day came on #16, when he cut the woods on the dog-leg-left hole and hit an approach within a foot of the pin.

Playing in the next to last threesome, Pederson also shot a final round 38 that vaulted him into second place overall at 118. Baas, playing with Pederson, shot a 41 for third with 120.

Norris and Kevin Odell tied for fourth at 121, and Johnson was one stroke back in sixth at 122. There was a five-way tie for seventh at 125 between Atkinson, Randy Beier, Brad Deyak, Ryan Mackedanz, and Murry Rafferty.

In all, 18 golfers competed for the club championship.

Club championship (back-front-back)
1) Tom Notch 37-38-38 = 113
2) Bob Pederson 39-41-38 = 118
3) Mike Baas 40-39-41 = 120
4) Randy Norris 40-39-42 = 121
Kevin Odell 40-40-41 = 121
6) Dave Johnson 40-39-43 = 122
7) Mike Atkinson 39-46-40 = 125
Randy Beier 40-45-40 = 125
Brad Deyak 42-42-41 = 125
Ryan Mackedanz 42-41-42 = 125
Murry Rafferty 43-42-40 = 125

Women's championship
Dawn Iverson overcame a five-stroke deficit to win the women's club championship at Koronis Hills Sunday.

The women played 18 holes on Wednesday, Aug. 9, and another round on Sunday.

On Wednesday, Sally Deyak built a five-shot lead, firing a 74 to Iverson's 79. After playing the front nine three over, matched by Iverson, Deyak shot an even-par-round of 35 on the back to take a five-stroke advantage.

Iverson evened the score after nine holes Sunday, as she shot 38 on the front. She had seven pars and two bogeys to draw square with Deyak.

Then, on the back, Iverson shot 39 to Deyak's 42 to win. Iverson birdied two holes in the last nine holes, #11 and #16, both par fours.

Iverson's winning score was 156. Deyak was second with 159. Dorothy Martinson was third with 173, and Ranae Martinson was fourth with 189.

Women's championship
1) Dawn Iverson 79-77 = 156
2) Sally Deyak 74-85 = 159
3) Dorothy Martinson 88-85 = 173
4) Ranae Martinson 93-96 = 189

Flights
Forty-eight men competed in six flights Sunday, which were determined by handicaps. Using match play, the flights started on the front, then played nine holes on the back, and then another round on the front.

Prizes went to the champion, runner-up, and consolation champion in each flight.

First flight
Tony Werlinger, champion; Steve Fuchs, runner-up; Chuck Hagen, consolation.

Second flight
Joe Voss, champion; Duane Olmscheid, runner-up; Shawn Evans, consolation.

Third flight
Ron Fuchs, champion; Chuck Chesness, runner-up; Mark Schwarze, consolation.

Fourth flight
Bryan Mara, champion; Mike Jacobson, runner-up; Keith Hemmesch, consolation.

Fifth flight
Matt Martinson, champion; Howard Caldwell, runner-up; Bruce Eddy, consolation.

Sixth flight
Joe Speldrich, champion; Marv Nieden, runner-up; Jeff Thompson, consolation.
---