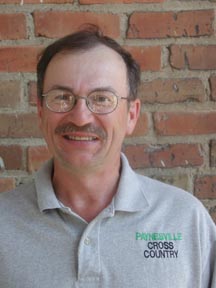 The greatest cross country season in the history of Paynesville Area High School continues to produce accolades for the program.

In addition to the boys winning the Class A team title and Jenny Hess winning the individual title among Class A girls last November, coach Darrel Carstens was named the Class A Boys Coach of the Year at a Minnesota coaches' association conference the first week of August.

Darrel Carstens was named the Class A Boys Coach of the Year in early August after leading the Bulldogs to a state cross country team title in 2000. Carstens also coached the girls' Class A individual medalist.

"I'm deeply honored by the award," said Carstens. "I'm honored because of the recognition it gives to the kids of Paynesville."

"I'm very proud to receive it for them," he added. "It's their award." The success of the cross country program starts with good kids, Carstens feels, and needs critical support from parents and family, teaching staff, school administrators, the coaching staff, everyone's family, and the fans.

He singled out his assistant coaches for praise – Rick Houske, who has served the program for 20 years, and Todd Spanier, a former All State runner who served as a volunteer assistant last year.

"It's a whole program, not just me," Carstens stressed.

The award recognizes the team title won by the boys last November, the individual title won by Hess, and the five All State runners (Clayton Lang, Adam Utsch, Dan Pearson, Hess, and Brooke Schmitz) the team produced. "That is so rare," says Carstens, still sounding in awe of his team's accomplishments nine months later. "A team with a couple (All State runners) would feel blessed. We had five, and a couple who were close."

Carstens used to believe that long-distance running was primarily mental, estimating the importance of mental toughness at 70 percent. He has lowered that estimation in recent years to 40 percent mental and 60 percent physical.

"You can't talk yourself into being a state champion," he explained. "You've got to train your body. You've got to have it working harder in practice than it will in a meet."

"My philosophy now is: 'The harder I work the luckier I get,' which in essence says, 'Hard work pays,' " he added.

He also focuses on making the sport enjoyable and rewarding for everyone on the team, not just the elite runners on varsity. "No matter what your ability, he pays the same amount of attention to you, which is awesome," explained Lang. "That's the way it should be."

"Oh, definitely, he's the best coach in the state, I think," said Clayton Lang, who finished sixth in the state in cross country last fall as a senior and placed fourth at state track last spring. "The thing is he makes cross country fun. He makes it a blast."

"I think it's something you have to make fun in order to be successful, and he definitely does that," agreed Hess.

"He's a great motivator, and he also will push you in practices," she added.

One of the motivations that Carstens used last year was convincing his team that they could beat Staples-Motley, the four-time defending champion in Class A. The Bulldogs beat the Cardinals twice during the regular season, finished second behind them at sections, but won when it mattered most, claiming the state title as Staples-Motley finished third.

Lang said Carstens managed the team perfectly a year ago, pushing them hard when needed, allowing them to rest, and getting them to peak at the state meet. "He told us to go out and run our race, and we'd beat them (Staples-Motley)," Lang explained. "And we did."

While other teams may run more miles, Carstens believes in an incremental approach. Varsity runners may find themselves running ten miles, doing 20 400-meter runs, or 30 200-meter dashes.

Carstens doesn't believe in mandatory workouts. Each athlete is asked to do what they can. They also play more tag than any other team in the state, Carstens believes, mixing a workout with the ageless children's game. "If you can make it a lot of fun and work hard, then you've got the right combination," he said.

His workouts are also pretty straight forward: a warm-up jog, nine minutes of stretching, and then the real running. Lang said having Carstens make them laugh and smile between sprints helps make running hard easier to do. "You're still getting the same workout," he said. "You're just not thinking about it."

Last year, the team did 24 two-a-day workouts. Half were done in preseason practices and the others stretched into October as the team prepared for the state meet. "Our morning practices are voluntary and everybody shows up," he said.

This year, Carstens wants both the boys and the girls teams to advance to state, a cause that should be aided by the team's switch from the powerhouse of Section 6A to Section 5A.

Carstens likes to share the credit for the team's success and for his award. His team recognized his achievement by holding a surprise party for him after practice last Monday night at the city beach, showing their coach they believe he deserves credit for his award.

"He's too humble," said Hess.
---
Contact the author at paypress@lkdllink.net • Return to Sports
Home | Marketplace | Community
---