Lake Henry 3
Sauk Rapids 2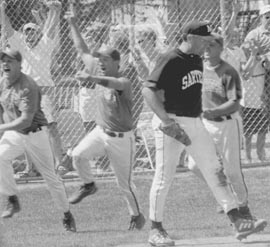 The Lake Henry Lakers were within three outs of being eliminated on Sunday, but rallied to score three runs in the ninth inning to beat the Sauk Rapids Cyclones 3-2 and earn a berth in the Class C state amateur baseball tournament for the second year in a row.

Jeff Olmscheid, Herbie Weidner, and Josh Kampsen (behind the umpire) run to greet Jon Lieser (not shown) after he scored the winning run against Sauk Rapids on Sunday.

In the ninth inning, Jake Thelen, a draftee catcher from St. Martin, grounded a single through the hole past third to bring home two runs and tie the score at 2-2, and Doug Fuchs followed with a double off the fence in right-center that drove home the winning run.

With the Lakers trailing 2-0, Jeff Schmitz started the rally by getting hit by a pitch. Ken Arceneau, a draftee pitcher from St. Martin, battled a two-strike count and hit a long drive to left that was held up by the wind. As the ball was blown back into play, it hit the Sauk RapidsÕ leftfielder in the shoulder and fell for a double in the corner, putting the tying runs at second and third.

After an infield out, Roger Wuertz struck out, but reached safely as the pitch was in the dirt and so was the catcherÕs throw to first. That loaded the bases for Thelen.

Thelen followed with a single to tie the game, and Fuchs doubled to score Jon Lieser, who was pinch running for Wuertz.

The Lakers were frustrated for the second straight Sunday by Rick Dallman, a draftee pitcher from Sartell playing for Sauk Rapids at the Region 15C tournament in New Munich. The veteran lefthander had pitched eight shutout innings to get the Cyclones within three outs of a state berth.

Shortstop Jeremiah Piepkorn provided most of the offense for the Cyclones. He singled, stole second, and scored on Scott LochnerÕs single to give Sauk Rapids a 1-0 lead in the fourth. Then in the top of the ninth, he doubled off the fence in right center, stole third on a botched bunt attempt, and scored on a sacrifice fly to give Sauk Rapids a 2-0 advantage. His insurance run turned out not to be enough.

The Lakers had chances to score. They used sacrifice bunts to get a runner to second in the third and fifth innings, but Dallman pitched out of the jam each time. In the sixth, the Lakers loaded the bases with one out on two hits and a walk, but Dallman induced a one-hop come-backer and started a 1-2-3 double play to end the threat.

In the eighth, good defense helped Sauk Rapids. LakersÕ leadoff hitter Ben Bork was robbed of a hit on a diving stop up the middle by the Sauk Rapids second baseman. Chad Spanier then singled but Dallman picked him off first.

The Lakers also played well defensively. They turned double plays in the first and sixth innings, and Bork threw out a runner at home from centerfield in the seventh for the Lakers.

Arceneau pitched well for the Lakers, going all nine innings to record the victory. The week before, Sauk Rapids beat the Lakers 12-2 to send them to the losersÕ bracket, but just like a year ago, the Lakers won when they needed to on the second weekend of the regional and earned a spot at state.
| | | | | | | |
| --- | --- | --- | --- | --- | --- | --- |
| Sauk Rapids-- | 000 | 010 | 001 | - 2 | 6 | 1 |
| Lake Henry-- | 000 | 000 | 003 | -3 | 7 | 1 |
Sauk Rapids - Batting: Jeremiah Piepkorn 3-3 R-2 SB-2 BB; Scott Lochner 1-4 RBI; Nate Larson 1-4 2B; Rick Dallman 1-4; Pitching: (ip-h-r-er-bb-k) Dallman (L) (8.1-7-3-3-4-6).
Lake Henry - Batting: Jeff Schmitz 2-3 R HBP; Chad Spanier 2-4; Jake Thelen 1-2 RBI-2 BB SAC; Ken Arceneau 1-3 2B R BB; Doug Fuchs 1-4 2B RBI; Pitching: (ip-h-r-er-bb-k) Arceneau (W) (9-6-2-2-2-6).
New Munich 12
Lake Henry 7
The Lakers scored six times in the first inning and took a 7-0 lead after three innings, but New Munich rallied with nine runs in the seventh and claimed the Region 15C championship on Sunday afternoon in a seeding game.
Both teams advance to the Class C state tournament that starts Friday in Miesville (co-hosted by Red Wing). The Silverstreaks were unbeaten at home in the regional.
Both teams represented Region 15C a year ago at state as well, with the Lakers the champions last year and New Munich the runners-up.
The Lakers got doubles from Ryan Wuertz, Jeff Schmitz, Jon Lieser, and Doug Fuchs in scoring six runs in the first inning.
They Lakers also scored a single run in the third.
New Munich rallied with a run in the fourth, two in the fifth, and then sent 13 batters to the plate in the seventh. New Munich collected five walks, four hits, and were helped by an error to start the inning. Joe Hoppe hit a bases-clearing double for the Silverstreaks in the rally.
Following the game, New Munich drafted Rick Dallman from Sartell (via Sauk Rapids) for their state tournament run, and Lake Henry drafted Farming pitcher Ryan Nett.
| | | | | | | |
| --- | --- | --- | --- | --- | --- | --- |
| Lake Henry-- | 601 | 000 | 000 | - 7 | 11 | 1 |
| New Munich-- | 000 | 120 | 90x | -12 | 14 | 4 |
Lake Henry - Batting: Ryan Wuertz 3-4 2B-2 R; Jeff Schmitz 2-4 2B RBI R; Doug Fuchs 2-3 2B-2 RBI-2; Jeff Olmscheid 2-5 R-2; Jon Lieser 1-2 2B R RBI; Mike Stalboerger 1-3 R; Adam Miller 1-5 R; Pitching: (ip-h-r-er-bb-k) Stalboerger (5-8-3-3-2-5); Wuertz (L) (1.1-1-5-2-4-1); Fuchs (1.2-5-4-4-1-1).
New Munich - Batting: Pat Nathe 3-5 RBI-3 R; Chad Funk 2-4 2B RBI R; Joe Hoppe 1-4 2B RBI-3 R-2; Pitching: (ip-h-r-er-bb-k) Jim Thull (W) (9-11-7-2-1-6).
Lake Henry 16
Farming 5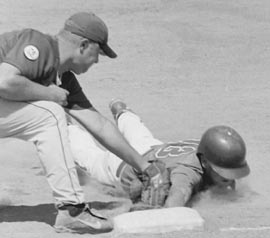 The Lakers needed only eight innings to beat Farming in a regional elimination game on Saturday.
In winning 16-5, Lake Henry beat Farming for the second time in the playoffs. The Flames swept two regular season games from the Lakers, but Lake Henry rebounded to beat Farming in the divisional playoffs and in regions.
Chad Spanier gets tagged out diving back to first, as another Laker threat was thwarted by pitcher Rick Dallman, a draftee from Sartell.
The Lakers scored seven times in the third to take a 10-3 lead and ended the game early by imposing the ten-run rule with three runs in the eighth inning.
Lake Henry pounded three Farming pitchers, including draftee Brent Heinen of Roscoe, for 17 hits.
Ryan Wuertz hit a three-run homer for the Lakers in the third, and Doug Fuchs hit a two-run shot in the fourth. Wuertz also had an RBI single in the first.
Roger Wuertz added a two-run double in the first inning for the Lakers and pitched all eight innings for the victory.
Greg Holthaus hit a two-run homer for Farming in the first inning.
| | | | | | | |
| --- | --- | --- | --- | --- | --- | --- |
| Farming-- | 300 | 020 | 00 | - 5 | 9 | 2 |
| Lake Henry-- | 307 | 201 | 03 | - 16 | 17 | 1 |
Farming- Batting: Greg Holthaus 2-4 HR 2B RBI-2 R-2; Aaron Nett 2-4 2B R; Chris Theis 2-3; Sam Rothstein 1-3 2B RBI; Craig Klein 1-4 R; Pitching: (ip-h-r-er-bb-k) Aaron Nett (L) (2.1-10-9-8-0-1); Brent Heinen (1.2-2-3-3-0-1); Ryan Nett (4-7-4-3-0-6).
Lake Henry - Batting: Jon Lieser 3-4 R-2 RBI; Chad Spanier 3-5 R-2 RBI; Ben Bork 3-6 R-2; Roger Wuertz 2-2 RBI-2 R-2; Ryan Wuertz 2-6 HR RBI-4 R-2; Adam Miller 2-5 R-2 RBI; Jesse Lieser 1-1 R Pitching: (ip-h-r-er-bb-k) Roger Wuertz (W) (8-9-5-4-1-7).
State Tournament Schedule
Friday, Aug. 17
Lake Henry plays Nimrod at Miesville at 5 p.m.
New Munich plays Urbank/Parkers Prairie at Miesville at 7:30 p.m.
(Red Wing and Miesville are hosting this year's Class C state tournament.)
Fan Buses
One 47-passenger fan bus has already been filled for the Lake Henry game on Friday. Another bus is still being organized. For reservations, call the LH Bullpen (243-8906), Sportsman's Den (243-4546), or Kristi Wessel (243-7846). The fan buses will leave Lake Henry at 1 p.m. on Friday.
The cost has not been determined. The bus cost $10 each last year.
The return time will be flexible, as the buses may wait for the New Munich game, or if enough people want to go home, one bus may leave and the other stay.
The bus for players will leave at noon on Friday.
---
Contact the author at paypress@lkdllink.net • Return to Sports
Home | Marketplace | Community
---