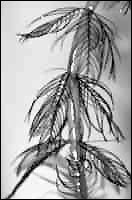 The Minnesota Department of Natural Resources (DNR) has confirmed the discovery of Eurasian watermilfoil in five additional lakes in Minnesota, including Lake Ripley near Litchfield.

The latest discoveries - Little Elk Lake (Sherburne County), German and East Jefferson lakes (Le Seuer County), Fish (Wright County) and Ripley (Meeker County) - were made as recent warm weather caused the plants to grow and become more obvious. The discoveries bring total new infestations to seven in 2002.

Eurasian watermilfoil was confirmed earlier this year in Mitchell Lake in Hennepin County and Ossawinnamakee in Crow Wing County.

Eurasian watermilfoil - a nuisance exotic species that can grow into thick vegetative mats under certain conditions - now infests 140 Minnesota lakes, wetlands, and rivers. It was first discovered in Minnesota in Lake Minnetonka in 1987.

Eurasian watermilfoil is also present in these area lakes: Green Lake and Norway Lake in Kandiyohi County; Sauk Lake in Stearns County; Stella Lake and Lake Washington in Meeker County; and Lake Minnewaska in Pope County.

Based on patterns observed in recent years, more infestations are likely to be found before freeze-up, according to Chip Welling, DNR Eurasian watermilfoil program coordinator. As the plants grow, boaters and DNR staff are better able to see and report them.

The DNR encourages boaters not to become apathetic about precautions they should take. Many thousands of waters in the state still are without Eurasian watermilfoil. DNR staff, as well as others, are continuing prevention efforts for milfoil, zebra mussels, and other harmful exotic species.

To help remind boaters, exotic species alert signs will be posted at public water accesses on lakes with newly-discovered infestations.

Watercraft inspectors will continue to educate boaters about the importance of removing all aquatic vegetation and emptying water bait buckets, livewells, and bilge pumps prior to leaving water accesses. DNR biologists will inspect each infested lake to determine the extent of the infestation and the potential for control.

"Control is now aimed at reducing plant-caused nuisances for lake users and at reducing the potential for spread to other lakes," Welling said. "Eradication is not a realistic goal."

In recent years, the DNR has authorized and shared the cost of many small-scale removal efforts managed by property owners, lake associations, and local governments.

"Experience has shown that even the most aggressive control efforts undertaken in past years have failed to eliminate milfoil or even limit its spread within a lake," Welling said. "There is one key lesson from this fact: Prevention efforts by boaters and others are critical."
---
Contact the author at editor@paynesvillepress.com • Return to News Menu
Home | Marketplace | Community
---