Regal and Lake Henry both advance in baseball playoffs
This article submitted on 4/28/99.
Region 7B

Regal 16
O'Hara's 6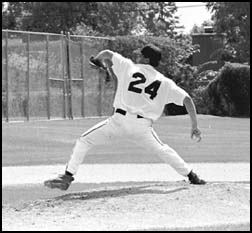 By Mike Pauly & Aaron Ziemer
Regal defeated O'Hara's 16-6, on Saturday in the first round of the Region 7B Amateur Baseball Tournament, to move just one game away from the state tournament.
Mike Beier (pictured right) started and got his eighth win of the season for Regal. Beier went five innings before giving way to Tim Haines in the sixth, and Wade Von Eschen closed it out in the seventh and eighth.
Mike Tangen and Jeff Deming homered for Regal in the game. Brad Lieser added three hits and four RBIs for Regal in the game.
Regal started the game off with three runs in the bottom of the first inning. Mike Beier was hit by a pitch to lead off the game, Tangen, Ron Fuchs, and Haines all had RBI doubles.
This gave Regal a big lead to start the game and it really kept O'Hara's out of the game.
After adding one run in both the second and third innings, Regal came back by scoring four runs in the fifth.
Tangen led off with a solo homer. With two down Deming was hit by a pitch and scored when Lieser doubled. After the big rally by Regal the score was 9-3.
O'Hara's tried to make it a game by scoring three runs in the top of the sixth, but that didn't last long as Regal came right back with five in the bottom of the sixth.
Lieser drove in two with his third hit of the game to make the score 14-6.
Regal will face Cold Spring tonight (Wednesday) at 7:30 p.m., with the winner advancing to the state tournament held in Marshall and Granite Falls.
| | | | | | | |
| --- | --- | --- | --- | --- | --- | --- |
| O'Hara's-- | 001 | 023 | 00 | -6 | 8 | 2 |
| Regal-- | 311 | 045 | 02 | -16 | 15 | 5 |
Region 15C
Lake Henry 11
New Munich 10
By Aaron Ziemer
Lake Henry defeated New Munich 11-10, in the first round of the Region 15C baseball tournament.
Draftee Russ Schaefer pitched and earned the victory for Lake Henry.
Schaefer also had a huge game at plate as he hit a three-run home run to help the Lakers defeat New Munich.
Elrosa 13
Lake Henry 3
By Aaron Ziemer
Lake Henry was defeated by Elrosa 13-3, on Sunday.
Steve Lieser led the Lakers at the plate as he was 3-4.
With the loss Lake Henry fell to 1-1, in the regional tournament and will face Sauk Centre on Saturday at 1:30 p.m at Elrosa.
---