Nick Stalboerger's best hit was at the Stearns County Fair when he hit another car causing it to go airborne and land on the roof of his car. "It was sweet," he said. "I almost made it flip completely."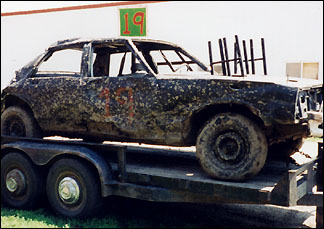 Stalboerger got interested in demolition derbies because of his brother-in-law, who also competes in them. "It's a lot of fun smashing other people," Stalboerger said about his hobby.
Through his three-year derbying career, Stalboerger has participated in six or seven derbies. He competes in mostly car derbies, but did do one truck derby in Sauk Rapids. He has done multiple car derbies in Sauk Centre at the Stearns County Fair
Nick Stalboerger, a 2001 PAHS graduate, enjoys the rush of "smashing into people" while competing in demolition derbies.
Stalboerger, a 2001 PAHS graduate, explained that a derby usually has between two and four heats. In each heat, about 10 cars enter the pit at once. The cars have two minutes to make a hit; if they don't, they are disqualified. Another way to get disqualified, Stalboerger said, is if a car has mechanical problems. Some cars have problems with engines or broken drive shafts, he said.
Each heat goes until there are only two or three cars left, Stalboerger explained. Then, at the end, the two or three winners from each heat advance to the feature. During the feature, the cars compete until only one car, the winner, is left.
Because of all the safety hazards, appropriate precautions are taken. For example, the driver must wear a helmet, neckbrace, eye protection, and carry a fire extinguisher inside the cab. "People's cars start on fire all the time," Stalboerger said, "so maybe it's a good thing that we carry extinguishers."
Gas tanks have to be removed and placed in the cab, Stalboerger explained, because if they are hit in their original position they might blow up.
Stalboerger spends over two weeks preparing his car for a half hour of derbying. "To get a car ready for the derby," Stalboerger explained, "you first have to strip everything." Seatbelts, seats, dashpanels, and windows all have to go, he said. Then the welding and reinforcing takes place, he said.
Usually he will find cheap cars on the side of the road, Stalboerger said, and turn them into derby cars.
With some of his buddies, Stalboerger works on his car at his parents' farm near Lake Henry. If it's a really good car, he said, he can get more than one derby out of it.
The engines, he added, can be used more than once. Stalboerger, who recently graduated from Alexandria Technical College, said he has a better understanding of engines because of his degree in diesel mechanics.
Stalboerger said that his favorite part of participating in the demolition derbies is the few minutes right before the derby. "When you're sitting behind the gate waiting, it's awesome," he said. "Your adrenaline is pumping and your hands are shaking." Stalboerger said that he's usually shaking for about two days before the derby, but he settles down once he gets his first hit.
Stalboerger has never won a derby, but he has gotten a trophy by making it to the feature. His goal now is to win one.
---
Contact the author at editor@paynesvillepress.com • Return to News Menu
Home | Marketplace | Community
---