Greenwald completed a season sweep of Lake Henry, ending the Lakers' 2005 season with a 2-1 loss on Sunday at the Region 15C tourney in New Munich.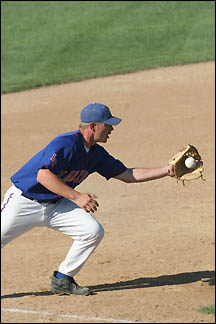 Greenwald scored two runs in the fifth inning to take a 2-0 lead. Shawn Schoenberg, a draftee from Spring Hill, and Keith Frieler had RBI singles for Greenwald in the rally, which featured four hits.
Adam Kampsen snared a grounder against NL-S on Saturday. Against Greenwald on Sunday, he led the Lakers with three hits.
Lake Henry escaped a jam in the sixth inning, when relief pitcher Doug Fuchs came into the game and retired the final batter of the inning with the bases loaded.
The Lakers did not score until the ninth inning when Josh Kampsen walked, stole second, and scored on an RBI single by Mike Stalboerger. Stalboerger reached second on a passed ball to put the tying run in scoring position for the Lakers, but Brandon Worms relieved Schoen-berg and got the final two outs to preserve the 2-1 win. Worms was the hero in July when Greenwald beat Lake Henry 7-5 on his walkoff three-run homer in the ninth.
The Lakers, with two losses at the Region 15C tourney, ended their season with a record of 20-7.
The other five teams - Greenwald, New London-Spicer, New Munich, Norway Lake-Sunburg, and Richmond - stayed alive over the first weekend of the Region 15C tournament. Norway Lake-Sunburg was the only team to win both their games over the weekend. They will play Richmond at 12 noon on Saturday in a game whose winner will secure a state berth. Richmond, which lost in the first round, would be eliminated if they lose this game.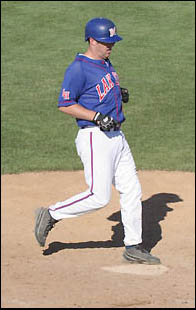 In the consolation bracket, Greenwald advanced to play New London-Spicer on Saturday at 2:30 p.m. in an elimination game. New Munich is also alive in the consolation bracket.
After walking, Jeff Schmitz scored the Lakers' only run against New London-Spicer on Saturday on a wild pitch and throwing error.
Although no local teams remain, a few local draftees will continue to play in the region playoffs: St. Martin pitcher Ken Arceneau for Richmond; Regal pitcher Chris Beier for Norway Lake-Sunburg; Spring Hill pitcher Rick Lieser for New Munich; Regal pitcher/catcher A.J. Hadley for New London-Spicer; Roscoe pitcher Brent Heinen for Richmond; and Spring Hill pitcher/ catcher Shawn Schoenberg for Greenwald.
| | | | | | | |
| --- | --- | --- | --- | --- | --- | --- |
| Greenwald-- | 000 | 020 | 000 | - 2 | 7 | 2 |
| Lake Henry-- | 000 | 000 | 001 | - 1 | 8 | 1 |
Greenwald - Batting: Shawn Schoenberg 3-3 RBI; Keith Frieler 1-3 RBI; Pitching: (ip-h-r-er-bb-k) Schoenberg (W) (8.1-8-1-1-1-7); Brandom Worms (S) (0.2-0-0-0-0-1).
Lake Henry - Batting: Adam Kampsen 3-3; Mike Stalboerger 1-3 RBI; Doug Fuchs 1-3 2B; Herbie Weidner 1-2; Pitching: (ip-h-r-er-bb-k) Ryan Wuertz (L) (4.2-5-2-2-6-6); Fuchs (3.1-2-0-0-0-5).
NL-S 15, Lake Henry 1
Josh Fortmann threw a no-hitter for New London-Spicer, which beat Lake Henry 15-1 in their first-round game at regions on Saturday. The game ended in seven innings by the ten-run rule.
New London-Spicer got seven runs on two hits in the second inning as four Twins walked on 3-2 counts. After two bases-loaded walks and a hit batter with the bases loaded gave NL-S a 3-0 lead, Scott Rambow hit a grand slam to right for a 7-0 lead.
NL-S added five runs in the fifth on a two-run homer by Fortmann, a two-run double by A.J. Hadley, a draftee catcher from Regal, and an RBI single by Tony Salonek.
Lake Henry scored its only run in the bottom of the fifth when Jeff Schmitz walked, advanced to second on a wild pitch, advanced to third on a strike-three wild pitch, and scored on a throwing error.
NL-S answered with three runs in the top of the sixth, including a two-run homer by Hadley.
| | | | | | | |
| --- | --- | --- | --- | --- | --- | --- |
| NL-S-- | 070 | 053 | 0xx | - 15 | 13 | 1 |
| Lake Henry-- | 000 | 010 | 0xx | - 1 | 0 | 3 |
New London-Spicer - Batting: A.J. Hadley 3-4 HR 2B RBI-5; Scott Rambow 3-5 HR RBI-4 R-2; Josh Fortmann 2-4 HR RBI-2; Skip Toops 2-3 R-2 RBI-2; Pitching: (ip-h-r-er-bb-k) Fortmann (W) (7-0-1-0-3-9).
Lake Henry - Batting: Jeff Schmitz 0-2 BB R; Pitching: (ip-h-r-er-bb-k) Ryan Nett (L) (4.2-5-8-4-4-4); Nathan Schlangen (2.1-8-7-7-2-1).
---
Contact the author at editor@paynesvillepress.com • Return to Sports
Home | Marketplace | Community
---