RaNae Martinson, a seven-time women's club champion at Koronis Hills Golf Course, has witnessed three holes in one on the course. When she hit her first hole in one, on Saturday, July 22, playing by herself because her regular group was late, she needed a witness from a neighboring tee.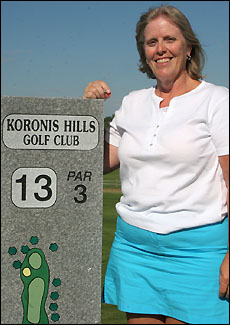 After hitting her tee shot on the par-3, 108-yard #13, and thinking it went into the cup, she asked a threesome on #6 green to come and be her witnesses. One of the witnesses also plays a lot by himself and told her that his greatest fear is not having a witness for a hole in one.
RaNae Martinson recorded her first hole in one on Saturday, July 22, at Koronis Hills Golf Club, where she is a seven-time women's champion. She aced the par-3, 108-yard #13 using her nine iron.
"When I hit it, it's one of those that rolled up there and disappeared," recalled Martinson. "Oh, my God, I think that went in," she remembered thinking to herself, though she wasn't sure if it went into the hole or rolled off the green.
"I saw it go in, but I didn't believe it," she said.
Martinson, who began playing golf in 1984 and who has won seven club championships, including the last two years in a row, has been playing the white tees for most of the summer but switched to playing the forward tees recently to prepare for the upcoming tournament.
She was short with a pitching wedge the day before on #13, so she hit a three-quarters nine iron that morning. She knew the line was good and was hoping the distance was right. The ball hit about 18 inches in front of cup and rolled in.
Martinson described her round of 83 as okay, not great, and certainly helped by her ace.
Prior to this ace, her closest shot to being a hole in one was an inch short on #17 four or five years ago. (There were 12 people on the tee box and their collective inhale kept the ball out of the hole, Martinson jokes.) Otherwise, her closest tee shots on par 3s have all been two or three feet away from the cup.
With the ace, Martinson joins her mother, Dorothy, as having a hole in one at Koronis Hills. (Dorothy also has one in Arizona, a few months after she got her hole in one at Koronis Hills in 1998.)
Her regular playing partners - Rick Grabow (2), Mike Nehring (3) Jeff Tormoen (1), and Shawn Evans (1) - all have holes in one, with Ranae witnessing holes in one by Evans, Nehring, and family friend Chuck Chesness.
Though she doesn't play as much golf as she once did, she said of golfing's appeal: "I enjoy the social part, I enjoy being outside, it's a good test for yourself, and you always keep coming back for that one perfect shot," she said.
---
Contact the author at editor@paynesvillepress.com • Return to Sports
Home | Marketplace | Community
---