Legion baseball takes third in state again
This article submitted by Michael Jacobson on 8/09/00.

The Paynesville American Legion baseball team that took third place at the state tournament. Playing in the tournament were, left to right: (front) Max Meagher, Eric Gerding, Tyler Kochman, Shaun Fleischhacker, Curt Christian, Scott Braun, and Ryan Schneider; (back) Nic Stalboerger, Jon Lieser, Pat Rohe, Justin Mackedanz, Jeremy Fuchs, Adam Miller, unidentified, and coach Brad Skoglund.
The Paynesville American Legion baseball team returned from the Division II state tournament in Truman over the weekend with another third-place trophy.
On Sunday, Scott Braun singled in the top of the seventh inning to score Jeremy Fuchs (batting at left below) with the winning run, as Paynesville beat Fertile in the third-place game 6-5.
Fuchs reached base to lead off the inning by getting hit by a pitch. Jon Lieser drew a walk to advance Fuchs into scoring position, and Braun followed with his sixth hit of the weekend for the winning margin. Braun had two hits in each of the three games for Paynesville.
Lieser picked up the pitching victory, his second of the weekend, with two innings of scoreless relief.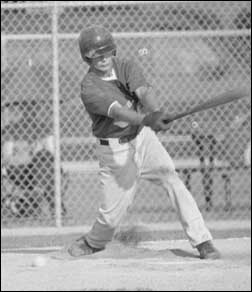 Fuchs started pitching for Paynesville. After allowing two runs in the bottom of the first, Fuchs kept Fertile scoreless for the next four innings.
Paynesville took the lead with five runs in the fourth. Braun singled but was forced out by a grounder from Adam Miller. Pat Rohe walked, Justin Mackedanz hit an RBI double, and Max Meagher singled to tie the score at 2-2.
With two outs and two strikes, Nic Stalboerger delivered a single to left center that scored both Mackedanz and Meagher to give Paynesville a 4-2 lead.
But Stalboerger wasn't done. Watching the throw from center, and seeing the cut off man had been overthrown, Stalboerger broke to second. The throw from the Fertile catcher to second went into the outfield and rolled to the fence, allowing Stalboerger to score as well.
Leading 5-2, Fuchs walked three batters to start the sixth, which prompted the entry of Lieser in relief. All three ended up scoring as Fertile tied the score at five, setting the stage for Braun's game-winning hit.
"I thought it was exciting to win the last game of the season, being that it was the last time I'll play with a lot of (these guys)," said Braun, a recent graduate of Paynesville Area High School.
During the high school year, the varsity baseball team compiled a 19-3 record but lost to St. Michael-Albertville, the eventual state champion, in the district semifinals.
The trip to the state American Legion tournament was the third in four years for Paynesville, which also finished third at state in 1997 and was second a year ago.
"Everybody did their part," said mackedanz of the team effort.
"It was a good time. Everybody had fun," he added.
| | | | | | | |
| --- | --- | --- | --- | --- | --- | --- |
| Paynesville-- | 000 | 500 | 1 | - 6 | 7 | 2 |
| Fertile-- | 200- | 003 | 0 | - 5 | 5 | 2 |
Paynesville - Batting: Justin Mackedanz 2-4 RBI R; Scott Braun 2-4 RBI; Max Meagher 1-2 RBI R; Nic Stalboerger 1-2 RBI-2 R; Curt Christian 1-4; Pitching: (ip-h-r-er-bb-k) Jeremy Fuchs (5-3-5-5-7-4); Jon Lieser (W) (2-2-0-0-0-0).
Montgomery 16
Paynesville 6
Walks killed Paynesville during their semifinal game against Montgomery on Saturday. Each team had 10 hits, but Paynesville walked 10 batters as well. Eight of them came around to score.
Montgomery won the high school state title two years ago and lost to St. Michael-Albertville this spring. They had two college players who were young enough to play on their Legion team.
Montgomery scored five times in the first, and added four runs in both the fourth and fifth innings to build a big lead.
Paynesville was led by Miller, who had three hits in four at bats with a double and a run scored. Braun hit a three-run homer for Paynesville in the bottom of the fifth.
Montgomery lost in the championship game to Sacred Heart 7-2. Montgomery did win the sportsmanship award, despite stealing a base leading 15-6 in the seventh inning against Paynesville.
| | | | | | | |
| --- | --- | --- | --- | --- | --- | --- |
| Montgomery-- | 502 | 440 | 1 | - 16 | 10 | 2 |
| Paynesville-- | 100 | 230 | 0 | - 6 | 10 | 2 |
Paynesville - Batting: Adam Miller 3-4 R 2B; Braun 2-4 HR RBI-3; Mackedanz 1-3 R RBI; Lieser 1-3 R-2; Max Meagher 1-3; Jeremy Fuchs 1-1 RBI; Curt Christian 1-4 R; Pitching: (ip-h-r-er-bb-k) Mackedanz (L) (4-7-11-11-4-2); Braun (3-3-5-5-6-3).
Paynesville 3
Nashwauk-Keewatin 1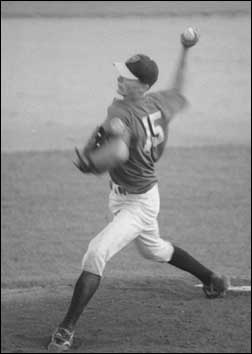 In the opening round on Friday, Paynesville got the better of Nashwauk-Keewatin in a rematch of last year's title contest.
Lieser (pitching at right) proved dominating on the mound. Aided by error-free defense, Lieser allowed only one hit and two walks in the first five innings. Only one runner reached second base safely.
Neither team scored in the first five innings. All the runs came in the last two innings, as Paynesville took the lead twice and Nashwauk-Keewatin rallied once to tie. "Just the intensity of that game was outstanding," said coach Brad Skoglund. "It was the way a state tournament game should be."
Curt Christian reached on an error to lead off the top of the sixth. He moved to third on Braun's double. When Miller hit a grounder to short, Christian went on contact and slid under the tag to give Paynesville a 1-0 lead.
Nashwauk-Keewatin escaped further damage and led off the bottom of the sixth with consecutive doubles to tie the score. A walk put two runners on, but Paynesville forced one out on a fielder's choice at second.
With runners on first and third, Lieser struck out two Nashwauk-Keewatin batters to end the inning. "Jon got us out of the sixth inning," said Skoglund. "That was clutch."
In the seventh, Rohe led off with a triple into the right field corner. After Ryan Schneider was hit by a pitch, Christian flew out to center. Rohe faked tagging. Nashwauk-Keewatin's center fielder wound up to throw, and then tried to hold onto the ball when he saw Rohe stop. But the ball squirted free, allowing Rohe to score anyway.
Lieser singled to advance Schneider to scoring position, and Braun singled to score Schneider and make it 3-1. "Making the last out last year wasn't any fun, so I had to get back at them some how," said Braun of his hit against Nashwauk-Keewatin.
Nashwauk-Keewatin had a runner reach first in the bottom of the seventh, but Paynesville ended the game with a ground-ball double play. Rohe, at shortstop, threw to Meagher, covering second, who relayed to Miller at first to end the game.
The Paynesville team finished the season with a record of 8-13.
Skoglund was pleased with how the team played and behaved at the tournament. He thanked the American Legion Post for its support and the parents and fans who attended the state tournament games.
"It was nice to see all the parents there, too, supporting us," agreed Mackedanz.
"It's great playing for a coach like (Brad) Skoglund," Mackedanz added, "because he loves the game so much. He makes you want to play ball."
| | | | | | | |
| --- | --- | --- | --- | --- | --- | --- |
| Paynesville-- | 000 | 001 | 2 | - 3 | 6 | 0 |
| Nashwauk-Keewatin-- | 000 | 001 | 0 | - 1 | 4 | 2 |
Paynesville - Batting: Pat Rohe 2-3 3B R; Braun 2-4 RBI; Miller 1-4 RBI; Lieser 1-2; Pitching: (ip-h-r-er-bb-k) Macke-danz (L) (4-7-11-11-4-2); Braun (3-3-5-5-6-3).
---