Lake Henry 2
Sauk Rapids 12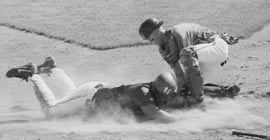 The Lake Henry Lakers split two playoff games in Region 15C in New Munich over the weekend, beating Meire Grove 13-10 on Saturday but losing to Sauk Rapids 12-2 on Sunday.

Meire Grove's Tony Luetmer would have been out at the plate in the second inning on Saturday, but the throw from right field got past Lakers' catcher Jon Lieser. This run tied the score, but Lieser reclaimed the lead for Lake Henry with a two-run double in the bottom of the second.

The loss leaves the Lakers one game from elimination and two wins from a second consecutive state berth. This is the same situation the Lakers faced last year, and they responded a year ago with their best baseball of the year, winning three straight games on the second weekend of regions and advancing to state as the Region 15C champion.

Sauk Rapids hitters pounded out 17 hits and scored 12 runs on Sunday, as the Cyclones beat the Lakers in eight innings.

The Cyclones jumped ahead 7-1 after three innings. They scored three times in the sixth and a run with two outs in the eighth to impose the ten-run rule.

The Cyclones hit three homers: a two-run blast by #9 hitter Jamie Henkemeyer in the second, a three-run shot by pitcher Rick Dallmann in the third, and a solo shot in the fifth by catcher Scott Lochner.

Dallman, a draftee from Sartell, had four RBIs at the plate and pitched all eight innings for Becker. The Lakers play Farming, a familiar division foe, on Saturday at 2:30 p.m. in an elimination game. If the Lakers win, they play the New Munich/Sauk Rapids loser on Sunday at noon with a state berth on the line. The two state entrants will play at 2:30 p.m. on Sunday for the region championship.
| | | | | | | |
| --- | --- | --- | --- | --- | --- | --- |
| Lake Henry-- | 001 | 010 | 00 | - 2 | 8 | 0 |
| Sauk Rapids-- | 223 | 010 | 31 | - 12 | 17 | 2 |
Lake Henry - Batting: Chad Spanier 2-3 RBI; Doug Fuchs 2-3 R; Ben Bork 1-4 2B R; Pitching: (ip-h-r-er-bb-k) Mike Stalboerger (L) (6.1-13-11-11-2-2); Ryan Wuertz (1.1-5-1-1-1-1).
Sauk Rapids - Batting: Greg Bemboom 3-4 R-3 2B-2 RBI-2; Nate Larson 3-5 R RBI; Rick Dallman 2-4 HR RBI-4; Scott Lochner 2-4 HR RBI-3 R-2; Wade Thelen 2-4 2B R-2; Aaron Nichols 2-4 R; Jeremiah Piepkorn 2-5 R; Pitching: (ip-h-r-er-bb-k) Dallman (W) (8-8-2-1-2-4).
Lake Henry 13
Meire Grove 10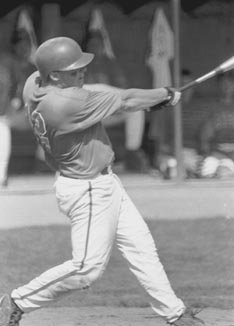 The Lakers rallied with five runs in the eighth inning to beat Meire Grove 13-10 on Sunday in the first round of regionals on Saturday in New Munich. Trailing 10-8 in the bottom of the eighth, Chad Spanier hit a bases-loaded single to tie the score at 10, and Ryan Wuertz followed with a three-run homer.

Ryan Wuertz hit two home runs for Lake Henry on Saturday - a solo shot in the first and a three-run blast in the eighth to win the game, 13-10.

Jon Lieser started the eighth with a leadoff single, and St. Martin draftee Ken Arceneau followed with a four-pitch walk. Ben Bork loaded the bases with a bunt single, his second bunt hit of the day.

Lake Henry jumped to an 8-1 lead after four innings, scoring three times in the second and another three in the fourth. Wuertz started the scoring by hitting a solo homer in the first inning. Lieser hit a two-run double in the second and scored on Bork's bunt hit.

Spanier - who led the Lakers with four hits - had an RBI double and scored on Jeff Schmitz's two-run homer.

Things went Meire Grove's way in the fifth and sixth innings. After stranding eight base runners in the first four innings, the Grovers sent 12 men to the plate in the fifth and scored six runs. With the bases loaded and two down, the Lakers almost escaped damage again, but the Grovers used a walk, a single, and two errors to score five runs with two outs.

Leading 8-7, the Lakers had runners on the corners with no outs in the bottom of the fifth, but the Grovers turned a triple play to end the threat. Lieser hit a line drive that the umpires ruled was caught by third baseman Ryan Meyer, who stepped on third for the second out.

Laker runners Adam Miller, by now on second, and Lieser, on first, weren't aware that the umpire had ruled it a catch and had advanced thinking it was a ground ball. The Grovers threw to second, and after a delay, on to first. The triple play wasn't completed until a conference between the two umpires.

The Grovers - playing in their first regional since 1994 - took the lead in the sixth inning on Karl Nathe's three-run homer.

The Lakers didn't have a 1-2-3 inning until the seventh, when Arceneau came on to pitch. He pitched three perfect innings to earn the victory in relief.

Meire Grove 010 063 000 - 10 13 3 Lake Henry 131 300 05x - 13 15 2
| | | | | | | |
| --- | --- | --- | --- | --- | --- | --- |
| Meire Grove-- | 010 | 063 | 000 | - 10 | 13 | 3 |
| Lake Henry-- | 131 | 300 | 05x | -13 | 15 | 2 |
Meire Grove - Batting: Karl Nathe 3-5 HR RBI-4 R-2; Eric Marthaler 2-5 RBI-2 R-2; Darrin Yarke 2-5 HR 2B; Ryan Meyer 2-4; Mike Wehlage 2-5 2B; Pitching: (ip-h-r-er-bb-k) Joe Meyer (4-8-8-4-1-2); Kurt Meyer (L) (3-6-4-4-2-0); Doug Welle (1-1-1-1-0-0).
Lake Henry - Batting: Chad Spanier 4-5 2B R-2 RBI-3; Ryan Wuertz 3-5 HR-2 RBI-4; Jon Lieser 2-4 2B R-2 RBI-2; Ben Bork 2-5 R-2 RBI; Mike Stalboerger 2-3 2B R; Jeff Schmitz 1-4 HR RBI-2 R-2; Pitching: (ip-h-r-er-bb-k) Roger Wuertz (4.2-11-7-3-2-4); Doug Fuchs (1.1-2-3-3-2-2); Ken Arceneau (W) (3-0-0-0-0-4).
---
Contact the author at paypress@lkdllink.net • Return to Sports
Home | Marketplace | Community
---