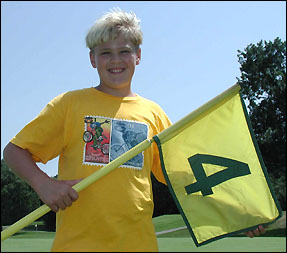 The fourth hole at Koronis Hills yielded holes in one in back-to-back days last week. Jesse Caldwell aced the par-3, 137-yard #4 on Wednesday, July 30, and Randy Beier aced the same hole on Thursday, July 31.

With four holes in one last month, July 2003 has become the most prolific month for holes in one at Koronis Hills, according to club records. Ryan Wall aced #17 on July 3, lake resident Ron Regan aced #10 on July 9, Caldwell aced #4 on July 30, and Beier aced #4 on July 31, with only minutes to spare, as Beier hit his shot in near darkness.

Jesse Caldwell pictured at right.

The previous record was three holes in one in July 1990.

Five holes in one have been recorded at Koronis Hills this summer, on four different holes. Chuck Chesness also aced #7 in April. The only par-3 at Koronis Hills that has not yielded a hole in one this summer is the shortest hole on the course, #13.

Just a few weeks ago, Caldwell teased his dad that he would be first to get a hole in one. He delivered last week, acing #4 with an eight iron.

Caldwell, 12, is the youngest golfer to get a hole in one at Koronis Hills, according to club records that date back to the early 1960s. (The course opened in 1929.)

Previously, the youngest golfer to record a hole in one at Koronis Hills was Jeff Skrypek, who aced #10 (then #9) in August 1991 at the age of 13, just before starting seventh grade. Caldwell, the son of Troy and Brenda Caldwell of Hawick, will be a sixth grader this fall.

Caldwell was playing a nine-hole round with Jeremy Schmidt, 14, on Wednesday morning. He hit an eight iron to the front left pin on #4. The uphill hole was playing downhill that morning.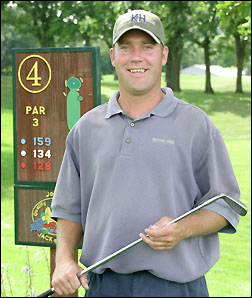 His high draw landed on the front of the green, hopped, and rolled into the cup. "I really didn't think it was going to go in, but I thought it would be close," said Caldwell.
His playing partner had the same thoughts while the ball was in the air: that the shot would be really close to the pin. From the tee, they saw the ball go into the hole.
Randy Beier pictured at left.
Unfortunately, the rest of his round wasn't on par with that shot. Caldwell only keeps score some of the time, and he kept his score for seven holes last week but quit counting when #8 got him.
Caldwell, who also plays hockey and baseball, has been playing golf for about five years. He normally plays a couple times per week, mostly with his dad and his younger brother, Tanner, 10, who was a couple holes behind him on Wednesday.
Jesse said he was excited to get a hole in one. He hoped to get one someday but never thought it would happen so soon. Mostly, though, he is looking forward to teasing his dad about getting one first.
Beier was playing in a six-some - with Ron Fuchs, Tim Herzog, Rand Roeske, Chris Stanley, and Dave Zaeska - that was scrambling after men's league on Thursday evening. They reached #4 at dusk, and it was nearly pitch black when Beier hit his shot with a pitching wedge.
"When I hit it, I thought I hit it pretty good," said Beier, a former standout athlete at PAHS who now is a nine-handicap golfer.
But when he got to the green, the only two balls on the putting surface were his playing partners, so Beier started looking around the green for his ball.
Then Zaeska found Beier's ball in the cup. At first, Beier did not believe Zaeska when he told him his ball was in the hole. But Beier went to look when Zaeska told him twice.
Because it was nearly dark, no one saw Beier's ball in the air, but it left a a divot slightly in front and to the right of the pin. They figure that it hopped and then spun back into the hole.
---
Contact the author at editor@paynesvillepress.com • Return to Sports
Home | Marketplace | Community
---