Former world champion boxer visits Paynesville
This article submitted by Michael Jacobson on 8/4/99.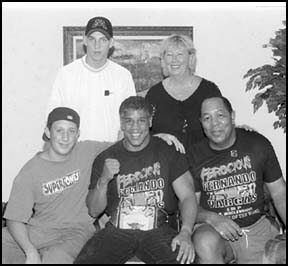 To most Minnesotans, the needs of retired boxing are largely unknown. After all, our exposure to the sport is mainly through newspaper, television, and radio headlines before title fights, where purses are advertised in the millions of dollars.

A former world champion is trying to change that, trying to inform the public about the predicaments of retired boxers and trying to gather financial and moral support from boxers, sports figures, celebrities, and the public.

Alex Ramos, who won the USBA middleweight crown in 1984, was in Paynesville last week on vacation, but took time to spread the message of the Retired Boxing Foundation (RBF), which he started in 1995 and still serves as the president.

The executive director of the foundation is Jacqui Richardson, a Paynesville native. Ramos was hosted in Paynesville by her parents, Rosemary and Walter Dilley.

Pictured at right (front L to R): Jay Richardson (Jacquie's son), Alex Ramos, Roy Colbert of Paynesville; back: Nathan Erickson of Paynesville and Jacquie (Dilley) Richardson of Simi Valley, Calif.

"The reason why I founded this association is because boxing is the only professional sport that has no pension plan," said Ramos, who was his high school class president and who was once dubbed "The Thinking Man's Middleweight."

Retired fighters frequently suffer from medical problems and substance abuse and have tax problems and financial difficulties. Ramos and Richardson tell of an ex-champion who has to carry a map in his pocket to find his way home. A former heavyweight champion, they say, had to quit his job because he couldn't remember the names of his staff.

"They fight too long," said Richardson, of how boxers injure themselves permanently. "They keep coming back for paydays they can't afford."

Ramos considers himself lucky. "His mind," Richardson said, "is sharp as a tack." He does have a slight problem with his equilibrium, which can be seen in his uneven gait.

Of Puerto Rican descent, Ramos grew up in the South Bronx and started boxing when he was 11, at the urging of his father who had done some boxing in Puerto Rico. Ramos won the New York Golden Gloves championship four times and joined the U.S. National team when he was 17. He was on the Olympic boxing team in 1980, but his chance for an Olympic gold medal was dashed by President Jimmy Carter's boycott of those games.

He amassed a record of 189-9 with 132 knockouts as an amateur and turned professional soon after the Olympic boycott. "I didn't attend college," he said, "because I turned professional to get my family out of the South Bronx." His professional record was 38-9-2, with 33 knockouts. When he won the middleweight championship in 1984, his title bout with Curtis Parker was named "Fight of the Year." Ramos described it as a toe-to-toe slugfest that wasn't expected to last five rounds, but ended in a unanimous 12-round decision.

Things haven't gone so smoothly for the world champion since then. He was jailed for 22 months for assault in 1988 and then resumed his boxing career. By 1994, he was homeless and abusing drugs and alcohol, but straightened himself out with six months at a rehabilitation clinic. He finally retired from boxing in 1995.

That same year he found a cause and started the Retired Boxers Foundation, whose slogan is: "The Undisputed Champions for Dignity."

Hearing about the big paydays for title fights misleads us about the financial state of most boxers, who must pay their managers a third of their winnings and their trainer 10 percent. The boxers end up liable for taxes on their winnings, which can turn out to be rather hefty sums. Without planning, fighters can owe the government sizable sums.

"You know what really irritates me about the sport of boxing is the money that the promoters and managers make," said Richardson. The promoter's cut is above and beyond what the fighter makes, she said.

Even boxing champions, with millions of career earnings, have had their personal finances collapse, leading some to homeless lives on the streets. "The majority of your fighters don't come from Beverly Hills. They come from the ghetto," said Ramos, who added that few attend college and some drop out of high school because of a promising boxing career.

Richardson said young boxers are really romanced with money and promises in their youth. But even if the big payday comes, most don't invest it for the future. "Financially, these guys are really not good money managers," she said. "Like any 18-, 19-, 20- or 21-year-old, they live in the moment. They don't plan for down the road."

Out of 18 states with legalized boxing, including Minnesota, only two have pension plans, according to Richardson. In California, fighters get $2 per month for every round they boxed in California. Ramos, she said, fought 154 there, so would be eligible for $308 when he is 65, in another 28 years.

Even fighters who have pensions have more immediate problems. For most, the skills that they honed while growing up were their boxing talents. "To find a job that would sustain them 'til they're 65 is nearly impossible," said Richardson.

The RBF has dozens of short- and long- term goals, including helping boxers with financial planning, with rehabilitation for drugs and alcohol abuse, and with housing. They are also trying to have retired fighters serve as mentors for young boxers and to help older boxers.

Ramos started working on the foundation in 1995 and it was incorporated last May. They have more than 350 celebrities who support their work, as well as members of the boxing community. They recently were contacted by Magic Johnson, they were given a Picasso painting by Shirley McLaine, and they've auctioned items from Bill Cosby.

Richardson is a grant writer who works for a Ventura County supervisor. She has written more than $6 million in grants, including many for at-risk kids. She met Ramos at the grand opening of a boxing gym which had been designed to attract at-risk youth.

Growing up, Richardson's only exposure to boxing was her father watching the Friday night fights, where she was more interested in the glamorous woman carrying the round number between rounds. She said she enjoys the sport now and that the boxers she has met have big hearts.
---