Lake Henry loses, but advances to district playoffs
This article submitted on 8/4/99.
Stearns County League

St. Martin 7
Lake Henry 4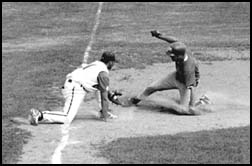 By Aaron Ziemer
St. Martin defeated Lake Henry 7-4, to win the series between the two teams, on Sunday in Lake Henry.
Lynn Hemmesch started on the mound for the Lakers and was relieved by Roger Wuertz in the fifth.
James Berg started for St. Martin and was relieved by Sam Rothstein. Rothstein struggled and couldn't get an out, so Kenny Arceneau came in to close out the game.
Steve Lieser provided the offensive spark for Lake Henry in the bottom of the first inning when he hit a solo home run to lead off the game for the Lakers.
Luke and Sam Rothstein both hit homers for St. Martin in the victory.
Lake Henry will now face New Munich on Saturday at 2:30 p.m. in Elrosa.
Region 15C Playoffs
By Michael Pauly
The Region 15C Tournament is being held in Elrosa on Friday, Aug. 6, thru Sunday, Aug.t 15. The teams involved are from the County Line League, Stearns County North, and Stearns County South. They are: Melrose, Sauk Centre, New Munich, Elrosa, St. Martin and Lake Henry.
The pairings for the first round of the tournament are. Elrosa vs Melrose on Friday night at 8 p.m. Sauk Centre vs St. Martin on Saturday at noon. Lake Henry vs New Munich at 2:30 p.m., Saturday.
Exhibitions
Regal 17
Granite Falls 5
Regal defeated Granite Falls 17-5, on Friday in Granite Falls.
Tim Beier started for Regal and got the victory. Jeremy Glenz threw the last inning to close out the game for Regal.
The Eagles came out pumped up, because Granite Falls is the team that eliminated them from the playoffs last season.
Regal started the game with 13 consecutive hits. They had gone through two Granite Falls pitchers before even getting an out.
Regal will start their playoffs on Saturday.
Region 7B Playoffs
By Michael Pauly
Regal will participate in the Section 7B Baseball Tournament in Cold Spring starting on Friday, Aug. 6, thru Sunday, Aug. 15. Regal, seeded second behind perennial Class B powerhouse, the Cold Spring Springers, will take on the winner of Friday's contest between O'Hara's Bar of St. Cloud and Richmond on Saturday, Aug. 7, at 1:30 p.m.
If Regal would lose on Saturday, they will play on Sunday, Aug. 8, at 11 a.m. If Regal would win their first game on Saturday, they would play on Wednesday night, Aug. 11, at 7:30 p.m.
This is a double elimination tournament and the teams involved are: Cold Spring Springers, Regal, O'Hara's, Ultimate Sports, Brainerd, and Richmond.
---