The Paynesville American Legion baseball team hosted the Region 6, Division II tournament on Thursday and Friday last week. Paynesville lost their first game to Long Prairie and ended their season with a record of 6-8.

Long Prairie reached the final by winning two games on Thursday but lost to Holdingford 15-0 on Friday for the region championship.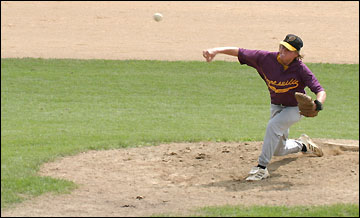 Paynesville allowed three unearned runs in the second inning (when a two-out error was followed by two run-scoring hits) and another unearned run in the third inning on another two-out error. "We didn't play well," said coach Brad Skoglund. "They played better than us and deserved to win."
Jamie Paul pitched five innings, allowing only one earned run, in Paynesville's first-round 7-3 loss to Long Prairie on Thursday afternoon.
Long Prairie built a 5-0 lead with another run in the fifth.
Paynesville threatened in the top of the fourth with two runners on and no out before Mark Andrie lined into a double play. He "just hit a rocket," said Skoglund. "If it's a step either side or a foot higher, we score one or maybe two."
In the fifth, Paynesville got on the scoreboard, scoring three runs to get within 5-3. After scoring their first run on a wild pitch, Jamie Paul hit an RBI single. A third run scored on a two-out error, but Paynesville left the bases loaded.
Long Prairie expanded their lead from 5-3 with a run in the top of the sixth and another in the top of the seventh, winning 7-3.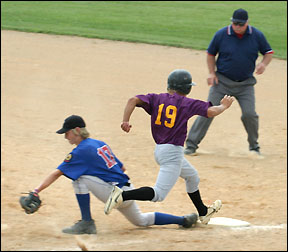 Paynesville, which also hit into a double play to end the second inning, hit into a game-ending double play in the bottom of the seventh. "If we did hit it hard," said Skoglund, "it was right at them."
Alex Naujokas raced in vain to first base against Long Prairie last week. He had one of Paynesville's five hits and scored one of their three runs.
Overall, Skoglund said, the Legion team had a excellent summer with lots of players getting experience and improving their play. Pitchers - Ryan Hess, Derek Stanger, and Ben Moser - threw well, according to Skoglund, and the sophomores played very well.
"We've got some holes on varsity to fill, and we need to some guys to step up," said Skoglund.
| | | | | | | |
| --- | --- | --- | --- | --- | --- | --- |
| Long Prairie-- | 031 | 011 | 1 | - 7 | 11 | 1 |
| Paynesville-- | 000 | 030 | 0 | - 3 | 5 | 2 |
Paynesville - Batting: Jamie Paul 1-2 RBI BB-2; Chuck Mackedanz 1-3 R; Ryan Hess 1-3; Derek Stanger 1-3; Alex Naujokas 1-4 R; Pitching: (ip-h-r-er-bb-k) Paul (L) (5-8-6-1-3-4); Stanger (2-3-1-1-1-1).
First Round
At Paynesville (Thursday, July 28)
Bertha-Hewitt 8, Royalton 3
Long Prairie 7, Paynesville 3
At Regal (Thursday, July 28)
Holdingford 7, Wadena 6
Pierz 6, Upsala/Swanville 5
Second Round
At Paynesville (Thursday, July 28)
Long Prairie 6, Bertha-Hewitt 4
Holdingford 5, Pierz 1
Championship
At Paynesville (Friday, July 29)
Holdingford 15, Long Prairie 0
---
Contact the author at editor@paynesvillepress.com • Return to Sports
Home | Marketplace | Community
---