If David Sorum's dreams come true, next year his thoroughbred filly will be running in the Kentucky Derby, horseracing's crown jewel.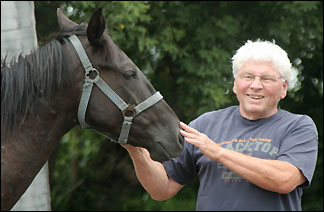 Sorum, who lives on a 25-acre farm in Paynesville Township where he breeds and raises thoroughbred race horses, calls entering a horse in the Kentucky Derby "the dream of dreams."
David Sorum - holding the harness of a yearling full brother to Sparkling Endeavor at his 25-acre farm in Paynesville Township - is breeding and raising thoroughbreds again after a seven-year hiatus.
In July, his two-year-old filly, Sparkling Endeavor, won her first race, in her first start, at Canterbury Park in Shakopee. "I'm still hoping for the Kentucky Derby," he said. "She's only two and still undefeated."
Everyone who breeds and raises horses is looking for the next Triple Crown winner, the next Secretariat or Seattle Slew, said Sorum. "If you hit the right horse, it can make you," he explained. "You've got to be lucky, real lucky."
Sorum has been raising horses for the past 25 years, though he took a seven-year break after Canterbury Park closed in the early 1990s for a couple years. "I was stuck with all these horses," said Sorum, who moved to Paynesville in 1989. "I swore I would never raise another Minnesota thoroughbred."
A couple years ago, though, he got the urge to breed and raise horses again. The excitement of the race "gets in your blood; you can't get it out," said Sorum.
With slot machines, Canterbury has more money to pay larger purses for the horses, said Sorum, who would like the Racino proposal to pass the legislature because he believes that would infuse still more money into the racetrack.
So Sorum bred his 20-year-old mare, Sparkling Eyes, who won ten races, with Sorum owning her for the last two wins, with Tahkodha Hills, based in Loretto, Minn.
Sparkling Eyes was a speedball, said Sorum. "She'd go out in front, go as fast as she could, and hope no one would catch her."
Tahkodha Hills, who was third in the Florida Derby as a three-year-old and ran in the Belmont Stakes, the last leg of horse racing's Triple Crown, was a distance runner, said Sorum, who hopes Sparkling Endeavor will have speed from her mother and stamina from her father.
In her first start, Sparkling Endeavor - named for her mother "Sparkling" and a make of vehicle "Endeavor" since Sorum's wife Linda was driving when he asked her to name it - started on the outside, in the nine hole. "She showed a lot of early speed and got the rail," said Sorum of her sprint start.
"She was nose and nose with a horse early and put that one away," continued Sorum.
Finally, entering the stretch, the favored Hill City Miss made a move and a took a momentary lead, by a head, over Sparkling Endeavor, who started with odds of 10 to 1. "My horse looked over at her and took off," recalled Sorum. "She won by a length and a half, going away."
"I knew this horse could run," said Sorum, who added that he couldn't ask for more from her first race. She finished five furlongs (5/8 of a mile) in one minute flat, winning 60 percent of the $19,125 purse.
Sorum thinks he will enter Sparkling Endeavor in her second race in early August but will enter her in a $55,000 stakes race for two-year-old fillies on Sunday, Aug. 20.
Aside from his Kentucky Derby dreams, he hopes Sparkling Endeavor can win enough races to be a valuable mare. "If she wins all the stakes races as a two-, three-, four-, and five-year-old, I'd breed her and retire," he said.
While he hopes to race Sparkling Endeavor to age six or so, he still would sell her for the right price. He once had a $50,000 offer for a promising horse that he declined. Soon after, the horse hurt itself during a training run.
"If someone offers me the price, a bird in hand is worth two in the bush, I've learned. I had a horse worth $50,000 one day and worth nothing the next," said Sorum.
You've got to remember, he said, that horses have skinny legs, always land on one leg, and are prone to injury.
Sorum, born and raised in Edina and graduated from the University of Minnesota, has already retired once. After college, he headed west, becoming a partner in a chain of restaurants in Whittier, Calif. He had a heart attack in the early 1980s and sold his share of the business.
After selling his business, though, he needed something to do. "I had to do something," he said, "so I bought some horses."
After his heart attack, "I liked sports, but all of a sudden I couldn't participate," he said. "But I can participate in horseracing."
When he starting going to the race track, he didn't know anything about horses. "I just had friends who liked to do to the races, and I went with them to the track."
He raised harness-racing horses in California and started raising thoroughbreds when he moved back to Minnesota in 1987. His oldest son came to Minnesota to work as a veterinary at Canterbury Park in 1986, and Sorum followed the next year, moving to a 380-acre farm by Ogilvie, which he soon found was too much work for him. In 1989, he moved his family to a more manageable 25-acre in the northwestern corner of Paynesville Township.
He has two horses racing at Canterbury this summer and one at a racetrack in Chicago. He has three mares, two yearlings, and two weanlings at the farm, where he lives with his wife Linda and son Daniel, a fifth grader.
Sorum will send the yearlings to Texas to train this fall. Race horses not only need to be saddle broken, but they must learn how to get into, stand in, and sprint out of the gate and become gate certified before racing. (Sparkling Endeavor was raised in Paynesville before going to Texas last fall.)
Next year, that means more of his horses to watch at the track. Sorum now goes to Canterbury only a couple times per week, down from four times per week previously, he said.
There is great camaraderie at the track, being able to meet all sorts of interesting people, he said. "You get hooked on racing. You can't leave it. Look at me," said Sorum.
---
Contact the author at editor@paynesvillepress.com • Return to Sports
Home | Marketplace | Community
---