Local boys learn from legend
This article submitted by Michael Jacobson on 8/2/00.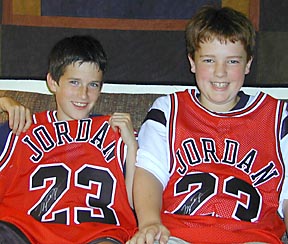 Who better to teach one-on-one moves, shooting form, and defense than the greatest basketball player ever?

Two local boys had a chance to meet and learn from a legend when they attended Michael Jordan's basketball camp at Elmhurst College in Illinois from July 15-18.

Joe McCarron (right), 11, and Collin Spooner (left), 10, were among more than 100 basketball players in the 11-and-under division. Spooner and McCarron said the highlight of the camp was meeting their favorite player and idol while playing basketball for four days.

The camp had a typical schedule. Players were divided into teams, and time was spent learning individual skills and playing five-on-five games. With 600 players, the camp used courts at the college, two high schools, and two sets of outdoor courts.

What made the camp different was having Jordan, the wealthiest and best known athlete in the world, as an instructor. On the first night, Jordan came straight from the golf course to greet the campers. For the next three days, he led a half-hour session in the morning, demonstrating free throw shooting, the triple threat position on offense, and the fundamentals to good defense.

McCarron and Spooner enjoyed what they learned but joked that they still needed the help of the Spooner family's trampoline to imitate Jordan's moves.

Each day, Jordan drove a different car to the camp, which was held in a western suburb of Chicago. He drove a yellow Ferrari as well as a Porsche and a BMW.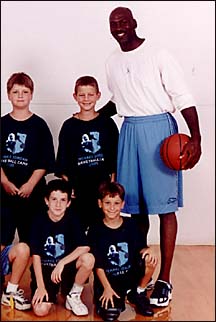 On the second day of the camp, Jordan answered questions for the campers for an hour. Spooner and McCarron learned that Jordan would need a year to get back in shape to play in the NBA again, that he actually uses MCI 5˘ Sundays, and that his golf handicap is ten.
Michael Jordan was always a favorite of Collin's (front left).
They also got to see Jordan in action. Both his body and his mouth. Jordan played in a series of games against the camp counselors. Before the games even started, Jordan was talking trash to his opponents, saying, "I can beat these guys with my dress shoes on."
Counselors at the camp included collegiate stars like Kelly and CoCo Miller, the twins from Rochester, Minn., who now play for the University of Georgia.
McCarron and Spooner said Jordan's team won every game in the counselor games. "(Jordan) really didn't do that much," said Spooner. "He just sat at the back of the courtÉ"
"...and nailed threes," continued McCarron.
The boys were accompanied to the camp by their parents: Bill and Kay Spooner and Jeff McCarron. McCarron, who runs Pacesetter Basketball Camps in Minnesota, went to high school and played basketball with the football coach at Elmhurst College, who urged him to bring Joe to the camp.
At the end of the camp, each team had their picture taken with Jordan and each player had a chance to have one item autographed by him. Both Spooner and McCarron brought authentic Bulls jerseys and had Jordan sign on the back numeral. A representative from Upper Deck was present at the autograph session and provided a certificate of authenticity to keep with the signed jersey.
Seeing Jordan up close led McCarron to be amazed by the size of his hands. "His hands were huge," he said. "I thought my dad had huge hands but Michael's were two inches longer." Jordan could bounce a basketball off a wall and catch it with one hand because he could palm a ball so easily, the boys reported.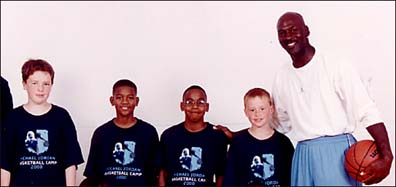 Jordan had two sons and a nephew who participated in the camp. His son, Marcus, and his nephew, Cory Higgins, played on the same team with McCarron. "They were the best players on our team," said McCarron. "Cory was the best player in our age group."
Joe (far left) played on a team with Michael Jordan's son, Marcus (middle) and a nephew Cory Higgins (second from left).
Higgins won the one-on-one contest and the free throw shooting contest in the 11-and-under division. During one game, McCarron was sitting on the bench with Higgins when Jordan came and teased Higgins about missing an open layup.
McCarron's team finished with a record of 6-6. Spooner's undersized team finished 1-11.
The camp, which could be a once in a lifetime opportunity for the boys, cost $600.
---