Legion team returns to state tournament
This article submitted by Michael Jacobson on 8/2/00.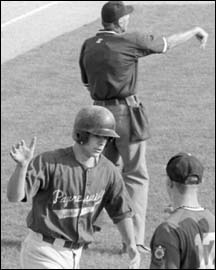 The Paynesville American Legion baseball team earned a return trip to the Division II state tournament by sweeping three district games in Paynesville over the weekend. Paynesville beat Kimball 10-0 on Friday and Ironton 5-4 and Browerville 8-2 on Saturday to advance from District 6.

Coach Brad Skoglund was pleased with how the team played over the weekend. Though Paynesville entered the tournament with a season record 3-12, Skoglund felt if the team played well they would win.

Scott Braun is congratulated by Adam Miller (17) after hitting a two-run homer against Ironton that gave Paynesville a 5-4 lead and the win.

The losing record stems from Paynesville's tough schedule, from its philosophy of playing everyone at least half a game during the regular season, from using a young pitching staff, and from players having difficulties attending road games. With the sweep in the district tournament, Paynesville im-proved its season record to 6-12.

Last year, Paynesville advanced to the championship game at state and finished as the state runner-up in Division II, losing to Nashwauk-Keewatin 4-3. On Friday, at 1:30 p.m., they will face a rematch with Nashwauk-Keewatin in the first round of this year's state tournament in Truman.

The state tournament is single elimination with consolation, so teams are guaranteed two games. If Paynesville wins its opener, it will play next at 5:30 p.m. on Saturday. If the team loses its opener, it will play at 10 a.m. on Saturday.

Truman is about 30 miles south of New Ulm on Highway 15.

Paynesville also finished third in state in 1997. This is the team's third trip to state in the past four years. A team from Paynesville also placed seventh in state in 1953.

Paynesville 8
Bowerville 2
Jeremy Fuchs pitched a complete-game two-hitter as the Bulldogs cruised past Browerville in the championship game Saturday night at the high school field.

Fuchs, who will be a junior in high school this fall, allowed only two runs, both of which were unearned, while striking out eight. Skoglund said Fuchs showed great composure while throwing hard in the championship game.

Jon Lieser and Scott Braun hit two-run homers for Paynesville, who built an early 6-0 lead with four runs in the first and two runs in the second. Curt Christian led off the bottom of the first for Paynesville with a single, and Lieser, who was playing against three cousins on the Browerville team, followed with a blast for a 2-0 lead. Braun also singled and scored in that inning.

In the second, Lieser singled, and Braun homered.
| | | | | | | |
| --- | --- | --- | --- | --- | --- | --- |
| Paynesville-- | 420 | 002 | 0 | - 8 | 10 | 3 |
| Browerville-- | 010 | 001 | 0 | - 2 | 2 | 1 |
Paynesville 5
Ironton 4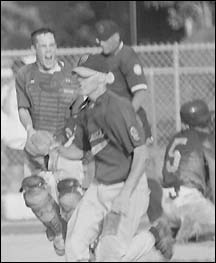 A wild defensive play ended a see-saw battle in Paynesville's closest game of the tournament.
With a Ironton runner at first and Paynesville holding a 5-4 lead with two outs in the bottom of the seventh, Ironton's clean-up hitter hit a liner to right. Curt Christian, in right field, threw to third, but the sliding runner jarred the ball loose.
Catcher Ryan Schneider jumps with joy after making a tag at the plate to end a 5-4 victory over Ironton as pitcher Justin Macdedanz rushes to the dugout.
The ball rolling on the ground prompted the Ironton batter to try for second, and the throw there went between the shortstop and second baseman, who were still moving to the bag.
With the ball rolling in right field again, the runner on third tried to score. Christian fielded it again and threw a strike to the plate. Catcher Ryan Schneider made the tag and held on to the ball to end the game.
"In all my years of coaching and baseball, that was the wildest play I've ever seen," said Skoglund. "What a way to end a game!" Officially, the play was scored as 9-5-4-9-2.
Paynesville took a 1-0 lead in the top of the first, but Ironton tied the score with a run in the third. (Paynesville was considered the visitor for this game).
Paynesville scored twice in the fourth, as Adam Miller singled and Max Meagher was hit by a pitch. Miller advanced to third on a wild pitch and an errant throw by the catcher allowed him to score, with Meagher reaching second. Shaun Fleischhacker delivered a two-out RBI single to score Meagher.
Ironton took a 4-3 lead in the bottom of the fourth when its #8 hitter hit a three-run homer to left center, but Paynesville answered in the top of the fifth. Jon Lieser tripled over the center fielder, and Scott Braun hit a two-run homer to right center.
Justin Mackedanz earned the pitching win for Paynesville with a complete game. He allowed only two earned runs on five hits.
| | | | | | | |
| --- | --- | --- | --- | --- | --- | --- |
| Paynesville-- | 100 | 220 | 0 | - 5 | 9 | 3 |
| Ironton-- | 001 | 300 | 0 | - 4 | 5 | 2 |
Paynesville 10
Kimball 0
Paynesville scored six runs in the first inning, highlighted by a grand slam home run by Justin Mackedanz, and beat Kimball 10-0 in five innings.
The first three Paynesville batters reached base. After a wild pitch scored one run, Pat Rohe singled to drive in another. Shaun Fleischhacker was hit by a pitch to load the bases for Mackedanz, who cleared them with a homer.
Despite occurring in the first inning of the first game, Skoglund said that homer gave him good vibes and made him feel that Paynesville would win the tournament.
Mackedanz added a three-run homer in the bottom of the fourth. That blast to left gave Paynesville a 10-0 lead and put the ten-run rule into effect. For the game, Mackedanz had three hits in three at bats, with two homers and seven RBIs.
Skoglund said that Mackedanz carried the offense with a career day at the plate and that Jon Lieser set the tone with a dominating pitching performance. Lieser allowed only one hit and walked two in five shutout innings.
| | | | | | |
| --- | --- | --- | --- | --- | --- |
| Paynesville-- | 601 | 3x | - 10 | 10 | 0 |
| Kimball-- | 000 | 00 | - 0 | 1 | 1 |
---