St. Martin clinched advancement to the Region 15C playoffs by defeating Roscoe 17-0 on Sunday in Roscoe and claiming their first-round playoff series in the Stearns County League South 2-0.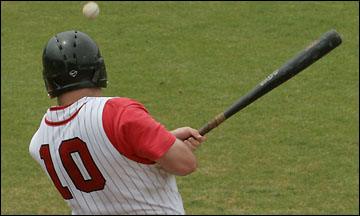 St. Martin, powered by a 17-hit attack, led 5-0 after two innings, more than enough behind the four-hit shutout pitching of Scott Schlangen and Ken Arceneau. They led 8-0 after five innings and scored nine runs in the eighth and ninth innings to make the final score 17-0.
Bret Aagesen had one of Roscoe's four hits during their shutout loss to St. Martin on Sunday, ending the Ranger's season. St. Martin and Lake Henry clinched regional berths by winning their playoff series.
Luke Rothstein hit a two-run homer for St. Martin in the fourth innings, and Nathan Schlangen and Sam Rothstein also homered for the Martins. Together, Schlangen and the two Rothsteins went 10-16 for the Martins with 11 runs scored and seven RBIs.
The Martins will now host Lake Henry on Sunday at 1:30 p.m. to decide the top seed from the Stearns County South.
Both Lake Henry and St. Martin will advance to the Region 15C tournament, which will be hosted by Regal on Saturday and Sunday, Aug. 5-6, and Saturday and Sunday, Aug. 12-13.
With the loss, Roscoe was eliminated from the league playoffs.
| | | | | | | |
| --- | --- | --- | --- | --- | --- | --- |
| St. Martin-- | 320 | 210 | 036 | - 17 | 17 | 2 |
| Roscoe-- | 000 | 000 | 000 | - 0 | 4 | 6 |
St. Martin - Batting: Nathan Schlangen 4-6 HR 2B R-3 RBI-2; Sam Rothstein 3-5 HR R-5 RBI-3; Luke Rothstein HR R-3 RBI-2; Pitching: (ip-h-r-er-bb-k) Scott Schlangen (W) (6-3-0-0-1-4); Ken Arceneau (S) (3-1-0-0-0-5).
Roscoe - Batting: Brett Savelkoul 2-3; Bret Aagesen 1-3 2B; Pitching: (ip-h-r-er-bb-k) Justin Mackedanz (L) (2-7-5-4-1-2); Brent Heinen (5-5-3-3-3-6); Russ Leyendecker (1-2-6-1-2-2); Zach Schmitz (1-2-3-3-2-1).
Lake Henry 3, Farming 2
Lake Henry defeated Farming 3-2 on Sunday in Farming, winning their best-of-three playoff series two games to none. With the win, the Lakers qualify for the Region 15C playoffs in two weeks.
Jeff Schmitz hit a solo homer for the Lakers, and Roger Wuertz pitched eight innings in the win.
No stats were available.
This week, the Lakers will play at St. Martin on Sunday at 1:30 p.m. to determine the top seed for the region playoffs.
NL-S 10, Paynesville 0
Norway Lake-Sunburg beat the Paynesville Pirates 10-0 in Sunburg, qualifying the Lakers for the Region 15C playoffs and relegating the Pirates to the loser's bracket after winning their first two playoff games.
Norway Lake-Sunburg scored six runs in the bottom of the fourth, turning a 1-0 game into a 7-0 lead. They added three runs in the fifth inning and won the game in seven innings by the ten-run rule.
The Pirates will now play either New London-Spicer or Starbuck this week with a regional berth on the line. Norway Lake-Sunburg will host the Cornbelt League North championship game on Sunday at 1:30 p.m. to determine seeding for the Region 15C tourney, which will be held in Regal in August.
| | | | | | | |
| --- | --- | --- | --- | --- | --- | --- |
| Paynesville-- | 000 | 000 | 0xx | - 0 | 7 | 1 |
| NL-S-- | 100 | 630 | xxx | - 10 | 15 | 2 |
---
Contact the author at editor@paynesvillepress.com • Return to Sports
Home | Marketplace | Community
---