Koshiol clinches national racing title
This article submitted by Michael Jacobson on 7/26/00.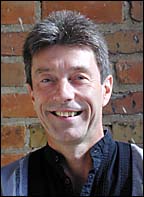 For Chuck Koshiol, fun on a motorbike turns out to be pretty fast. "Going fast is not my goal," he explained. "Having fun is my goal."

Koshiol has spent his weekends for the past year challenging himself on off-road courses throughout the country on the national enduro circuit. These races, usually 100 miles or more in length, take riders "through the woods, through the rivers, up the mountains," Koshiol said. "Fantastic terrain."

Koshiol, 50, has had so much fun, and driven so fast, that he has already clinched the season title in his age division. With 13 races completed and one race in Michigan to go, he holds an insurmountable lead in the season standings.

The length and character of the race varies by site. In Arizona, the desert terrain meant rocky trails, loose gravel, and steep slopes. In Michigan, the terrain will be more like Minnesota, tight woods and a narrow trail, which Koshiol prefers.

In Koshiol's four victories this year, three have come in wooded terrain: twice in Oklahoma and once in Ohio. His other victory was in Texas, in terrain that he described as wide open.

Each race, while taking five or six hours of riding, is broken into segments. Four or five riders race through one section and are timed, and the times are used to rank the riders. The winner is based on the rankings, not accumulated time for the entire course.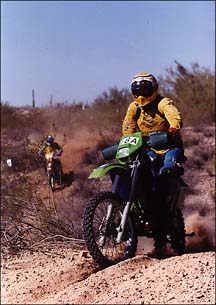 Similarly, the season standings are based on the top finishes from 11 events throughout the season. In addition to his four firsts, Koshiol has two seconds, three thirds, and two fourths as his top finishes.
Riding against state champions and former professional motocross riders on surfaces that suit the strengths of different riders, Koshiol attributes his winning the overall title to his all-around performance. "Everywhere I went there was tough competition," he said.
"All the guys are just like me," he added about his competition. "They've been racing for 25 years, they keep their bodies in shape, they take care of their bikes, and they are competitive."
Koshiol, who was born and raised in Paynesville, was introduced to motorbiking while stationed in New Mexico during his four-year stint in the Air Force 30 years ago.
He brought a bike home to Minnesota when his duty was over and began riding in the northern woods. That's where he learned to jump logs and drive through stretches of tight trees.
He tried motocross first, but found that he didn't like the jumps nearly as much as he liked trail riding. He discovered trail riding, and, for the past 25 years, he has competed on the Minnesota circuit. He still does, but that circuit has shrunk from a dozen races a year to only a half dozen.
He competed last weekend in Akeley, and has two more races in Minnesota in August before the season finale of the national circuit in September with the race in Michigan. He will race in Holyoke, south of Duluth, on Aug. 6 and in Mora on Aug. 20. Because of the off-road nature of the courses, enduro races are not very spectator friendly.
A year ago, Koshiol decided to make a serious attempt at the national level. He rode in a number of events at the end of last year's circuit and then drove to local races around the country throughout the winter. A typical weekend involves driving Friday, relaxing and preparing for the race on Saturday, and then racing for five hours on Sunday before driving home.
Many of the competitors use Saturday to work on their bikes, but Koshiol always has his ready to go before the weekend. The racing rarely causes any damage beyond wear and tear, and he uses mostly routine maintenance to make sure his Kawasaki KDX 200 performs at a peak level.
Koshiol much prefers the dirt bike driving to the freeway miles. He says he would race every weekend in Minnesota if he could. He does have a friend from the Fargo area who he travels to out of state races with, and he has made riding friends from all over the country.
He plans to compete on the national level again, but probably won't be making as frequent out-of-state trips. He plans to race at the venues that he likes best now that he knows the circuit.
"People ask me how long I'll keep racing, and I am going to race as long as I'm having fun," he said. "It's an adrenaline high that lasts all day," he added.
---