Basketball camp held in Paynesville
This article submitted on 7/21/99.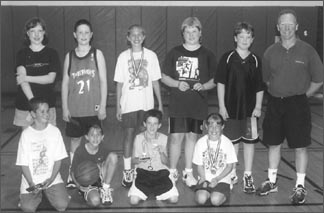 Twenty-two players attended the Pacesetter Basketball Camp in Paynesville last week.

The Pacesetter camp director was Pat Dewey from Sandstone. He guided all the players through the Pacesetter "Fundamentals for Champions" teaching program and monitored play in a 3-on-3 league and 5-on-5 playoffs.

Players in each session voted for the Hustle Award and Most Valuable Player and competed in the free throw contest, touch shooting contest, and decathalon.

In the elementary division (grades 1-3), Sam Rittenhouse won first place in the decathalon, which involves 100 shots in three categories. Matt Currens was second.

Among the Paynesville players attending the camp, were (front L to R): Aaron Bachman, Brittni Schmitz, Colin Spooner, and Breana Kochmann; (back) Maggie McCarron, Luke Swanson, Brooke Schmitz, Allyson Klenke, Joe McCarron, and Pat Dewey, camp director.

In the junior division (grades 4-6), Colin Spooner won the Hustle Award and Brooke Schmitz was voted the Most Valuable Player. She also won the free throw contest, the pressure free throw contest, and the decathalon.

Breanna Kochman was second in the decathalon and Spooner, who also was the three-point champion, was third.

Other awards went to: Allyson Klenke (Mad Dog Defense); Joe McCarron (Great Effort); Aaron Bachman (Great Attitude); Maggie McCarron (Sportsmanship); and Luke Swanson (Purple Heart).

In the boys division (grades 7-9), Todd Stelling was the decathalon champion with 79 percent. Riley Flanders was second and Tyler Kochman was third.

In outside one-on-one (starting from by the free-throw line), Flanders was the champion, with Stelling the runner-up.

In the girls division (grades 9-12), Mellody Veldkamp and Melissa Kochmann won the Hustle Award. Jaime Wuertz was voted the MVP.

Wuertz won the free throw shooting contest with 76 percent, was the pressure free throw shooting champion, took third place in the decathalon, and was chosen for the Purple Heart award.

Veldkamp won the decathalon, was the outside one-on-one champion, and was selected for Great Attitude. Kochmann was the runner-up in one-on-one, was the three-point shooting champion, and was given the Sportsmanship award.

Sara Lieser won the touch shooting contest, finished second in the decathalon, and was given the Mad Dog Defense and Great Effort awards.
---