Kids learn about lake food chain
This article submitted by Linda Stelling on 7/21/99.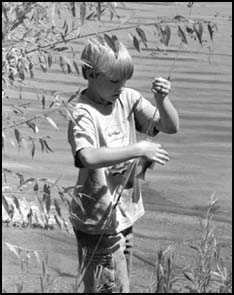 At "Fishing, Sharing, and Caring" on Friday, elementary students learned about the food chain of fish through games and hands-on experiences.

Nate Guldon, DNR instructor for the MinnAqua Program out of New Ulm, spent the morning working with 17 youngsters at the Veteran's Memorial Park. The afternoon session was held at Putzke's Pond with the youngsters fishing, practicing catch and release.

In the morning session, the participants learned about the environment and fish. They learned to identify fish, as well as received the basics in sportsmanship, safety, and aquatic ecology.

Guldon stressed that minnows eat plankton, perch eat minnows, and northerns eat perch and minnows. "The northerns cruise the weeds waiting for fish to come out," Guldon told the participants. He asked the youngsters where can fish seek shelter from the northerns...weeds, rocks, logs, or any hole they can find to hide in at the bottom of the lake.

Guldon then asked the youngsters what eats the northerns? Several answers were called out, including walleye, muskie and, of course, fishermen.

Each participant received a starter tackle box and activity book. They also made their own fishing reel using a pop can and fishline.
---