Berscheids race BMX bikes in Fergus Falls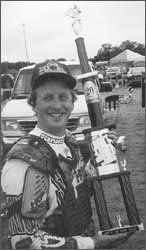 This article submitted on 7/21/99.
Joe and Sue Berscheid are the new president and secretary of the Fergus Falls BMX Club. Joe, a 1979 graduate of Paynesville High School, still races at 38, and their son, Stephen, 12, is one of the club's four "expert" riders. Joe competes in the adult cruiser class.

Starting this year, Joe and Sue are the volunteer managers of the facility. Riders of all ages compete at the track, but most are between nine and 13 years old. Practice sessions are on Wednesday night with races on Thursday evening.

The 950-foot course is used by 70 to 80 riders per week, according to the Fergus Falls Daily Journal. Riders are grouped by age and classification. Beginners must win six races to become intermediates, who then must win 20 races to make the expert class.

Joe is the son, and Stephen is the grandson, of Herb and Evelyn Berscheid of Hawick.
---