On the baseball fields of the Northwoods League this summer, Adam Kampsen, a 2004 PAHS grad, finds himself in the company of Division I players from UCLA, USC, Arizona State, Pepperdine, Iowa, Auburn, Minnesota, and Michigan, to name a few universities.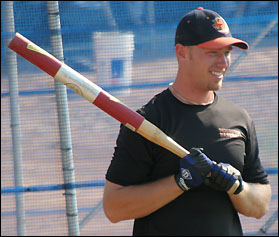 Kampsen, who plays third base and first base for the Mankato Moondogs, is competing against top college players from across the country in the summer baseball league. To create minor-league atmosphere, the 12-team league uses wood bats and rosters with college talent during a 68-game schedule. Players are not paid and retain their college eligiblity.
Adam Kampsen, a 2004 PAHS graduate, is playing baseball against Division I competition with the Mankato Moondogs in the Northwoods League.
Kampsen - who won a conference batting title as a sophomore at Division II Nothern State University in Aberdeen, S.D., this spring, batting .416 - originally signed a 10-day contract with the Moondogs this summer. When a UCLA player went to the Junior Olympic team, instead of playing with the Moondogs, it created room for him on the roster. With four or five guys hurt now, he said, he hopes to stay with the team all summer, but "you never know."
Playing a summer of baseball in the Northwoods League is an investment, according to Kampsen. He is getting a taste of minor-league playing conditions, facing top players everyday, and getting lots of practice. "It's nice because you get the reps and you see plus-plus pitching," explained Kampsen.
On Sunday, Kampsen went 1-4 against the Alexandria Beetles, extending his hitting streak to three games with a second-inning single. He also hit a long foul ball to right, over the fence but foul by 20 feet in his third at bat before being called out on strikes, and lined sharply to right in the ninth inning.
After starting the season by going two for 22, he has raised his average to .204 (19 for 93).
Like minor league pitching, staff aces in the Northwoods League normally throw in the low 90s. With good pitchers, a wide strike zone, and wood bats (not the best), it's a pitcher-dominated league, he said. The Moondogs, despite a team ERA of 2.08 are 17-24 this season, though they were 5-2 during the second half through Sunday.
The fastest pitcher he has faced so far is the 96-mph flame-throwing closer for Alexandria. "When a guy throws that hard, it just whistles," said Kampsen, who grew up living midway between Paynesville and Lake Henry. "That's the fastest I've ever seen."
While these college pitchers all have good velocity, it's their off-speed pitches that really is the big difference, according to Kampsen, recalling chin-to-knees curveballs and filthy sliders. "The breaking stuff is just dirty," he said. "It's difficult to adjust to that kind of breaks."
One thing he has learned already is better plate discipline, he said. Especially with two strikes, it's crucial to read spin and lay off unhittable pitches. If you try to hit balls out of the strike zone, "go fishing," he said, you will make any pitcher look terrific.
"It's more of a mental game. You chart pitches. You look at their routines. You try to figure out anything you can to give yourself any advantage at the dish," said Kampsen. The Moondogs figured out one tell this year, he added, when an opposing pitcher would wiggle the finger in his glove before throwing a slider.
"The biggest change is you don't want to be behind because you see middle relief and dominant closers," said Kampsen.
With lots of pitcher's duels, there's lots of stress in playing in low-scoring games in front of large crowds. "Close games equal high reward and high blame. If you get a game-winning hit, you're the hero; if you strike out, you're the goat."
"In close games," he added, "so much is riding on every play."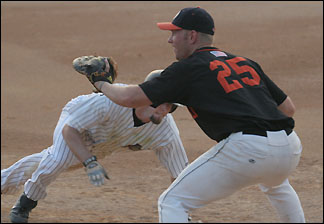 A highlight for Kampsen so far this summer is having a teammate win a game with a walkoff homer, "To experience that in front of so many people, it's just something you'll never forget," he said.
Adam Kapsen prepares to catch a pickoff throw at first base as an Alexandria Beetles baserunner leaps back to the bag on Sunday night in Alexandria. Kampsen went 1-4 and extended his hitting streak to three games, but the Mankato Moondogs lots 5-1 to Alexandria and fell to 5-2 so far in the second half.
With 68 games in 74 days this summer, from the start of June until mid-August, the players get a taste of a minor league schedule. Of the Moondogs' six off-days this summer, three came last week for the league all-star game, with Kampsen returning to Paynesville for some rest.
From Friday, July 14, to the end of the regular season on Sunday, Aug. 13, the Moondogs will play 30 games in 31 days. Their sole off-day during the second half of the season is Sunday, July 30.
"It almost seems like baseball takes over and becomes life," said Kampsen, but he quickly added, "If you can't have fun on a baseball field, you've got a problem."
"It's just games, games, games," he said.
Players spend eight hours per day at the park, usually from 3 to 11 p.m. After road games, which range across Minnesota, Wisconsin, Iowa, and even into Ontario, the team then needs to travel back to Mankato, often returning at 1 or 2 a.m.
The players stay with host families in Mankato. This amounts to a bed for sleep, food to eat, and a place to wash clothes and watch some TV, said Kampsen. "The funny thing is you don't even know what day of the week it is. Sometimes I get up at my host family, and there are people around so then I know it's a weekend 'cause they weren't at work."
It's a challenge to stay mentally sharp, said Kampsen, fighting not just the monotony of spending so many hot days at the park but of making outs seven or eight times in ten at bats "Everybody on the team is a .300 or better hitter in college, and then they come to this league and have to deal with the mental wear of making outs more often than not," he explained.
His goals include helping the Moondogs make the playoffs - they would need to win the second-half title in their division, being two games behind Duluth as of Sunday - and improving his skills.
He sees this summer as an investment of time and hard work. "They always say that hard work pays off. Hopefully, the cliché comes true," he said. "It's always been a dream of mine to play at the next level," he added. "Hopefully, I'll be given the chance."
He figures it will make him a better player next year at Northern St. "It's going to be a tremendous help to me when I go back to school," Kampsen said.
At Northern State, Kampsen is a special education/physical education major and plans to teach and coach after pursuing his baseball dreams. If he plays professionally, this summer should be great experience, and, if he doesn't, he will be able to say yes to this question: "Did I do everything I could to make it to the next level?"
The Moondogs will play games in St. Cloud on Saturday, July 22; on Thursday, Aug. 10; and on Friday, Aug. 11. They will play at Alexandria on Monday, July 24; and they will play the Alexandria Beetles on Tuesday, July 25, in Willmar. These games are all scheduled to start at 7:05 p.m. The Moondogs' full schedule is available at www.mankatomoondoogs.com.
---
Contact the author at editor@paynesvillepress.com • Return to Sports
Home | Marketplace | Community
---