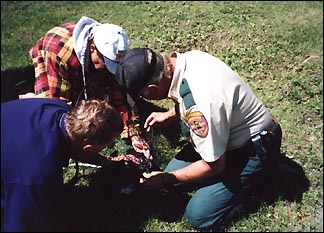 The loon, Bob Reinertson noticed, wasn't swimming right. It was holding its head sideways and hanging around shore on Rice Lake.

All of this is odd behavior for the Minnesota state bird.

"I had seen a loon acting strangely for a couple of days," explained Reinertson. "On Thursday, June 13, I got a closer look and saw it was tangled in fishing line."

Bob Reintertson (left) and Chuck Brossard (top) hold the loon in the net while DNR conservation officer Chuck Nelson cuts the fishing line that held it. The loon recue on Rice Lake took place on Friday, June 14.

Reinertson's wife, Cheryl, called DNR conservation officer Chuck Nelson, who came to Rice Lake on Friday, June 14, and, assisted by the Reinertsons, accomplished a successful rescue of the loon.

Exactly how the loon got entangled in the fishing line will never be known. When they had captured the bird to cut the line, Nelson and Reinertson found a hook embedded in the bird's chest, but no one can know if the hook got stuck first or after the line wrapped around the bird.

"It's happened before. People cut their fishing line and don't dispose of it properly and those birds will get tangled up," said Nelson, who has rescued a blue heron, a pelican, and a number of geese from fishing line before but never a loon, though he has heard of it happening elsewhere in the state.

The first step in freeing the bird from the fishing line was catching it, which required two boats to push the bird towards shore before Reinertson was able to net it.

In deeper water, the loon could evade both boats by diving, even with its mouth open and one wing and one leg immobilized by the line. After a half hour or so, they got the bird in shallow water and Reinertson was able to net it.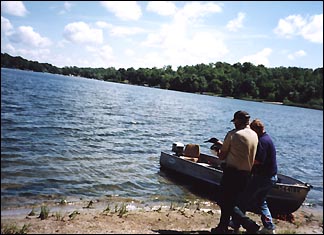 On shore, Reinertson and a Californian visitor at their neighbor's house, Chuck Brossard, held the bird while Nelson cut the fishing line that held it.
"It is as close as I've ever been to a loon and what a great feeling, knowing we saved it from certain death," said Reinertson.
The common loons can be nearly three feet in length and have enough strength that Nelson saw stars once when pecked near the eye by one during another rescue operation years ago.
DNR officer Chuck Nelson and Bob Reinertson return the loon to Rice Lake after freeing it from the fishing line.
Finally, when freed, they returned the loon to the water. "It was stressed out pretty bad," said Nelson. "We put it in the water and it just sat there for 30 seconds. Then all of a sudden it realized it was free and was gone."
Since he hasn't received any reports finding a dead loon since the rescue, Nelson is guessing it was a successful release.
---
Contact the author at paypress@lkdllink.net • Return to Sports
Home | Marketplace | Community
---